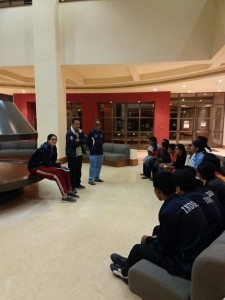 2015 FIDE World Youth & Cadets Championship, Greece
By K.Gopalakrishnan, FIDE Trainer
After a gruelling first half, the players were taken on an excursion trip to Thessaloniki at the FIDE World Youth and Cadet Chess Championships, which is being held at Porto Carras in Greece. While the majority of Indian players preferred to stay in the hotel, a few who visited the ancient Greek city of Thessaloniki enjoyed the day trip.
In the evening, the Indian team coaches addressed the players and gave them a pep talk. Delegate chief Mr Gopalakrishnan asked the players to get back to the routine and not be careless after a day's rest. He also urged the children to utilise opponent's mistakes. Another coach Imocha expressed his views on the teams' performance so far and promised all moral support to go for the gold.
Five Indian players are in the lead in their respective categories with five points at the end of the fifth round in the 2015 FIDE World Youth and Cadet Chess Championships, which is being held at Porto Carras in Greece. Praggnanandhaa R (U10 boys), Dev Shah (U8 boys), Varsh ini V (U18 girls), Divya Deshmukh (U10 girls) and Savitha Shri B (U8 girls) are the leading Indians in their respective categories with 100 per cent score. Six rounds remain to be played in this world event