Photos: Gujarat State Chess Association 
Opening Ceremony
The National Under-13 Chess Tournament for Open and Girls started in Rajpath Club (A.C Hall), Ahmedabad, Gujarat yesterday. It will continue till June 22. The championship is being organized by the Gujarat State Chess Association under the aegis of the All India Chess Federation. As many as 471 players from 25 states are participating in the championship and the first two winners of the championship will represent India in the coming World and Asian Chess Championship.
Pranav Anand of Karnataka is the top seed with a rating of 2336. He is followed by Pranav V. (TN) Elo 2265 and Bhagyashree Patil (MAH) with Elo 1905 is the top seeded player in the girls section.
Easy start for the top seeded players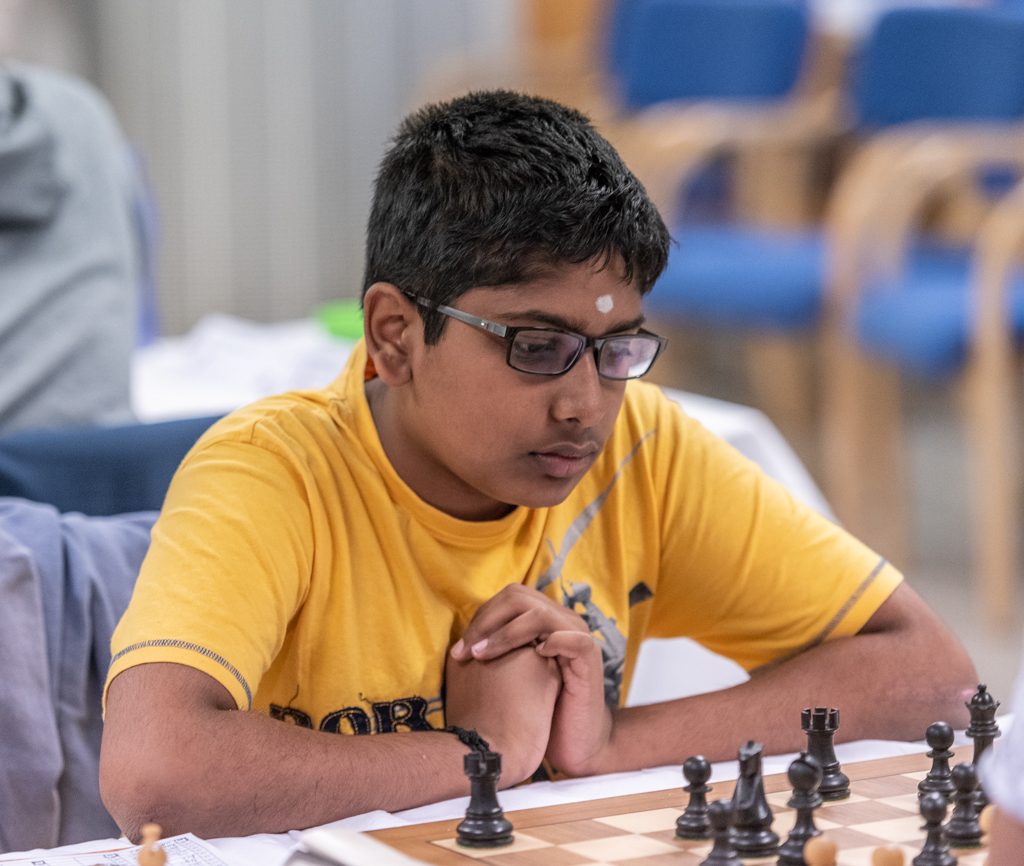 Pranav Anand had a smooth start in the tournament. He demolished his opponent in 42 moves in the first round.
Tamil Nadu's Pranav V. followed the same pursuit. He kickstarted the tournament with a win against Keshav Padmanabhan. The game lasted for 45 moves.
In the girls section, Bhagyashree Patil had a shaky start in the opening. Nevertheless, she emerged victorious after a 63-move battle.
Pairings/Results
Round 1
| | | | | | | | | | | | | | | | |
| --- | --- | --- | --- | --- | --- | --- | --- | --- | --- | --- | --- | --- | --- | --- | --- |
| Bo. | No. | | | Name | Rtg | Club/City | Pts. | Result | Pts. | | Name | Rtg | Club/City | | No. |
| 1 | 158 | | | Garg Shivam | 1287 | Rajasthan | 0 | 0 – 1 | 0 | | Pranav Anand | 2336 | Karnataka | | 1 |
| 2 | 2 | | | Pranav V | 2265 | Tamil Nadu | 0 | 1 – 0 | 0 | | Keshav Padmanabhan | 1282 | Tamil Nadu | | 159 |
| 3 | 160 | | | Borkhetariya Devarsh M | 1279 | Gujarat | 0 | 0 – 1 | 0 | | Aaryan Varshney | 2209 | Delhi | | 3 |
| 4 | 4 | | CM | Aditya Mittal | 2208 | Maharashtra | 0 | 1 – 0 | 0 | | Kabir Singh Ahuja | 1277 | Haryana | | 161 |
| 5 | 162 | | | Vishvajeet Singh | 1277 | Chhattisgarh | 0 | 0 – 1 | 0 | | Samant Aditya S | 2121 | Maharashtra | | 5 |
| 6 | 6 | | | Mahitosh Dey | 2115 | Odisha | 0 | 1 – 0 | 0 | | Jeeva K | 1275 | Tamil Nadu | | 163 |
| 7 | 164 | | | Daakshin Arun | 1268 | Tamil Nadu | 0 | 0 – 1 | 0 | AGM | Jubin Jimmy | 2113 | Kerala | | 7 |
| 8 | 8 | | CM | Nikhil Magizhnan | 2098 | Tamil Nadu | 0 | 1 – 0 | 0 | AFM | Mir Maahir Ali | 1263 | Telangana | | 165 |
| 9 | 166 | | | Vivek Rajkumar | 1263 | Assam | 0 | 0 – 1 | 0 | | Sreeshwan Maralakshikari | 2063 | Telangana | | 9 |
| 10 | 10 | | | Manish Anto Cristiano F | 2008 | Tamil Nadu | 0 | 1 – 0 | 0 | | Armaan Sinha | 1261 | Delhi | | 167 |
Pairings/Results
Round 1
| | | | | | | | | | | | | | | | |
| --- | --- | --- | --- | --- | --- | --- | --- | --- | --- | --- | --- | --- | --- | --- | --- |
| Bo. | No. | | | Name | Rtg | Club/City | Pts. | Result | Pts. | | Name | Rtg | Club/City | | No. |
| 1 | 79 | | | Dhanyatha Corry | 1159 | Karnataka | 0 | 0 – 1 | 0 | | Bhagyashree Patil | 1905 | Maharashtra | | 1 |
| 2 | 2 | | WCM | Vishwa Vasnawala | 1758 | Gujarat | 0 | 1 – 0 | 0 | | Sritama Sen | 1154 | West Bengal | | 80 |
| 3 | 81 | | | Nungshithoi Ngairangbam | 1153 | Manipur | 0 | 0 – 1 | 0 | WFM | Dhyana Patel | 1752 | Gujarat | | 3 |
| 4 | 4 | | | Savitha Shri B | 1721 | Tamil Nadu | 0 | 1 – 0 | 0 | | Stuti Aishwary | 1150 | Delhi | | 82 |
| 5 | 83 | | | Dhrithi Murgod | 1145 | Karnataka | 0 | 0 – 1 | 0 | | Tanvi Vasudev Hadkonkar | 1698 | Goa | | 5 |
| 6 | 6 | | | Sagar Siya | 1660 | Gujarat | 0 | ½ – ½ | 0 | | Dyuti Chakraborty | 1132 | Jharkhand | | 84 |
| 7 | 85 | | | Elan Thendral A S | 1114 | Tamil Nadu | 0 | 0 – 1 | 0 | | Shrija K M | 1651 | Tamil Nadu | | 7 |
| 8 | 8 | | WCM | Chopdekar Gunjal | 1633 | Goa | 0 | ½ – ½ | 0 | | Shah Viha | 1109 | Maharashtra | | 86 |
| 9 | 87 | | | Yadnya Rahul Chaudhari | 1109 | Maharashtra | 0 | 0 – 1 | 0 | | Meenatchi Rajam V | 1613 | Tamil Nadu | | 9 |
| 10 | 10 | | | Mohana R | 1613 | Tamil Nadu | 0 | 1 – 0 | 0 | | Aakanksha Patel | 1106 | Gujarat | | 88 |