Report by WGM Swati Ghate
It was a satisfactory result in the form of draw on the boards of Gukesh and Aravindh on an otherwise comparatively bad day for Indians.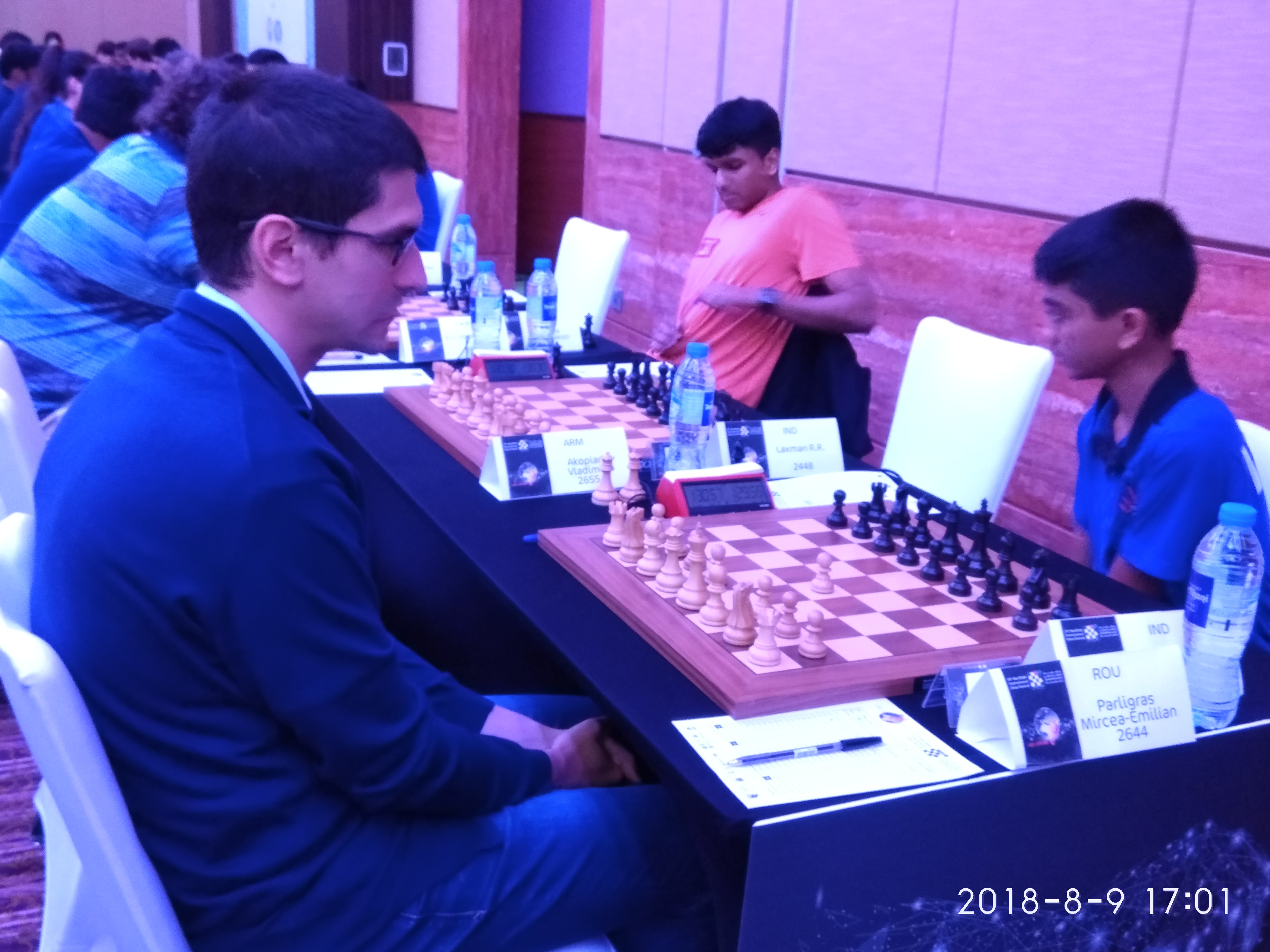 Gukesh opted for Caro Kann Defence with black pieces to play against GM Parligras Mircea-Emilian (2645). His opponent went for two knight's variation with an early exchange in the opening. With logical and some simple moves Black got initiative but evidently, it was not sufficient for win and draw was the outcome after 44 moves with perpetual check.
Playing on the fourth board Aravindh chose some irregular set up against Sicilian played by GM Vladimir Fedoseev who has won strong Aeroflot open in 2017. The game was very dynamic with two knight vs two bishop and no pawns on the queenside for black. Black's both bishops looked powerful but strong play by Aravindh kept them at bay.
Vishnu Prasanna drew comfortably against noted English Grand Master Nigel Short with some unusual line in the French. He was up to the task to find a loophole in Short's well prepared French. White's controlling knights didn't allow black to breathe freely and the game was agreed very soon.

IM Soumya Swaminathan continued her horse race by beating GM Yuffa Daniil (2570).
We witnessed why good opening preparation is important nowadays on the board GM Andrei Istratescu (2573) vs Anand Nadar from India. Black just crushed through the scotch opening and capitalized opponent's mistakes in early opening. It was an opening disaster for Istatescu.
In the same line of Scotch d5 variation, Sammed Shete lost to IM Dinara Sadukossova of Kazakistan. This was also a good game only that Indian was at a receiving end to learn from his mistakes. SL Narayanan lost to Wang Hao of China. In the Arkhangelsk variation of Ruy Lopez, Wang Hao demonstrated good technique beating in opposite colour bishop. Our Current National Champion Lalith Babu hold his fort and his opponent higher seed Sjugirov (2677) had to satisfactory with draw in the end.
The Ministry of Youth Affairs & Sports Affairs is sponsoring the full expenditure of National Youth and Senior championships winners for this exposure trip.