Tournament leader GM Victor Bologan (Right)
Photos: Niklesh Jain
The Aeroflot Open 2018 International chess festival is being held from 19 February to 1 March at the Cosmos Hotel Moscow, Russia.
As a part of the exposure trip, the selected Indian team consisting of 39 members (18 men + 17 women + 4 coaches) are being sponsored at full cost by the Government of India, Ministry of Youth Affairs & Sports. Here you can find the team list.

After three rounds,  GM Victor Bologan (2600) and GM Petrosian Tigran L (2589) are only two players with 3.0/3 score in the Open-A category.
Top-rated Indians are struggling to squeeze victories. India no. 3 GM Vidit Gujrathi (2723) was held to a draw by compatriot IM Eesha Karavade (2386) in the second round.  While Armenia's GM Petrosyan Manuel (2569) put up a fight in the third round to secure a draw against Nasik's only Grandmaster.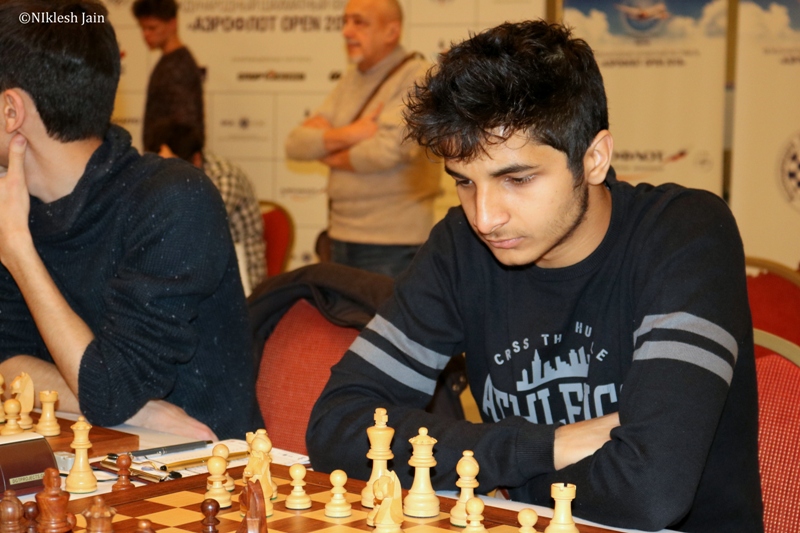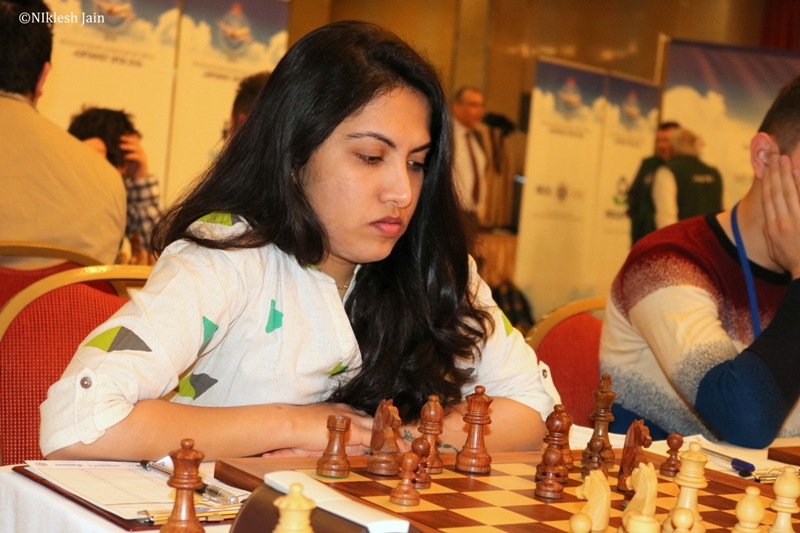 Former Asian Champion S.P Sethuraman defeated GM Kulaots Kaido (2582) in the second round but succumbed to a loss against seasoned Armenian Grandmaster Tigran Petrosian  (2589).
Two-time Indian Champion Karthikeyan Murali defeated statemate IM Iniyan P in round 3.
GM Aravindh Chithambaram (2617) started his campaign with solid 2.0/3 points. He defeated IM Liu Yan (2476) of China and drew against  GM Aryan Chopra (2509).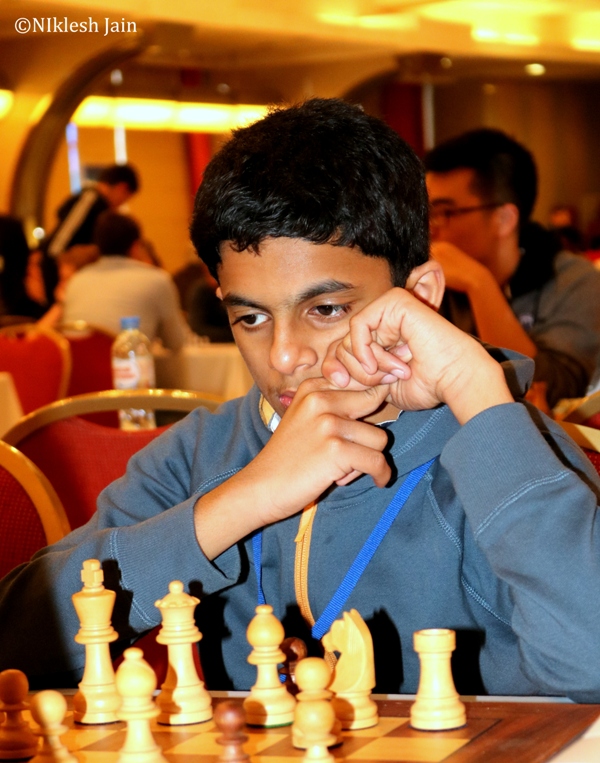 IM Nihal Sarin (2532) drew against GM  Ernesto Inarkiev (2684) and GM Piorun Kacper (2659) in round 2 & 3 respectively.
Pairings of the 4th round for IND
Rd.
Bo.
No.
Name
FED
Rtg
Pts.
Result
Pts.
Name
FED
Rtg
No.
4
5
15
GM
Sethuraman S.P.
IND
2646
2
2½
GM
Lysyj Igor
RUS
2618
24
4
7
43
GM
Karthikeyan Murali
IND
2585
2
2
GM
Mamedov Rauf
AZE
2709
4
4
9
19
GM
Gordievsky Dmitry
RUS
2630
2
2
GM
Aryan Chopra
IND
2509
67
4
11
25
GM
Aravindh Chithambaram Vr.
IND
2617
2
2
IM
Xu Yi
CHN
2490
75
4
12
92
IM
Karavade Eesha
IND
2386
2
2
GM
Jumabayev Rinat
KAZ
2614
26
4
15
56
GM
Xu Yinglun
CHN
2538
1½
1½
GM
Vidit Santosh Gujrathi
IND
2723
2
4
19
48
GM
Narayanan.S.L
IND
2573
1½
1½
GM
Sargissian Gabriel
ARM
2677
10
4
20
11
GM
Sasikiran Krishnan
IND
2671
1½
1½
IM
Triapishko Alexandr
RUS
2530
59
4
22
14
GM
Sjugirov Sanan
RUS
2652
1½
1½
IM
Nihal Sarin
IND
2532
57
4
29
41
GM
Martirosyan Haik M.
ARM
2586
1½
1½
FM
Erigaisi Arjun
IND
2458
88
4
30
42
GM
Svane Rasmus
GER
2586
1½
1½
IM
Raja Harshit
IND
2448
91
4
31
72
GM
Gagare Shardul
IND
2494
1½
1½
IM
Tabatabaei M.Amin
IRI
2577
46
4
36
68
IM
Praggnanandhaa R
IND
2507
1
1
GM
Kobalia Mikhail
RUS
2599
34
4
40
60
GM
Kotronias Vasilios
GRE
2529
1
1
IM
Iniyan P
IND
2460
87
4
43
70
GM
Debashis Das
IND
2501
½
½
IM
Bellaiche Anthony
FRA
2485
79
4
47
36
GM
Gupta Abhijeet
IND
2598
1½
0
not paired