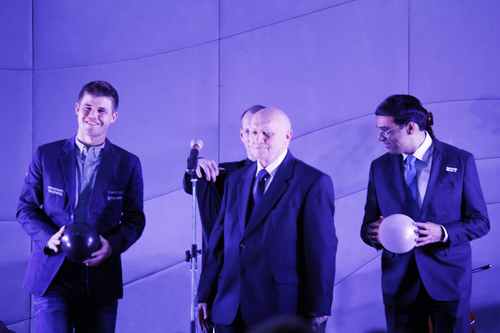 Anand White In Game One
By Arvind Aaron
The Opening Ceremony of the FIDE World Chess Championship match took place at the Congress Hall of Radisson Blu Hotel in Sochi, Russia on November 7, 2014. When the Polish Chief Arbiter Andrei Fillipowicz did the draw of lots, it became known that challenger Viswanathan Anand will play white in the opening game.
Thus, Anand will play white in games 1, 3, 5, 8, 10 and 12. The who is who of Russian chess participated in the opening ceremony. It included the oldest living former world champion Boris Spassky (on a wheel chair), Anatoly Karpov, Alexander Khalifman, women champions Nona Gaprindashvili, Zhu Chen, Antoaneta Stefanova and Alexandra Kosteniuk.
Besides them, FIDE President Kirsan Ilyumzhinov, Russian Chess Federation President Andrey Filatov, adviser of Russian President Igor Livitin, Russian deputy sports Minister Pavel Kolobkov and others.
In the opening press meet, both teams liked the arrangements. The seating arrangements is for only 140 people. There is no glass separating the players from the audience. Carlsen looked concerned, Anand did not mind it.
Along with Carlsen, in his camp are Peter Heine Nielsen of Denmark and Ludvig Hammer of Norway. Anand camp has Krishnan Sasikiran, Radoslaw Wojtaszek and Grzegorz Gajewski. Leko and Chanda are replaced by Gajewski. Leko is playing in a tournament.
Anand is in Sochi for about a week now and is ready. "I am ready to give it another shot," said the Chennai born Anand. On being favorite, Carlsen said, "Seriously, it does not really matter. If you dont play well you are not going to win."
A magician pricked balloons and doves came out with the colour. Carlsen got black and Anand white.
Indian Prime Minister Narendra Modi wished Anand all the best for the match. Indian media quotes Anand that he will play positively. It is a 12-game match and the first player to reach 6.5 points will win the series.