The 6th edition of Altibox Norway Chess is a 10-player round-robin featuring World Champion Magnus Carlsen, former World Champion Vishy Anand and most of the world's best players. It's being held from 27 May to 7 June in the Clarion Energy Hotel and Stavanger Concert Hall in Stavanger.
World Champion Magnus Carlsen's live rating has crossed 2850 thanks to his superb play in Altibox Norway Chess. He achieved this feat nearly after one year at his home soil. His record-breaking peak rating was Elo-2882 in 2014. Since then Carlsen couldn't maintain the magical rating but he is determined for a comeback.
After the Blitz Opener, the much-awaited clash was undoubtedly between Magnus Carlsen and Fabiano Caruana in round 1. This is the second time they had a face-off on the board—the first being in Grenke Chess Classic which ended in a draw.
Much to the delight of fans and spectarors, the clash ended in World Champion's favour after a long 77-move battle.
Games & Comments Courtesy: FollowChess
Carlsen retained the early lead by taking a quick draw against GM Sergey Karjakin in round two. He later extended his lead to a full point with a convincing win over GM Levon Aronian.
With his two wins and one draw, Magnus Carlsen has established dominance in the tournament.
Five-time World Champion Viswanathan Anand began his campaign with three draws in three rounds. He easily drew with previous year's Norway chess champion Levon Aronian in 31 moves.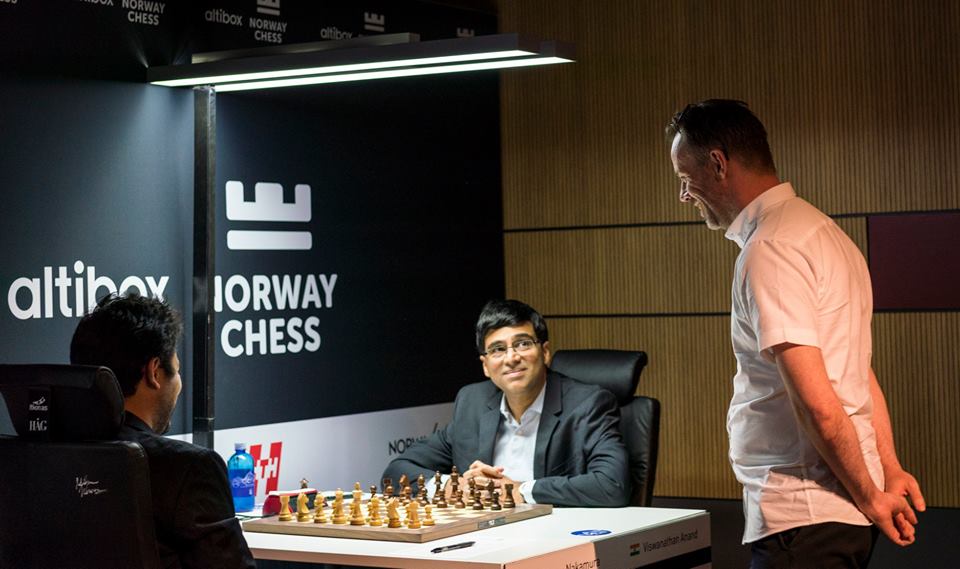 Playing Black, Anand had a fighting 39-move draw with GM Hikaru Nakamura in the second game.
He had a third straight draw which ended in 35 moves against GM Ding Liren.
Post Game Analysis
Rest Day
The rest day was spent with Chess Chefs! HTH Norge (sponsor of the tournament) challenged all the players to a cook off in the kitchen of the Clarion Hotel.
In the end, and to the surprise of most players, the winners were team Viswanathan Anand and Ding Liren. After some observation and tasting of their presented dish, the jury gave them the most points.
After winning the cook-off, Anand tweeted:
Sometimes im moving pieces sometimes im cooking! And more pleasantly we won!! Was nice to have Aruna watch me & must be true love that she ate what I made. Halibut fillet with vegetables & hollandaise sauce. Encore ? pic.twitter.com/GsNBcbD4iZ

— Viswanathan Anand (@vishy64theking) May 31, 2018
Pairing: Friday 01.06.2018
| | | | | | | | | |
| --- | --- | --- | --- | --- | --- | --- | --- | --- |
| | | | | | | | | |
| | | | | | | | | |
| SNo. | | Name | Rtg | Res. | | Name | Rtg | SNo. |
| 10 | GM | Ding Liren | 2791 | – | GM | Caruana Fabiano | 2822 | 7 |
| 8 | GM | Karjakin Sergey | 2782 | – | GM | Vachier-Lagrave Maxime | 2789 | 6 |
| 9 | GM | Aronian Levon | 2764 | – | GM | Mamedyarov Shakhriyar | 2808 | 5 |
| 1 | GM | Nakamura Hikaru | 2769 | – | GM | Carlsen Magnus | 2843 | 4 |
| 2 | GM | Anand Viswanathan | 2760 | – | GM | So Wesley | 2778 | 3 |
All Photos: Lennart Ootes/ Altibox Norway Chess