The 1st Lakecity GM International Chess Tournament was held from 13th September to 20th September 2019, at Orbit Resort, Udaipur Rajasthan. The event was organized by Chess In Lakecity, Udaipur. The tournament attracted a total of 223 players from 11 Federations i.e. BAN, CHI, EGY, IND, MDV, NEP, RUS, SGP, SRI, SVK, USA. There were in all 204 international FIDE rated players among the participants included 13 GM, 2 WGM, 9 IM and 6 FM from 20 states.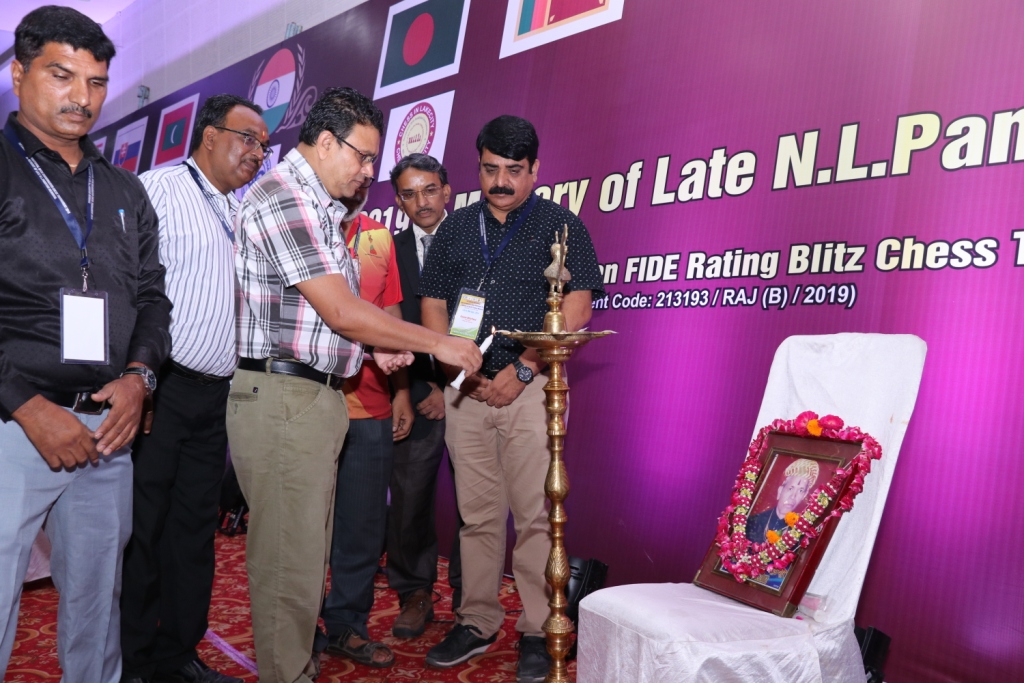 The tournament was inaugurated at the hands of Dr. Vikas Bhale, IAS, Divisional Commissioner. Other dignitaries present were Shri. Sekhar Chandra Sahu, Vice President AICF; Shri. Rajendra Teli, Jt. Secretary, ARCA, Shri. Devendra Sahu, Shri. Himmat Sikligar, Shri. Vikas Sahu, Secretary Chess In lakecity and IA Swapnil Bansod, Chief Arbiter.
The inaugural function was held at 10 A.M. & was followed by a technical meeting and thereafter the first round of the tournament. The necessary technical matters were decided in the meeting and also the appeal committee was formed in the same meeting.
The 8 grueling days of top-notch chess of 1st Lakecity GM tournament 2019, which concluded at Orbit Resort, observed many higher rated players were biting the dust and also the emergence of few new talents.
In the 5th round, GM Ivan Rozum of RUS, the top seed of the tournament, winning streak was brought to a halt after he was held to a draw by IM Sayantan Das of WB in a Petroff Defense game. A critical knight endgame ended in a draw after 49 moves.
In the 8th Round game, GM Hesham Abdelarahman of Egypt won against Chilian GM Vasquez Rodrigo. Hesham started the game with English opening. He took advantage of his advanced "d" pawn to convert the game into a win. With this win, GM Hesham took the sole lead after round 8.
Top seed GM Ivan Rozum beat GM Hesham in the penultimate round to share the lead with 3 others. GM Deepan Chakravarthi beat IM Siddhant Mohapatra in a 25 moves Queens Gambit game.
While on 3rd board IM Sayantan Das of WB having good chances of GM Norm, lost to GM Maxim Lugovesky of RUS. The fourth board result went in favour of GM Neelotpal Das who beat his state mate and newly crowned IM Mitrabha Guha both were from WB.
In the last round in his game the Grandmaster GM Ivan Rozum and GM Neelotpal Das settled for a quick draw. 2nd board GM Swapnil Dhopade and GM Deepan Chakravarthy split the score in a queen/rook endgame. On 3rd board also GM Maxim Lugovsky drew his game with GM R R Laxman. At the end of 10th round GM Deepan Chakravarthy of ICF, GM Maxim Lugovksy of RUS, top seed GM Ivan Rozum of RUS and GM Neelotpal Das of PSPB tied for 1st place with 8 points each. Better tiebreak score helped GM Deepan Chakravarthy to clinch the title ahead of other 3 rivals. GM Lugovksy Maxim, GM Ivan Rozum and GM Neelotpal Das stood 2nd to 4th respectively.
The prizes were distributed at the hands of Shri. Gajendra Singh Shekhawat, Cabinet Minister of Water Resources, Government of India. The other dignitaries present were Shri. Gulabchand Kataria, Opposition Leader Shri. C.P. Joshi, MP Chittor, Shri. Fulsingh Meena, MLA Udaipur, Shri. Chandrabhan Singh Ankya, MLA, Chittorgarh, Shri Devendra Sahu, Shri. Tushar Mehta, Shri. Himmat Sikligar, Shri. Rajendra Teli, Jr. Secretary ARCA, Shri. Vikas Sahu, Secretary, Chess in Lakecity, and IA Swapnil Bansod Chief Arbiter. The tournament, organized by Chess in Lakecity on behalf of All India Chess Federation, concluded smoothly.
Chief Arbiter IA Swapnil Bansod headed the team of Arbiters consisting of IA Rajendra Teli, Dy. Chief Arbiter, IA Anandh Babu VL, live games incharge, FA Sunil Soni, FA Neelesh Kumawat, FA Manish Chandalia, FA Chocklingam Balaji, and FA Deepak Chavan, who ably assisted him.
Final Ranking after 10 Rounds
| | | | | | | | | | | | | | | | |
| --- | --- | --- | --- | --- | --- | --- | --- | --- | --- | --- | --- | --- | --- | --- | --- |
| Rk. | SNo | | | Name | Typ | sex | FED | Rtg | Club/City | Pts. |  TB1 |  TB2 |  TB3 |  TB4 |  TB5 |
| 1 | 2 | | GM | Deepan Chakkravarthy J. | | | IND | 2539 | ICF | 8,0 | 0,0 | 65,5 | 70,5 | 55,00 | 6 |
| 2 | 10 | | GM | Lugovskoy Maxim | | | RUS | 2422 | RUS | 8,0 | 0,0 | 61,0 | 65,5 | 51,25 | 7 |
| 3 | 1 | | GM | Rozum Ivan | | | RUS | 2596 | RUS | 8,0 | 0,0 | 61,0 | 64,5 | 49,75 | 6 |
| 4 | 9 | | GM | Neelotpal Das | | | IND | 2433 | WB | 8,0 | 0,0 | 59,0 | 63,5 | 49,00 | 7 |
| 5 | 11 | | FM | Mitrabha Guha | | | IND | 2414 | WB | 7,5 | 0,0 | 62,0 | 67,5 | 48,75 | 6 |
| 6 | 13 | | GM | Hesham Abdelrahman | | | EGY | 2396 | EGY | 7,5 | 0,0 | 62,0 | 67,5 | 47,75 | 7 |
| 7 | 7 | | GM | Laxman R.R. | | | IND | 2437 | ICF | 7,5 | 0,0 | 60,5 | 65,0 | 48,00 | 6 |
| 8 | 21 | | | Bharat Kumar Reddy Poluri | | | IND | 2304 | AP | 7,5 | 0,0 | 60,5 | 65,0 | 45,75 | 7 |
| 9 | 3 | | GM | Swapnil S. Dhopade | | | IND | 2501 | RLYS | 7,5 | 0,0 | 59,0 | 65,0 | 47,75 | 6 |
| 10 | 19 | | IM | Sidhant Mohapatra | | | IND | 2357 | ODI | 7,5 | 0,0 | 58,5 | 64,0 | 46,75 | 6 |
| 11 | 22 | | FM | Shailesh Dravid | | | IND | 2299 | MAH | 7,5 | 0,0 | 57,5 | 62,5 | 43,75 | 7 |
| 12 | 12 | | GM | Himanshu Sharma | | | IND | 2408 | HAR | 7,5 | 0,0 | 57,0 | 61,5 | 45,00 | 6 |
| 13 | 28 | | FM | Mehdi Hasan Parag | | | BAN | 2183 | BAN | 7,5 | 0,0 | 50,0 | 54,0 | 39,25 | 6 |
| 14 | 8 | | IM | Das Sayantan | | | IND | 2434 | WB | 7,0 | 0,0 | 62,5 | 67,5 | 44,50 | 5 |
| 15 | 17 | | IM | Konguvel Ponnuswamy | | | IND | 2374 | TN | 7,0 | 0,0 | 59,5 | 63,0 | 41,50 | 6 |
| 16 | 20 | | | Sahoo Utkal Ranjan | | | IND | 2329 | ODI | 7,0 | 0,0 | 58,0 | 62,0 | 39,50 | 6 |
| 17 | 16 | | GM | Manik Mikulas | | | SVK | 2375 | SVK | 7,0 | 0,0 | 57,5 | 62,0 | 40,00 | 6 |
| 18 | 35 | | | Thanki Hemal Karsanji | | | IND | 2098 | GUJ | 7,0 | 0,0 | 56,5 | 60,5 | 39,75 | 5 |
| 19 | 15 | | IM | Vlassov Nikolai | | | RUS | 2384 | RUS | 7,0 | 0,0 | 54,5 | 59,5 | 40,50 | 6 |
| 20 | 27 | | | Patil Pratik | | | IND | 2187 | MAH | 7,0 | 0,0 | 54,5 | 59,5 | 39,75 | 5 |