Grand Swiss 2019-Adhiban among the leaders
All photos by John Saunders
The second round of the grand swiss chess witnessed a thrilling encounter between GM Adhiban B and upcoming american talent,GM Jeffrey Xiong.
Playing with the black pieces,Adhiban went for a sharp continuation and managed to push his d pawn all the way to the second rank which tied the white rook to the d1 square and forced resignation soon-after.
On the 16th board,IM Raunak Sadhwani managed to draw effortlessly with the black pieces against former world championship challenger,GM Sergey Karjakin of Russia.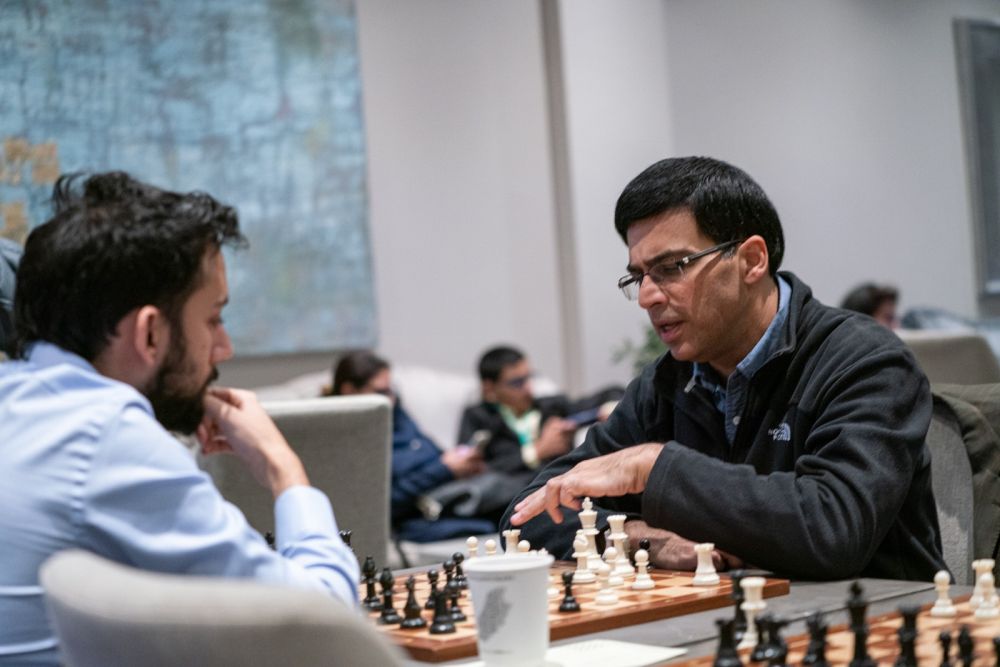 Vishy Anand analysing with Tal Baron
The Indian legend Vishy Anand bounced back with an easy victory over Israeli GM Tal Baron.
GM Harika Dronavalli,GM Gukesh D and WGM Soumya Swaminathan held their higher rated opponents to a draw.
The only two losses for India came in the form of GM Sethuraman P's loss over GM Elina Danielian of Armenia who maintained the edge throughout a complicated struggle and GM Nihal Sarin's loss to the Israeli legend GM Boris Gelfand who showed impressive endgame technique to clinch the full point.
Results of Indian players from round two
| | | | | | | | | | | | | | | |
| --- | --- | --- | --- | --- | --- | --- | --- | --- | --- | --- | --- | --- | --- | --- |
| Rd. | Bo. | No. | | | Name | Rtg | Pts. | Result | Pts. | | Name | Rtg | | No. |
| 2 | 8 | 70 | | GM | Bluebaum Matthias | 2643 | 1 | ½ – ½ | 1 | GM | Vidit Santosh Gujrathi | 2718 | | 17 |
| 2 | 9 | 20 | | GM | Xiong Jeffery | 2708 | 1 | 0 – 1 | 1 | GM | Adhiban B. | 2639 | | 73 |
| 2 | 16 | 6 | | GM | Karjakin Sergey | 2760 | ½ | ½ – ½ | 1 | IM | Sadhwani Raunak | 2479 | | 129 |
| 2 | 20 | 96 | | GM | Van Foreest Jorden | 2621 | ½ | ½ – ½ | ½ | GM | Harikrishna Pentala | 2748 | | 9 |
| 2 | 28 | 104 | | GM | Narayanan.S.L | 2611 | ½ | ½ – ½ | ½ | GM | Vallejo Pons Francisco | 2694 | | 25 |
| 2 | 32 | 30 | | GM | Gelfand Boris | 2686 | ½ | 1 – 0 | ½ | GM | Nihal Sarin | 2610 | | 105 |
| 2 | 37 | 114 | | GM | Puranik Abhimanyu | 2571 | ½ | 0 – 1 | ½ | GM | Korobov Anton | 2679 | | 35 |
| 2 | 39 | 120 | | IM | Bjerre Jonas Buhl | 2506 | ½ | ½ – ½ | ½ | GM | Sasikiran Krishnan | 2675 | | 37 |
| 2 | 43 | 122 | | GM | Harika Dronavalli | 2495 | ½ | ½ – ½ | ½ | GM | Robson Ray | 2670 | | 43 |
| 2 | 44 | 44 | | GM | Kryvoruchko Yuriy | 2669 | ½ | ½ – ½ | ½ | GM | Gukesh D | 2520 | | 119 |
| 2 | 50 | 54 | | GM | Ganguly Surya Shekhar | 2658 | ½ | 1 – 0 | ½ | IM | Saduakassova Dinara | 2481 | | 127 |
| 2 | 59 | 74 | | GM | Hovhannisyan Robert | 2639 | ½ | ½ – ½ | ½ | WGM | Soumya Swaminathan | 2365 | | 149 |
| 2 | 62 | 4 | | GM | Anand Viswanathan | 2765 | 0 | 1 – 0 | 0 | GM | Baron Tal | 2531 | | 118 |
| 2 | 63 | 124 | | GM | Prithu Gupta | 2493 | 0 | 0 – 1 | 0 | GM | Shankland Sam | 2705 | | 21 |
| 2 | 74 | 94 | | GM | Sethuraman S.P. | 2624 | 0 | 0 – 1 | 0 | GM | Danielian Elina | 2385 | | 147 |
Pairings of all Indian players for round three
| | | | | | | | | | | | | | | |
| --- | --- | --- | --- | --- | --- | --- | --- | --- | --- | --- | --- | --- | --- | --- |
| Rd. | Bo. | No. | | | Name | Rtg | Pts. | Result | Pts. | | Name | Rtg | | No. |
| 3 | 3 | 73 | | GM | Adhiban B. | 2639 | 2 | | 1½ | GM | Wojtaszek Radoslaw | 2748 | | 10 |
| 3 | 11 | 17 | | GM | Vidit Santosh Gujrathi | 2718 | 1½ | | 1½ | GM | Chigaev Maksim | 2644 | | 68 |
| 3 | 25 | 129 | | IM | Sadhwani Raunak | 2479 | 1½ | | 1½ | GM | Ganguly Surya Shekhar | 2658 | | 54 |
| 3 | 27 | 83 | | GM | Abasov Nijat | 2632 | 1 | | 1 | GM | Anand Viswanathan | 2765 | | 4 |
| 3 | 30 | 9 | | GM | Harikrishna Pentala | 2748 | 1 | | 1 | GM | L'ami Erwin | 2619 | | 98 |
| 3 | 34 | 23 | | GM | Dubov Daniil | 2699 | 1 | | 1 | GM | Narayanan.S.L | 2611 | | 104 |
| 3 | 41 | 37 | | GM | Sasikiran Krishnan | 2675 | 1 | | 1 | GM | Harika Dronavalli | 2495 | | 122 |
| 3 | 47 | 119 | | GM | Gukesh D | 2520 | 1 | | 1 | GM | Saric Ivan | 2667 | | 46 |
| 3 | 56 | 149 | | WGM | Soumya Swaminathan | 2365 | 1 | | 1 | GM | Kuzubov Yuriy | 2636 | | 78 |
| 3 | 61 | 59 | | GM | Movsesian Sergei | 2654 | ½ | | ½ | GM | Puranik Abhimanyu | 2571 | | 114 |
| 3 | 69 | 105 | | GM | Nihal Sarin | 2610 | ½ | | ½ | WGM | Nebolsina Vera | 2252 | | 152 |
| 3 | 73 | 140 | | IM | Bulmaga Irina | 2442 | 0 | | 0 | GM | Sethuraman S.P. | 2624 | | 94 |
| 3 | 75 | 142 | | IM | Houska Jovanka | 2430 | 0 | | 0 | GM | Prithu Gupta | 2493 | | 124 |