IM Stany G.A (second runner-up), GM Kravtsiv Martyn (Winner) & IM Vignesh N.R (Runner-up).
 Photos: Niklesh Jain/ ChessBase India
A strong prize fund, a fabulous venue and a dedicated set of officials always mean a great chess tournament, which is precisely what 1st Gujarat International Grandmaster Open turned out to be! GM Kravtsiv Martyn became the 1st Gujarat GM Open winner while India's IM Vignesh N.R (Tamil Nadu) and IM. Stany GA (Karnataka) secured second and third place respectively.
The tournament witnessed many twists and turns on the leaderboard. Twelfth-seed IM Stany's phenomenal performance assured him a Grandmaster norm by the end of seven rounds. With 7.0/7 points, he seemed unstoppable.
Stany's dream run came to an end after an unexpected loss to IM Vignesh N.R in the eight round and GM Predke Alexandr in the ninth round. However, a timely final round comeback victory against GM Malakhatko Vadim secured him 3rd place.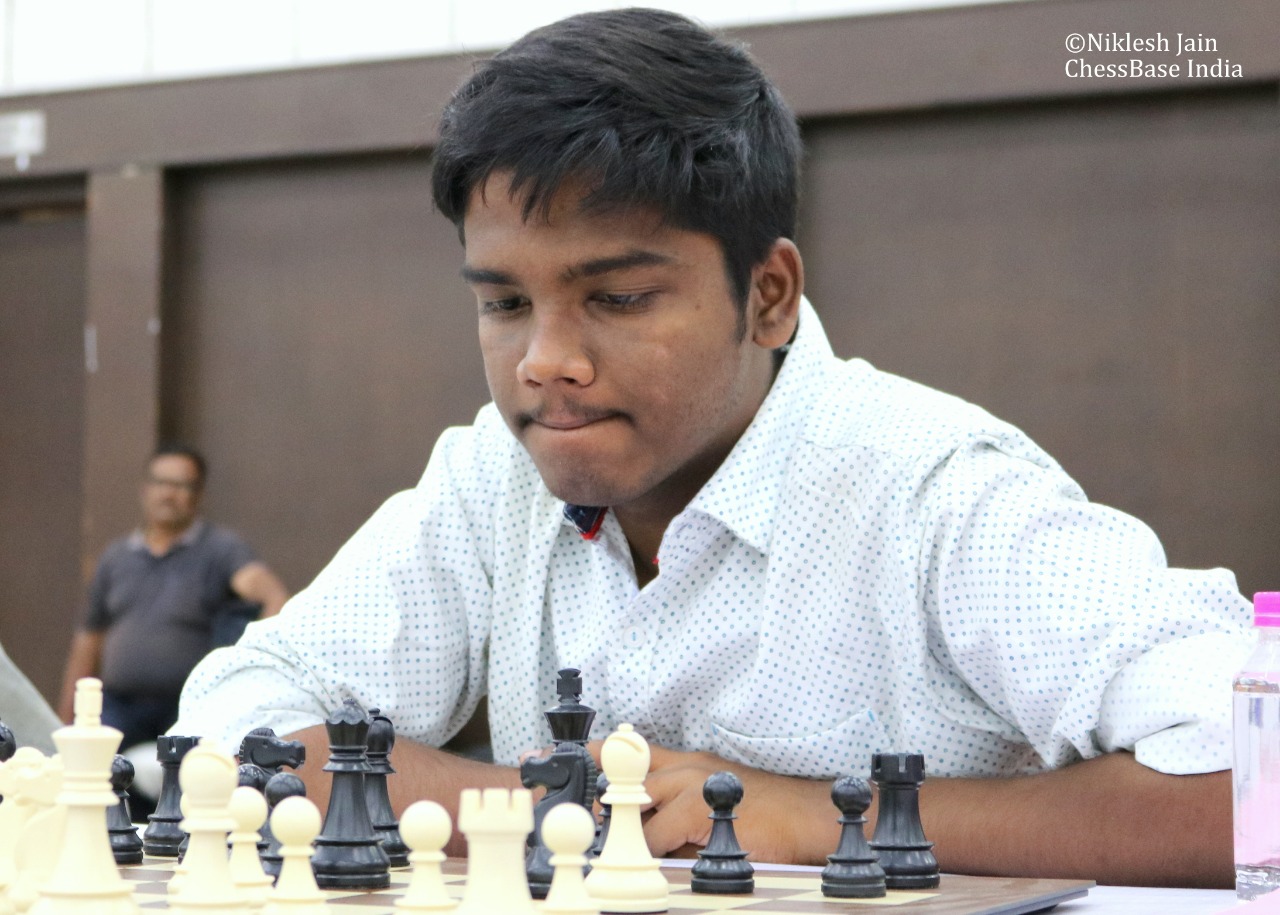 Vignesh  defeated  GM Sivuk Vitaly of Russia in the penultimate round to become the overnight leader. In a dramatic finale, he had faced top seed of the tournament GM Kravtsiv Martyn.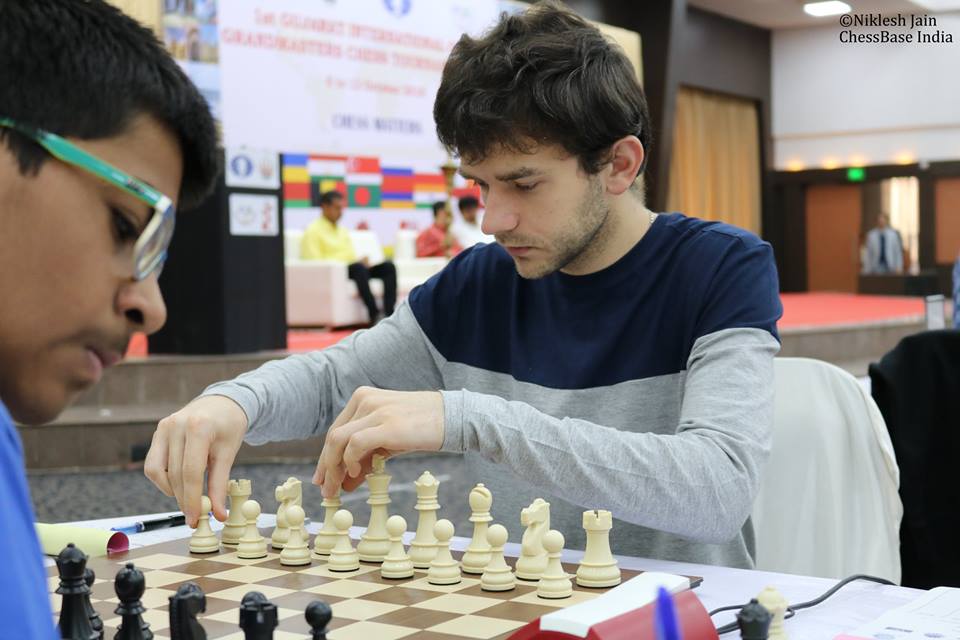 Vignesh needed a draw to capture the title. His opponent and top-seed GM Kravstsiv Marytn, however, proved to be superior in ensuing Sicilian middlegame.  The game ended in 48 moves.
A relatively high prize fund, an ambient venue in the form of Karnavati Club, a dedicated team of organising and technical support officials supported by a decent set of arbiters — the 1st Gujarat Grandmaster International Open Tournament was well-received by all players.
Prize Distribution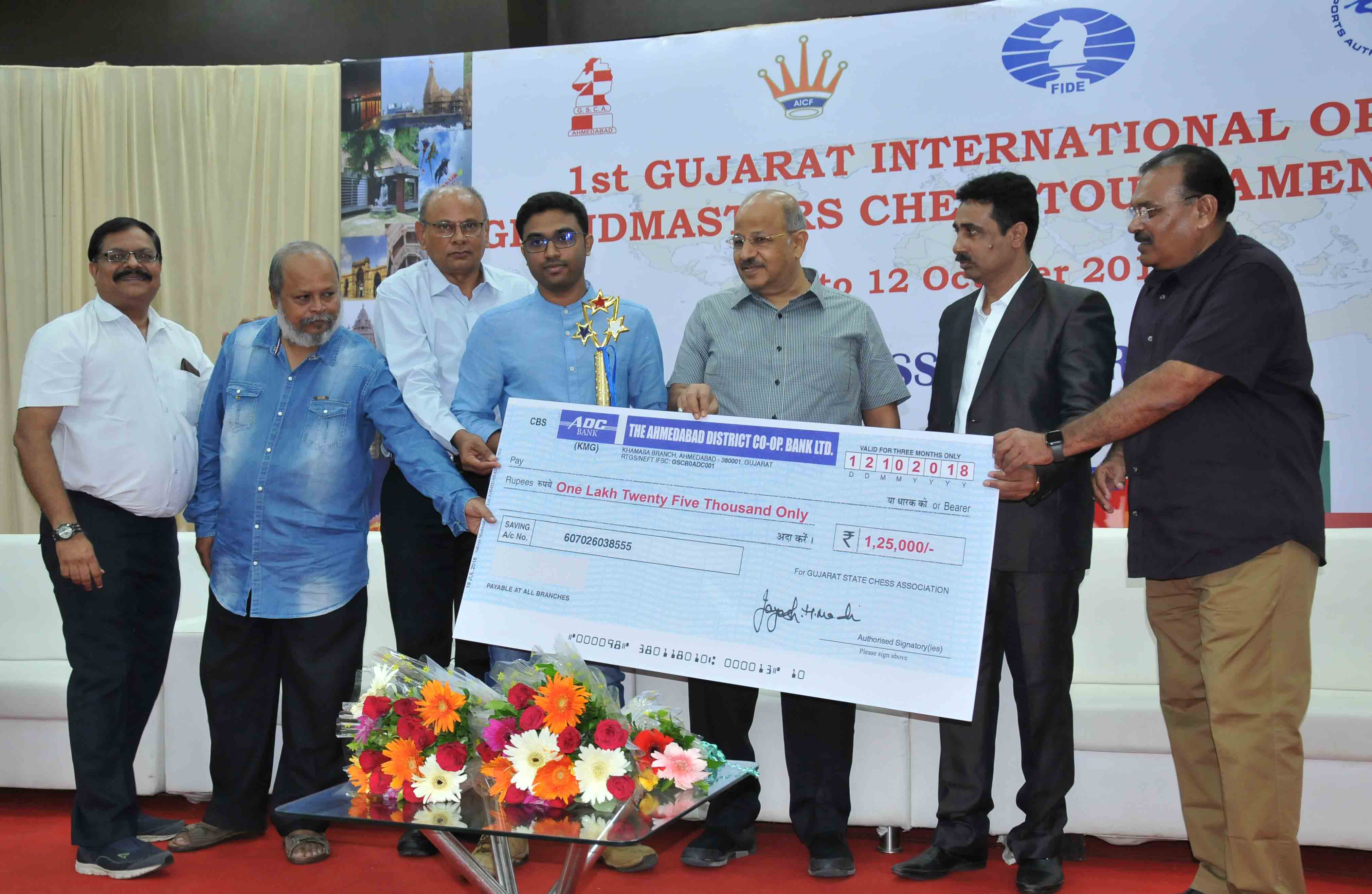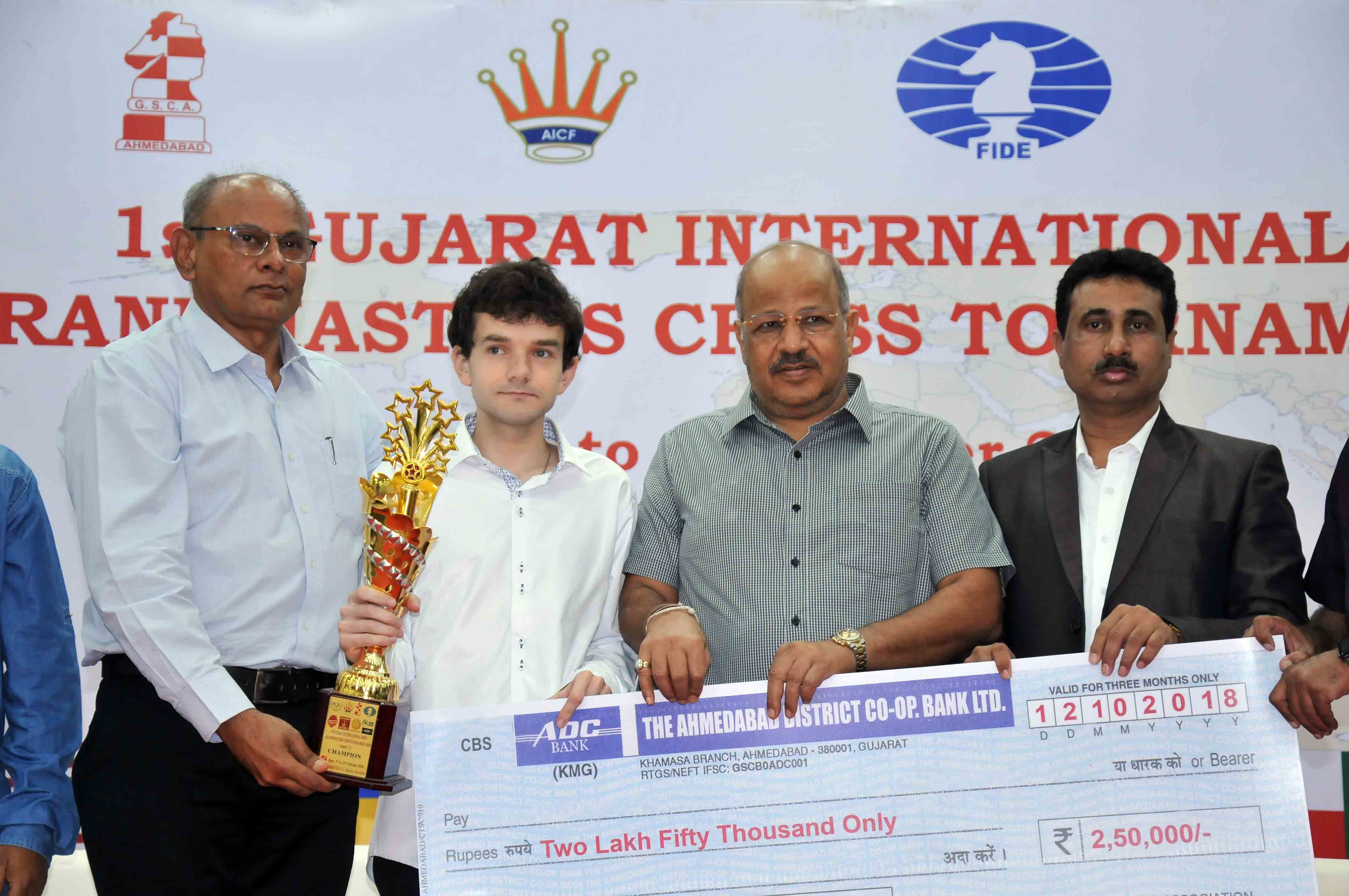 Final Ranking after 10 Rounds
| | | | | | | | | | | | | | | | |
| --- | --- | --- | --- | --- | --- | --- | --- | --- | --- | --- | --- | --- | --- | --- | --- |
| Rk. | SNo | | | Name | Typ | | FED | Rtg | Club/City | Pts. |  TB1 |  TB2 |  TB3 |  TB4 |  TB5 |
| 1 | 1 | | GM | Kravtsiv Martyn | | | UKR | 2654 | UKR | 8,5 | 0,0 | 63,5 | 68,0 | 55,25 | 8 |
| 2 | 20 | | IM | Vignesh N R | | | IND | 2447 | TN | 8,0 | 0,0 | 64,5 | 68,5 | 52,50 | 7 |
| 3 | 12 | | IM | Stany G.A. | | | IND | 2502 | KAR | 8,0 | 0,0 | 64,0 | 69,0 | 52,50 | 8 |
| 4 | 7 | | GM | Bernadskiy Vitaliy | | | UKR | 2547 | UKR | 8,0 | 0,0 | 62,0 | 66,5 | 51,75 | 6 |
| 5 | 3 | | GM | Predke Alexandr | | | RUS | 2615 | RUS | 8,0 | 0,0 | 60,5 | 64,5 | 49,75 | 6 |
| 6 | 13 | | IM | Harsha Bharathakoti | | | IND | 2492 | TEL | 7,5 | 0,0 | 63,0 | 68,0 | 47,25 | 7 |
| 7 | 9 | | GM | Sivuk Vitaly | | | UKR | 2545 | UKR | 7,5 | 0,0 | 61,5 | 66,5 | 44,00 | 7 |
| 8 | 2 | | GM | Amonatov Farrukh | | | TJK | 2615 | TJK | 7,5 | 0,0 | 60,5 | 66,0 | 47,75 | 7 |
| 9 | 14 | | GM | Neverov Valeriy | | | UKR | 2488 | UKR | 7,5 | 0,0 | 60,5 | 65,0 | 44,25 | 7 |
| 10 | 8 | | GM | Ter-Sahakyan Samvel | | | ARM | 2547 | ARM | 7,5 | 0,0 | 59,0 | 63,5 | 45,25 | 7 |
| 11 | 10 | | IM | Karthik Venkataraman | | | IND | 2525 | AP | 7,5 | 0,0 | 59,0 | 63,0 | 45,75 | 5 |
| 12 | 4 | | GM | Popov Ivan | | | RUS | 2611 | RUS | 7,5 | 0,0 | 58,5 | 63,5 | 42,50 | 6 |
| 13 | 31 | | IM | Rakesh Kumar Jena | | | IND | 2388 | ODI | 7,5 | 0,0 | 52,0 | 56,5 | 38,75 | 7 |
| 14 | 6 | | GM | Malakhatko Vadim | | | BEL | 2552 | BEL | 7,0 | 0,0 | 62,5 | 67,0 | 43,75 | 6 |
| 15 | 17 | | GM | Babujian Levon | | | ARM | 2456 | ARM | 7,0 | 0,0 | 60,0 | 64,5 | 42,00 | 6 |
| 16 | 23 | | IM | Akash G | | | IND | 2424 | TN | 7,0 | 0,0 | 58,0 | 61,5 | 39,75 | 6 |
| 17 | 58 | | | Pranav V | U15 | | IND | 2263 | TN | 7,0 | 0,0 | 56,0 | 59,0 | 37,75 | 6 |
| 18 | 45 | | | Raahul V S | U15 | | IND | 2294 | TN | 7,0 | 0,0 | 55,5 | 59,5 | 38,75 | 6 |
| 19 | 15 | | GM | Rahman Ziaur | | | BAN | 2473 | BAN | 7,0 | 0,0 | 52,5 | 57,5 | 39,00 | 5 |
| 20 | 18 | | IM | Gukesh D | U15 | | IND | 2456 | AP | 7,0 | 0,0 | 51,0 | 55,5 | 37,50 | 6 |