Asian Youth Chess Championship 2015.
Report of Day 5 by FI. Praful Zaveri
India & Iran in Close Race for Overall Supremacy
The Asian Youth Chess Championship 2015 in progress here at Kyung Hee University, Suwon, South Korea is headed for an exciting finish between India & Iran to decide the overall supremacy.
At the end of penultimate round, both India & Iran are leading in 4 categories each and the final round encounter tomorrow will decisive.
The leaders for India are Chandreyee Hajra (GU16), R. Vaishali (GU14), Krishna Teja (OU18) & Bharath Subramaniyam (OU8) while IM Lorparizangeneh Shahin (OU16), Alireza Firouzja (OU12), Aryan Gholami (GU14) & Gholami Orimi Anahita (GU18) are leaders for Iran.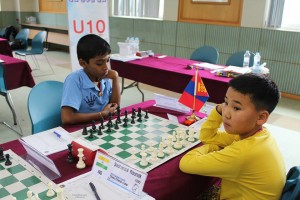 India go into the final round with slight edge as Divya Deshmukh is jointly lead the GU10 section with the Mongolian player, Mungunzul Bat and has better tie-break.
Since the last round pairing regulations avoids pairings of players from same countries, India is expected to score heavily and is certain to top the supremacy for total medals in this event.
Top Five Ranking at the End of Day 5:
Asian Youth Chess Championship-2015 (Under-18 Girls)
Rank after Round 6
Rk.
 
Name
FED
Rtg
Pts.
TB1
1
Gholami Orimi Anahita
IRI
2046
5.5
0
2
Lasya.G
IND
1973
4.5
0
3
WFM
Varshini V
IND
2040
4
1
4
Parpieva Nodirabegim
UZB
1867
4
0
5
Divya Lakshmi R
IND
1825
3.5
0
Asian Youth Chess Championship-2015 (Under-16 Girls)
Rank after Round 8
Rk.
 
Name
FED
Rtg
Pts.
TB1
1
Chandreyee Hajra
IND
1780
6.5
0
2
Aakanksha Hagawane
IND
2031
6
0
3
Harshita Guddanti
IND
1949
5
0
4
WFM
Savant Riya
IND
2153
5
0
5
Hu Yu A.
CHN
1971
5
0
Asian Youth Chess Championship-2015 (Under-14 Girls)
Rank after Round 8
Rk.
 
Name
FED
Rtg
Pts.
TB1
1
WFM
Vaishali R
IND
2307
7
0
2
Ghosh Samriddhaa
IND
1824
6
0
3
WCM
Yang Yijing
CHN
1958
5.5
0
4
Vantika Agrawal
IND
1951
5.5
0
5
Harshini A
IND
1826
5
0
Asian Youth Chess Championship-2015 (Under-14 Girls)
Rank after Round 8
Rk.
 
Name
FED
Rtg
Pts.
TB1
1
WFM
Vaishali R
IND
2307
7
0
2
Ghosh Samriddhaa
IND
1824
6
0
3
WCM
Yang Yijing
CHN
1958
5.5
0
4
Vantika Agrawal
IND
1951
5.5
0
5
Harshini A
IND
1826
5
0
Asian Youth Chess Championship-2015 (Under-12 Girls)
Rank after Round 8
Rk.
 
Name
FED
Rtg
Pts.
TB1
1
WFM
Bach Ngoc Thuy Duong
VIE
1631
6
0
2
Tan Huynh Thanh Truc
VIE
1606
5.5
0
3
WCM
Salonika Saina
IND
1853
5.5
0
4
WCM
Mrudul Dehankar
IND
1859
5.5
0
Tamir Saruul
MGL
0
5.5
0
Asian Youth Chess Championship-2015 (Under-10 Girls)
Rank after Round 8
Rk.
 
Name
FED
Rtg
Pts.
TB1
1
WFM
Divya Deshmukh
IND
1788
6.5
1
2
WCM
Mungunzul Bat-Erdene
MGL
1564
6.5
0
3
WCM
Altantuya Boldbaatar
MGL
1538
6
0
4
Rakshitta Ravi
IND
1568
5.5
0
5
Ghomi Parnian
IRI
1424
5
0
Asian Youth Chess Championship-2015 (Under-8 Girls)
Rank after Round 8
Rk.
 
Name
FED
Rtg
Pts.
TB1
1
Wei Yaqing
CHN
1472
7.5
0
2
Nguyen Le Cam Hien
VIE
0
6.5
0
3
Prathivya Gupta
IND
1287
6
0
4
Khaliunaa Gankhulug
MGL
0
5
0
5
Savitha Shri B
IND
1337
5
0
Asian Youth Chess Championship-2015 (Under-18 Open)
Rank after Round 6
Rk.
 
Name
FED
Rtg
Pts.
TB1
1
Krishna Teja N
IND
2222
4.5
0
2
Taalaibekov Tagir
KGZ
2195
4
0
3
Baivab Mishra
IND
2084
4
0
4
Khodashenas Mersad
IRI
2333
4
0
5
Aradhya Garg
IND
2129
4
0
Asian Youth Chess Championship-2015 (Under-16 Open)
Rank after Round 8
Rk.
 
Name
FED
Rtg
Pts.
TB1
1
IM
Lorparizangeneh Shahin
IRI
2425
6.5
0
2
Tahbaz Arash
IRI
2318
6
0
3
FM
Tran Minh Thang
VIE
2235
5.5
0
4
Ritviz Parab
IND
2260
5
0
5
Karthik V.   Ap
IND
2256
5
0
Asian Youth Chess Championship-2015 (Under-14 Open)
Rank after Round 8
Rk.
 
Name
FED
Rtg
Pts.
TB1
1
FM
Gholami Aryan
IRI
2392
7
0
2
FM
Nguyen Anh Khoi
VIE
2358
6
1
3
Yakubboev Nodirbek
UZB
2296
6
0
4
Fendereski Nima
IRI
2268
5.5
0
5
FM
Wong Yinn Long
MAS
2097
5
1
Asian Youth Chess Championship-2015 (Under-12 Open)
Rank after Round 8
Rk.
 
Name
FED
Rtg
Pts.
TB1
1
Firouzja Alireza
IRI
2309
7.5
0
2
Erigaisi Arjun
IND
2130
6
0
3
Harshavardhan G B
IND
1810
5.5
0.5
4
CM
Nihal Sarin
IND
2259
5.5
0.5
5
CM
Kushagra Mohan
IND
1946
5
0
Asian Youth Chess Championship-2015 (Under-10 Open)
Rank after Round 8
Rk.
 
Name
FED
Rtg
Pts.
TB1
1
CM
Sindarov Javokhir
UZB
2198
7.5
0
2
CM
Amartuvshin Ganzorig
MGL
1731
5.5
0
3
Daneshvar Bardiya
IRI
1751
5.5
0
4
FM
Praggnanandhaa R
IND
2104
5.5
0
5
CM
Aditya Mittal
IND
1755
5.5
0
Asian Youth Chess Championship-2015 (Under-8 Open)
Rank after Round 8
Rk.
 
Name
FED
Rtg
Pts.
TB1
1
Bharath Subramaniyam H
IND
1637
7
0
2
CM
Sindarov Islombek
UZB
1551
6
0
3
Shahil Dey
IND
1481
5.5
2
4
CM
Ochirbat Lkhagvajamts
MGL
1431
5.5
0
5
Prraneeth Vuppala
IND
1390
5.5
0