Report by R. Anantharam IA
Tamil Nadu grandmaster Aravindh Chithambaram emerged sole leader with 4.5 points in the Khadi India 55th National Premier Chess Championship, organised by All Bihar Chess Association at Lemon Tree Hotel, Patna today.
Half a point behind him are his teammate and defending champion Karthikeyan Murali, who had a good win over PSPB player MR Lalith Babu and Kerala's SL Narayanan. After six hectic rounds, tomorrow is a rest day,
Once again Aravindh's patient waiting game paid dividends, this time against Sammed. Both traded their queens on 17th move in the Reti opening transposed to Grunfeld game to display an enterprising fight. Aravindh played an attacking game and Sammed did not fall behind. Sammed understood the opponent's tactical play and answered them readily, but had to lose a pawn to bring his rook into activity. Aravindh played an exceptional rook and pawns ending to record the third win in six rounds, the most in the tournament so far.
Karthikeyan dealt a heavy blow to the hitherto joint leader grandmaster Lalith Babu and crushed him in just 30 moves. In the Caro Kann defence played by Karthikeyan, he wisely chose to castle on the queen side on 12th move. Besides, he launched a heavy attack on the king side, never allowing Lalith to castle. While his bishop was under attack, Karthikeyan sacrificed his knight for two pawns to reach a good position. His queen, rook and bishops were in total control over the board; whereas Lalith's rook was caged on a7 by his own two pawns. Though Karthikeyan was adrift of one minor piece, Lalith could not find a place to hide his king from checkmate.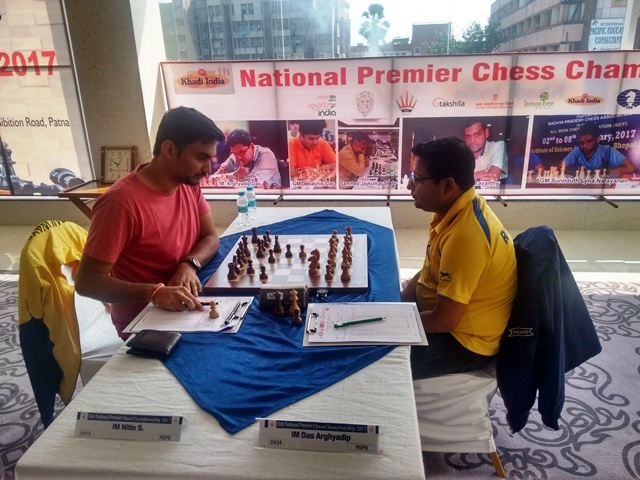 The two international masters from Railways – S Nitin and Arghyadip Das played out a 25 move draw in a game arising from Najdorf variation of Sicilain defence. Eyeing on the requirement of six points for the GM norm, both players might have been reluctant to take risk.
Another Najdorf variation game between the Railways international master P. Shyaamnikhil and Odisha's grandmaster Debashis Das had a similar result. Shyaam's double bishop advantage could not help him to gain momentum.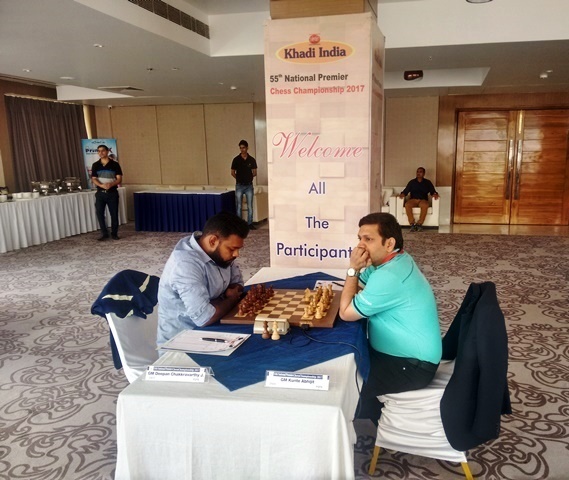 Former Asian Junior champion Deepan Chakkravarthy of ICF was happy to wriggle out from three consecutive losses. After the exchange of queens on 14th move, they reached an almost symmetrical position in a rook, knight and five pawns each ending. The game lasted for 26 moves.
Another 26 moves draw was the Queens Gambit declined duel between national blitz champion RR Laxman of Railways and SL Narayanan of Kerala, the highest rated player in the tournament after the release November ratings. Narayanan's good performance in the Isle of Man tournament won by Magnus Carlsen earned him 17 valuable rating points.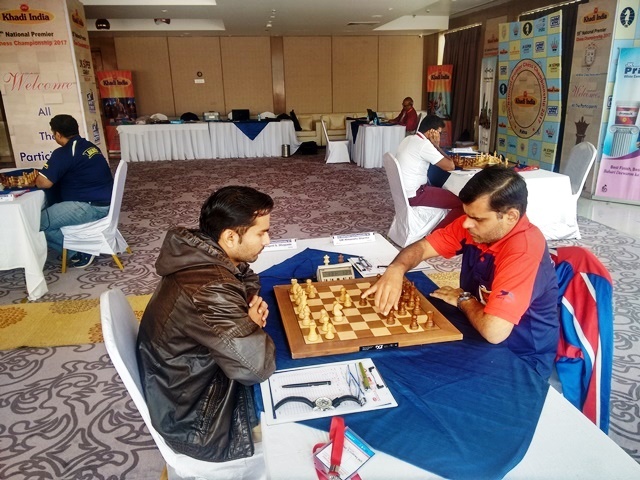 The bishop and knight ending led to a draw in 69 moves in the game between the Railway grandmasters Himanshu Sharma and Swapnil Dhopade.
Round 6 on 2017/11/02 at 10:00 AM
Bo.
No.
Rtg
Name
Result
Name
Rtg
No.
1
14
2516
GM
Swapnil S. Dhopade
½ – ½
GM
Himanshu Sharma
2510
10
2
11
2494
GM
Debashis Das
½ – ½
IM
Shyaamnikhil P
2422
9
3
12
2434
IM
Das Arghyadip
½ – ½
IM
Nitin S.
2415
8
4
13
2578
GM
Karthikeyan Murali
1 – 0
GM
Lalith Babu M R
2525
7
5
1
2392
GM
Laxman R.R.
½ – ½
GM
Sunilduth Lyna Narayanan
2568
6
6
2
2503
GM
Kunte Abhijit
½ – ½
GM
Deepan Chakkravarthy J.
2477
5
7
3
2573
GM
Aravindh Chithambaram Vr.
1 – 0
Sammed Jaykumar Shete
2310
4
Round 7 on 2017/11/04 at 10:00 AM
Bo.
No.
Rtg
Name
Result
Name
Rtg
No.
1
4
2310
Sammed Jaykumar Shete
GM
Swapnil S. Dhopade
2516
14
2
5
2477
GM
Deepan Chakkravarthy J.
GM
Aravindh Chithambaram Vr.
2573
3
3
6
2568
GM
Sunilduth Lyna Narayanan
GM
Kunte Abhijit
2503
2
4
7
2525
GM
Lalith Babu M R
GM
Laxman R.R.
2392
1
5
8
2415
IM
Nitin S.
GM
Karthikeyan Murali
2578
13
6
9
2422
IM
Shyaamnikhil P
IM
Das Arghyadip
2434
12
7
10
2510
GM
Himanshu Sharma
GM
Debashis Das
2494
11