National Junior ( U-19 ) Open & Girls Chess Championship 2018
Report by I.A Manjunatha Murthy
Top seed GM Karthik Venkataraman of Andhra Pradesh maintained sole-lead with 8 points after nine rounds in the National Junior Championship at KD Jadhav Hall, Indira Gandhi Stadium, New Delhi on Tuesday. Three players who are closely trailing behind the leader with 7.5 points are IM Rakesh Kumar Jena of Odisha, Nitish Belurkar of Goa and Sammed Jaykumar Shete of Maharashtra. While in the girls' section, Maharastra's WIM Aakanksha Hagawaneis is in lead with 8 points. Followed by WIM Chitlange Sakshi with 7.5 points.
On the top board, CM Aronyak Ghosh of West Bengal played against GM Karthik Venkataraman of Andhra Pradesh in the ninth round. Aronyak chose London System and he was having a slight better position in the opening.  Karthik displayed firm resistance in the middle game. They agreed for draw on 45th move.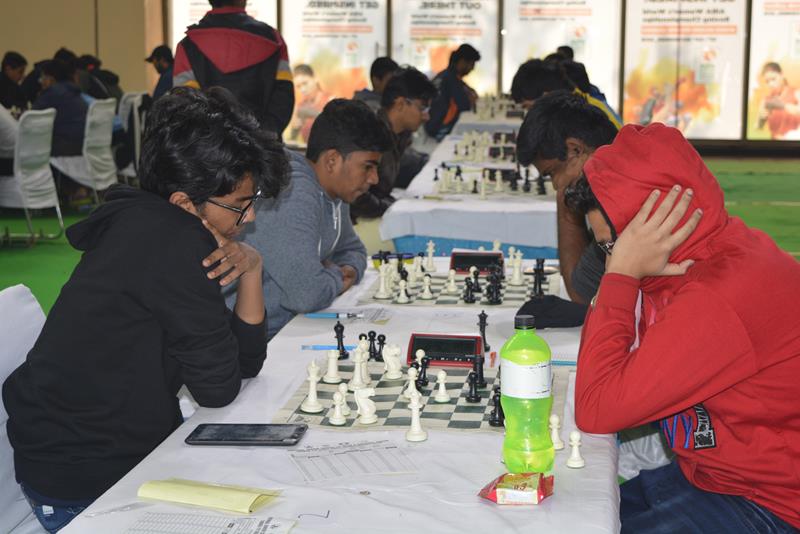 On second board IM Rakesh Kumar Jena of Odisha played against FM Rajdeep Sarkar of West Bengal. Rakesh played Ruy Lopez opening, the fight was equal till the middle game. According to Rakesh Kumar, "Rajdeep on 25th move miscalculated as a result of that he lost a pawn." Hereafter Rakesh performed very nicely not allowing any counterplay and forced Rajdeep to surrender on 57th move.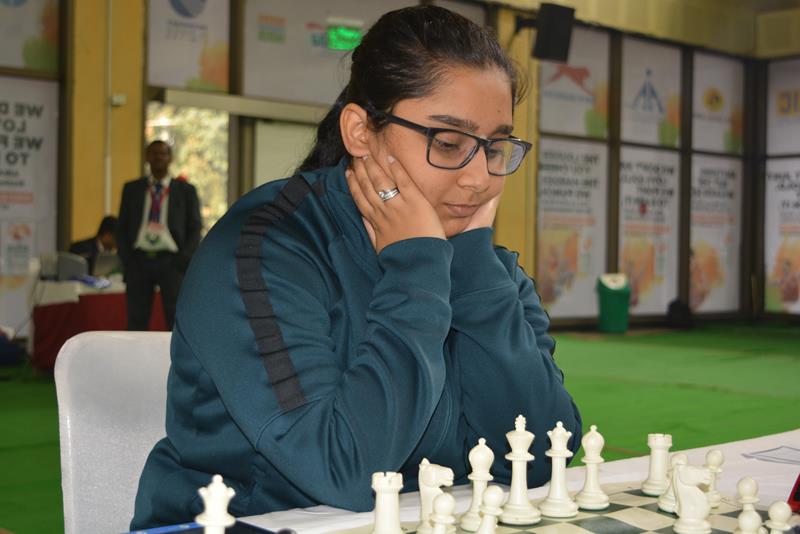 In the Girls section WIM Aakanksha Hagawane of Maharashtra played against Pandey Srishti of Maharashtra on the top board. Srishti opted Alekhine's defence and gained upper hand from the beginning. On 28th move, she over looked a move and sacrificed her Knight. Aakanksha accepted the sacrifice and with help of center passer pawn she won the game comfortably on 43rd move. This fortunate victory made Aakanksha sole leader.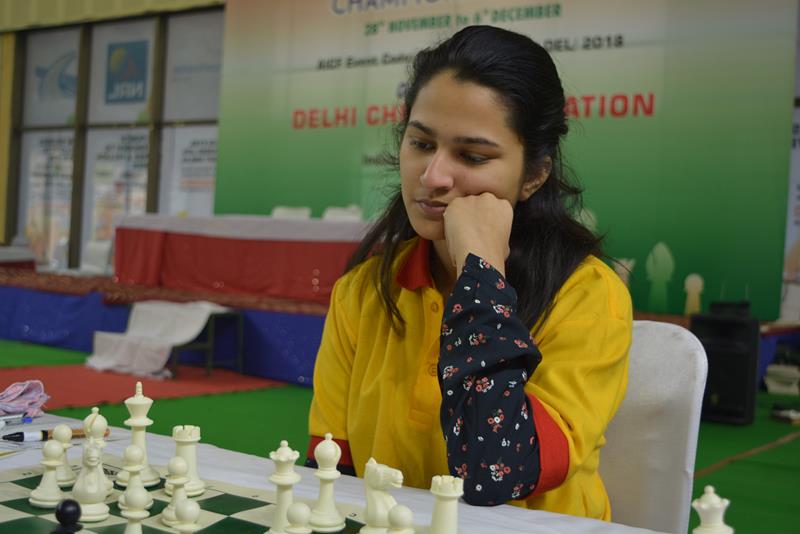 On second board WIM Vantika Agrawal of Delhi played against WIM Chitlange Sakshi of Maharashtra. In this game both played very defensively. On 25th move they agreed for a draw but according to tournament regulations, players have to complete 30 moves before agreeing for draw. The Arbiter insisted them to continue the game. They complied with regulation and soon signed the score-sheet to split the point.
Pairings
Open
Round 10 on 2018/12/05 at 10.00AM
| | | | | | | | | | | | |
| --- | --- | --- | --- | --- | --- | --- | --- | --- | --- | --- | --- |
| Bo. | No. | | Name | Rtg | Pts. | Result | Pts. | | Name | Rtg | No. |
| 1 | 1 | GM | Karthik Venkataraman | 2527 | 8 | | 7 | FM | Wagh Suyog | 2240 | 20 |
| 2 | 15 | FM | Nitish Belurkar | 2310 | 7½ | | 7½ | | Sammed Jaykumar Shete | 2368 | 6 |
| 3 | 27 | | Aaryan Varshney | 2200 | 7 | | 7½ | IM | Rakesh Kumar Jena | 2394 | 2 |
| 4 | 12 | CM | Aronyak Ghosh | 2343 | 7 | | 7 | FM | Anuj Shrivatri | 2357 | 8 |
| 5 | 3 | IM | Rahul Srivatshav P | 2391 | 6½ | | 6½ | | Ritviz Parab | 2309 | 16 |
| 6 | 5 | IM | Raghunandan Kaumandur Srihari | 2378 | 6½ | | 6½ | FM | Dushyant Sharma | 2271 | 18 |
| 7 | 7 | FM | Rajdeep Sarkar | 2362 | 6½ | | 6½ | | Anustoop Biswas | 2222 | 24 |
| 8 | 19 | | Saurabh Anand | 2246 | 6½ | | 6½ | | Neelash Saha | 2351 | 9 |
| 9 | 10 | FM | Rathanvel V S | 2349 | 6½ | | 6½ | AGM | Rathneesh R | 2017 | 46 |
Girls
Round 10 on 2018/12/05 at 10.00AM
| | | | | | | | | | | | |
| --- | --- | --- | --- | --- | --- | --- | --- | --- | --- | --- | --- |
| Bo. | No. | | Name | Rtg | Pts. | Result | Pts. | | Name | Rtg | No. |
| 1 | 8 | WFM | Arpita Mukherjee | 2090 | 7 | | 8 | WIM | Aakanksha Hagawane | 2264 | 2 |
| 2 | 3 | WIM | Chitlange Sakshi | 2237 | 7½ | | 6½ | WIM | Priyanka Nutakki | 2293 | 1 |
| 3 | 10 | WCM | Jyothsna L | 2060 | 7 | | 7 | WIM | Vantika Agrawal | 2210 | 4 |
| 4 | 36 | | Rindhiya V | 1773 | 6½ | | 6½ | | Priyanka K | 2207 | 5 |
| 5 | 6 | WFM | Makhija Aashna | 2197 | 6½ | | 6½ | WIM | Chandreyee Hajra | 1963 | 17 |
| 6 | 7 | WCM | Mrudul Dehankar | 2136 | 6½ | | 6½ | | Eesha Ajay Sarda | 1832 | 28 |
| 7 | 21 | WFM | Meghna C H | 1879 | 6½ | | 6½ | WFM | Dhyana Patel | 2002 | 12 |
| 8 | 29 | | Pandey Srishti | 1825 | 6½ | | 6½ | | Bakshi Rutuja | 1981 | 15 |
| 9 | 26 | | Toshali V | 1859 | 6 | | 6 | | Sanskriti Goyal | 1971 | 16 |
| 10 | 19 | WFM | Tanishka Kotia | 1951 | 6 | | 6 | | Kavitha P L | 1591 | 50 |
Photos Courtesy: I.A Jitendra Choudhary