Photos: Gujarat State Chess Association
The National Under-13 Chess Tournament for Open and Girls is underway at Rajpath Club (A.C Hall), Ahmedabad, Gujarat. The championship is being organized by the Gujarat State Chess Association under the aegis of the All India Chess Federation. As many as 471 players from 25 states are participating in the championship and the first two winners of the championship will represent India in the coming World and Asian Chess Championship.
In the Open section, Tamil Nadu's Pranav V. emerged as the sole leader after defeating Manish Anto Cristiano F (TN) in the eight round. With a score of 7.5/8, Pranav enjoys a full point lead over his rivals.
Manish Anto Cristiano is showing terrific and was leading jointly before losing to Pranav Venkatesh. However, the biggest upset was when he defeated the top seed Pranav Anand thanks a blunder by the top seed.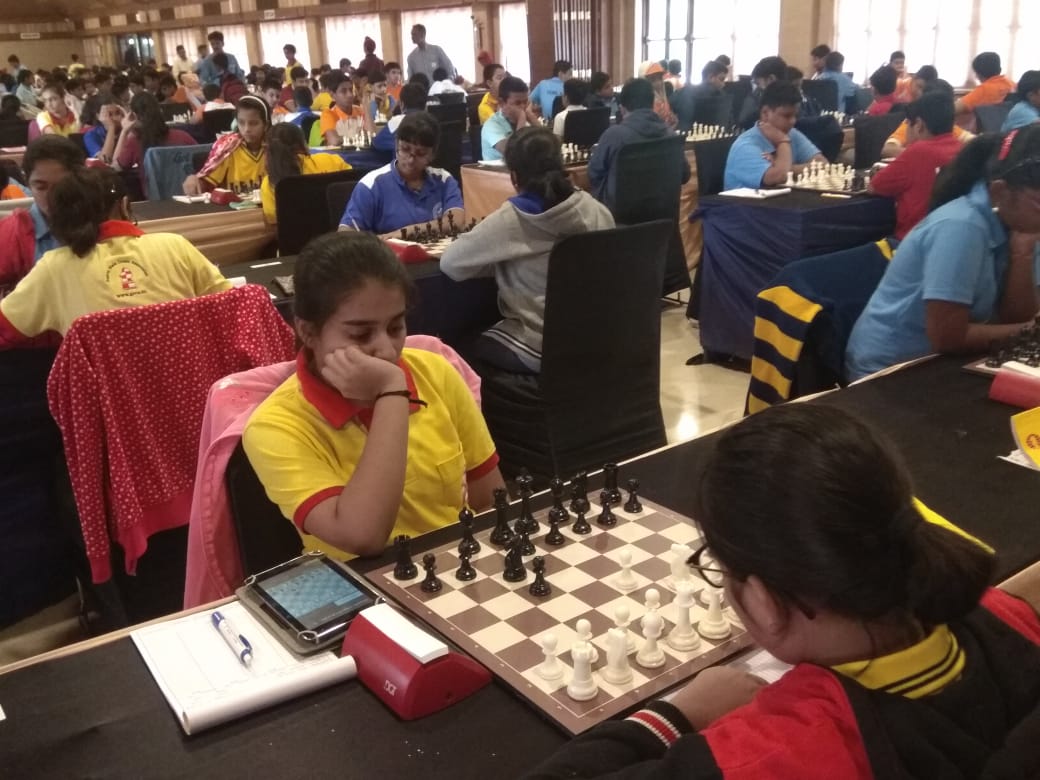 WFM Dhyana Patel, rated 1752, is leading the Girls section with 7.0/8.
Dignitaries in the dais.
Pairings/Results
Round 9 on 2018/06/20 at 10:00 AM
| | | | | | | | | | | | | | | | |
| --- | --- | --- | --- | --- | --- | --- | --- | --- | --- | --- | --- | --- | --- | --- | --- |
| Bo. | No. | | | Name | Rtg | Club/City | Pts. | Result | Pts. | | Name | Rtg | Club/City | | No. |
| 1 | 2 | | | Pranav V | 2265 | Tamil Nadu | 7½ | | 6½ | | Aaryan Varshney | 2209 | Delhi | | 3 |
| 2 | 4 | | CM | Aditya Mittal | 2208 | Maharashtra | 6½ | | 6½ | | Manish Anto Cristiano F | 2008 | Tamil Nadu | | 10 |
| 3 | 11 | | | Arya Bhakta | 2004 | West Bengal | 6½ | | 6½ | | Samant Aditya S | 2121 | Maharashtra | | 5 |
| 4 | 13 | | AGM | Srihari L R | 1990 | Tamil Nadu | 6½ | | 6½ | AGM | Jubin Jimmy | 2113 | Kerala | | 7 |
| 5 | 8 | | CM | Nikhil Magizhnan | 2098 | Tamil Nadu | 6½ | | 6½ | CM | Rohith Krishna S | 1992 | Tamil Nadu | | 12 |
| 6 | 14 | | | Pranesh M | 1983 | Tamil Nadu | 6½ | | 6½ | | Sreeshwan Maralakshikari | 2063 | Telangana | | 9 |
| 7 | 17 | | | Adarsh Tripathi | 1858 | Delhi | 6 | | 6 | | Aditya Varun Gampa | 1704 | Telangana | | 33 |
| 8 | 30 | | | Barde Om | 1735 | Goa | 6 | | 6 | AGM | Vignesh N | 1839 | Tamil Nadu | | 18 |
| 9 | 23 | | | Karthik Sai Ch | 1789 | Telangana | 6 | | 6 | | Mihir Godawat | 1668 | Haryana | | 37 |
| 10 | 24 | | | Samip Roy | 1789 | West Bengal | 6 | | 6 | | Srikrishnan P | 1667 | Tamil Nadu | | 38 |
Pairings/Results
Round 9 on 2018/06/20 at 10:00 AM
| | | | | | | | | | | | | | | | |
| --- | --- | --- | --- | --- | --- | --- | --- | --- | --- | --- | --- | --- | --- | --- | --- |
| Bo. | No. | | | Name | Rtg | Club/City | Pts. | Result | Pts. | | Name | Rtg | Club/City | | No. |
| 1 | 2 | | WCM | Vishwa Vasnawala | 1758 | Gujarat | 6½ | | 7 | WFM | Dhyana Patel | 1752 | Gujarat | | 3 |
| 2 | 8 | | WCM | Chopdekar Gunjal | 1633 | Goa | 6½ | | 6½ | | Bhagyashree Patil | 1905 | Maharashtra | | 1 |
| 3 | 4 | | | Savitha Shri B | 1721 | Tamil Nadu | 6½ | | 6½ | AFM | Advaita Sharma K | 1399 | Telangana | | 27 |
| 4 | 5 | | | Tanvi Vasudev Hadkonkar | 1698 | Goa | 6 | | 6 | | Shrija K M | 1651 | Tamil Nadu | | 7 |
| 5 | 12 | | | Velpula Sarayu | 1567 | Telangana | 6 | | 6 | | Meenatchi Rajam V | 1613 | Tamil Nadu | | 9 |
| 6 | 44 | | WCM | Kriti Mayur Patel | 1340 | Maharashtra | 6 | | 6 | | Boramanikar Tanisha S | 1579 | Maharashta | | 11 |
| 7 | 62 | | | Jesica | 1254 | Delhi | 6 | | 5½ | | Ahalya A | 1383 | Tamil Nadu | | 31 |
| 8 | 10 | | | Mohana R | 1613 | Tamil Nadu | 5½ | | 5½ | | Ananya Arumbakkam | 1374 | Karnataka | | 35 |
| 9 | 50 | | WCM | Patel Riddhi R | 1325 | Gujarat | 5½ | | 5½ | WCM | Chinnam Vyshnavi | 1551 | Andhra Pradesh | | 13 |
| 10 | 20 | | | Dalal Aashi | 1450 | Maharashtra | 5½ | | 5½ | | Parikh Urvi | 1360 | Gujarat | | 38 |