Photos: Gujarat State Chess Association
Delhi's Aaryan Varshney and Gujarat's Dhyana Patel emerged as champions in the Open and Girls sections respectively in the 32nd National Under-13 Chess Championship 2018 that concluded at Rajpath Club, Ahmedabad, Gujarat yesterday.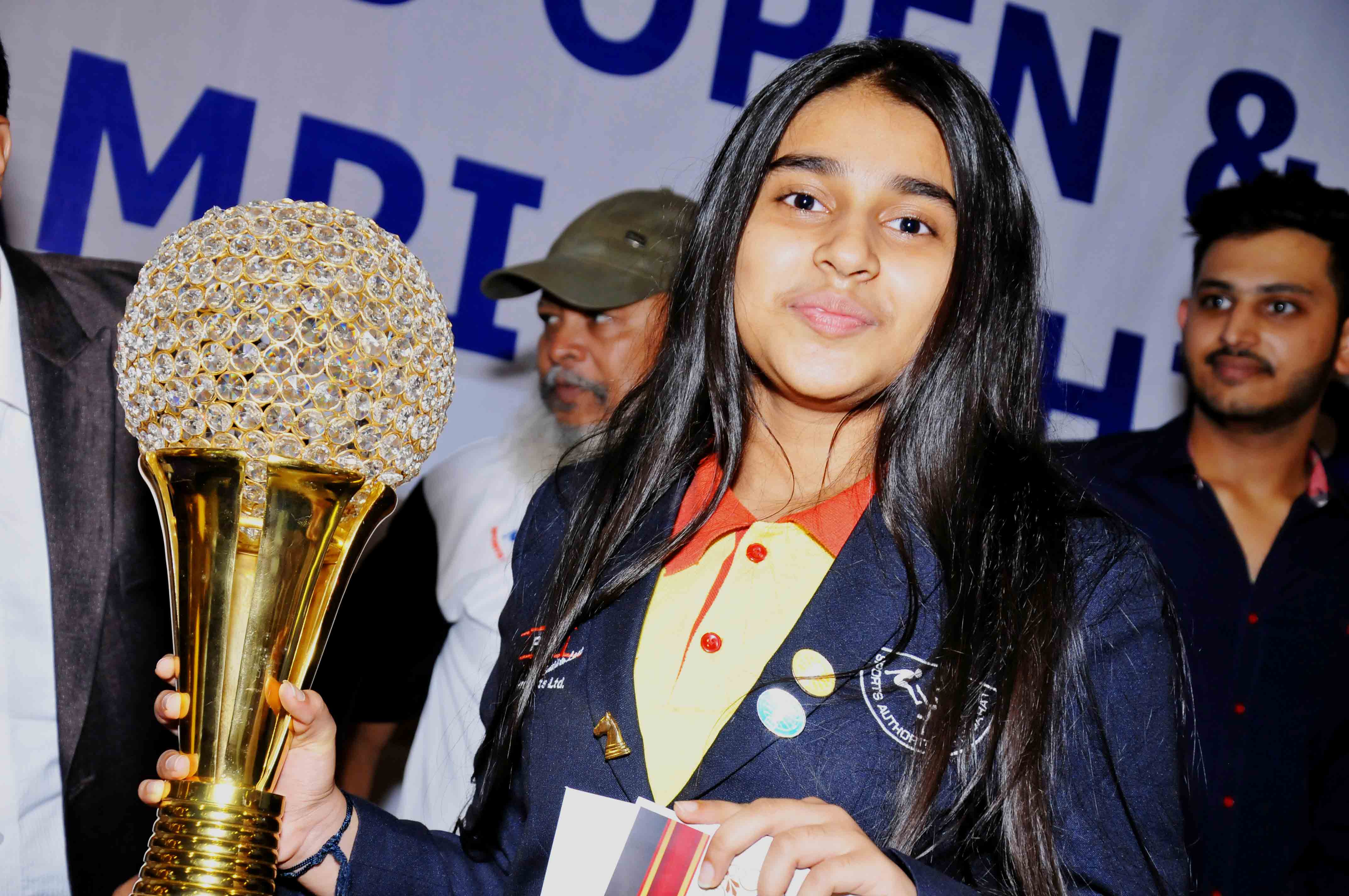 Aaryan defeated overnight leader Pranav V. in the 9th round, thereby grabbing the joint lead with Aditya Mittal and Samant Aditya S at 7.5/9 points.
Before the penultimate round clash among co-leaders, Aditya Mittal suffered an injury during a temple visit. Aaryan Varshney received a walkover point against Aditya while Pranav V. successfully bounced back with a victory over Samant Aditya on board 1.
Interestingly, Sreeshwan Maralakshikari managed to take home the point against AGM Jubin Jimmy on board 3. Sreeshwan emerged as co-leader with Aaryan and Pranav.
The final round saw two decisive results on top boards. Pranav V. lost to Sreeshwan Maralakshikari whereas, Rohith Krishna S lost to tournament's winner Aaryan Varshney.
In the girls' section, WFM Dhyana Patel had a smooth sailing to capture the title. She scored two consecutive victories against  WCM Vishwa Vasnawala and Savitha Shri B in the 9th and penultimate round respectively. Dhyana split the point in the final round to emerge as champion with 9.5/11 points. Followed by WCM Kriti Mayur Patel, who settled for second place with 9.0/11 points
A total of 471 players from 25 states participated in the championship. In the closing ceremony, Mr. Ajay H. Patel, President, GSCA and Mr. Bhavesh Patel, Hon. Secretary, GSCA presented the trophies to the winners.
Open: Final Ranking after 11 Rounds
| | | | | | | | | | | | | | | | | | |
| --- | --- | --- | --- | --- | --- | --- | --- | --- | --- | --- | --- | --- | --- | --- | --- | --- | --- |
| Rk. | SNo | | | Name | Typ | sex | FED | Rtg | Club/City | Pts. |  TB1 |  TB2 |  TB3 |  TB4 |  TB5 | K | rtg+/- |
| 1 | 3 | | | Aaryan Varshney | U13 | | IND | 2209 | Delhi | 9,5 | 0,0 | 74,0 | 79,0 | 68,00 | 9 | 40 | 5,2 |
| 2 | 9 | | | Sreeshwan Maralakshikari | U13 | | IND | 2063 | Telangana | 9,5 | 0,0 | 71,0 | 75,5 | 65,00 | 9 | 40 | 54,0 |
| 3 | 33 | | | Aditya Varun Gampa | U13 | | IND | 1704 | Telangana | 9,0 | 0,0 | 65,5 | 71,0 | 58,75 | 7 | 40 | 92,0 |
| 4 | 2 | | | Pranav V | U13 | | IND | 2265 | Tamil Nadu | 8,5 | 0,0 | 76,0 | 81,0 | 58,50 | 8 | 20 | -13,8 |
| 5 | 1 | | | Pranav Anand | U13 | | IND | 2336 | Karnataka | 8,5 | 0,0 | 73,5 | 79,0 | 61,00 | 8 | 20 | -30,8 |
| 6 | 8 | | CM | Nikhil Magizhnan | U13 | | IND | 2098 | Tamil Nadu | 8,5 | 0,0 | 71,5 | 76,5 | 57,50 | 6 | 40 | -41,6 |
| 7 | 27 | | | Ayush Sharma | U13 | | IND | 1783 | Madhya Pradesh | 8,5 | 0,0 | 68,5 | 73,5 | 54,25 | 8 | 40 | 64,0 |
| 8 | 13 | | AGM | Srihari L R | U13 | | IND | 1990 | Tamil Nadu | 8,0 | 0,0 | 79,0 | 83,5 | 57,25 | 6 | 40 | 31,6 |
| 9 | 12 | | CM | Rohith Krishna S | U13 | | IND | 1992 | Tamil Nadu | 8,0 | 0,0 | 74,5 | 79,5 | 56,00 | 6 | 40 | 5,2 |
| 10 | 11 | | | Arya Bhakta | U13 | | IND | 2004 | West Bengal | 8,0 | 0,0 | 73,5 | 79,0 | 55,25 | 7 | 40 | -20,8 |
Girls: Final Ranking after 11 Rounds
| | | | | | | | | | | | | | | | | | |
| --- | --- | --- | --- | --- | --- | --- | --- | --- | --- | --- | --- | --- | --- | --- | --- | --- | --- |
| Rk. | SNo | | | Name | Typ | sex | FED | Rtg | Club/City | Pts. |  TB1 |  TB2 |  TB3 |  TB4 |  TB5 | K | rtg+/- |
| 1 | 3 | | WFM | Dhyana Patel | F13 | w | IND | 1752 | Gujarat | 9,5 | 0,0 | 77,5 | 83,0 | 71,75 | 8 | 40 | 53,2 |
| 2 | 44 | | WCM | Kriti Mayur Patel | F13 | w | IND | 1340 | Maharashtra | 9,0 | 0,0 | 73,0 | 76,0 | 58,50 | 9 | 40 | 208,8 |
| 3 | 5 | | | Tanvi Vasudev Hadkonkar | F13 | w | IND | 1698 | Goa | 8,5 | 0,0 | 71,0 | 76,0 | 57,00 | 8 | 40 | -23,6 |
| 4 | 8 | | WCM | Chopdekar Gunjal | F13 | w | IND | 1633 | Goa | 8,5 | 0,0 | 69,5 | 74,5 | 56,25 | 7 | 40 | 23,6 |
| 5 | 1 | | | Bhagyashree Patil | F13 | w | IND | 1905 | Maharashtra | 8,0 | 0,0 | 74,0 | 79,0 | 53,75 | 7 | 40 | -70,8 |
| 6 | 4 | | | Savitha Shri B | F13 | w | IND | 1721 | Tamil Nadu | 8,0 | 0,0 | 72,5 | 76,5 | 53,50 | 7 | 40 | -30,8 |
| 7 | 2 | | WCM | Vishwa Vasnawala | U13 | w | IND | 1758 | Gujarat | 8,0 | 0,0 | 72,0 | 77,5 | 53,50 | 7 | 40 | -36,0 |
| 8 | 12 | | | Velpula Sarayu | U13 | w | IND | 1567 | Telangana | 8,0 | 0,0 | 71,0 | 77,0 | 54,25 | 6 | 40 | 61,6 |
| 9 | 11 | | | Boramanikar Tanisha S | F13 | w | IND | 1579 | Maharashta | 8,0 | 0,0 | 70,5 | 75,5 | 49,25 | 7 | 40 | -12,0 |
| 10 | 62 | | | Jesica | U13 | w | IND | 1254 | Delhi | 8,0 | 0,0 | 68,0 | 72,5 | 51,50 | 7 | 40 | 200,8 |