32nd National Under- 9 Open and Girls Chess Championship, Ranchi
Report by I.A Paul Arokia Raj
Tamil Nadu youngsters Illamparithi A R and Indira Priyadharshini Subbu scored a fluent victory in the seventh round and continued to lead with full points in the open and girls section respectively in the 32nd national under 9 Open and Girls chess championship which is half way through in Ranchi, the capital of Jharkhand.
In the Open section Abhyuday Santhosh (Karnataka) with 6.5 points is sitting pretty on the second spot while three others with 6 points are on the third spot. However in the girls section with the leadership being widened to one point four players namely Panchali Hiya (Gujarat), WCM Shefali A N (Karnataka), WCM Suhaani Lohia (Maharastra) and Palak Mohopatra (Odisha) are all placed in the second position with six points each.
In a scintillating game between the two Tamil Nadu lads top seed llamparithi A R and G.Akash both players were following the well-analysed variation in Sicilian Dragon. With both the kings castled on the kingside Illamparithi took some initiative in the early middle game to win an exchange and the rest was only a matter of technique for him to fetch a full point.
Playing white Abhyuday Santhosh was simply impressive in his game against Priansh Das (Odisha). Challenging the King's Indian defense Abhyuday applied a tremendous pressure on the kingside and cleverly trapped black's rook at g7 square. This was sufficient enough for white to wind up the game in his favour.
In the girls category, Indira Priyadharshini maintained her dream run when she delivered a check mate in a miniature game with black pieces against Sanikommu Manasvi (Karnataka). Indira perfectly capitalized mishandling of Scotch game by white and pierced through on the king side to execute a checkmate on her 25th move.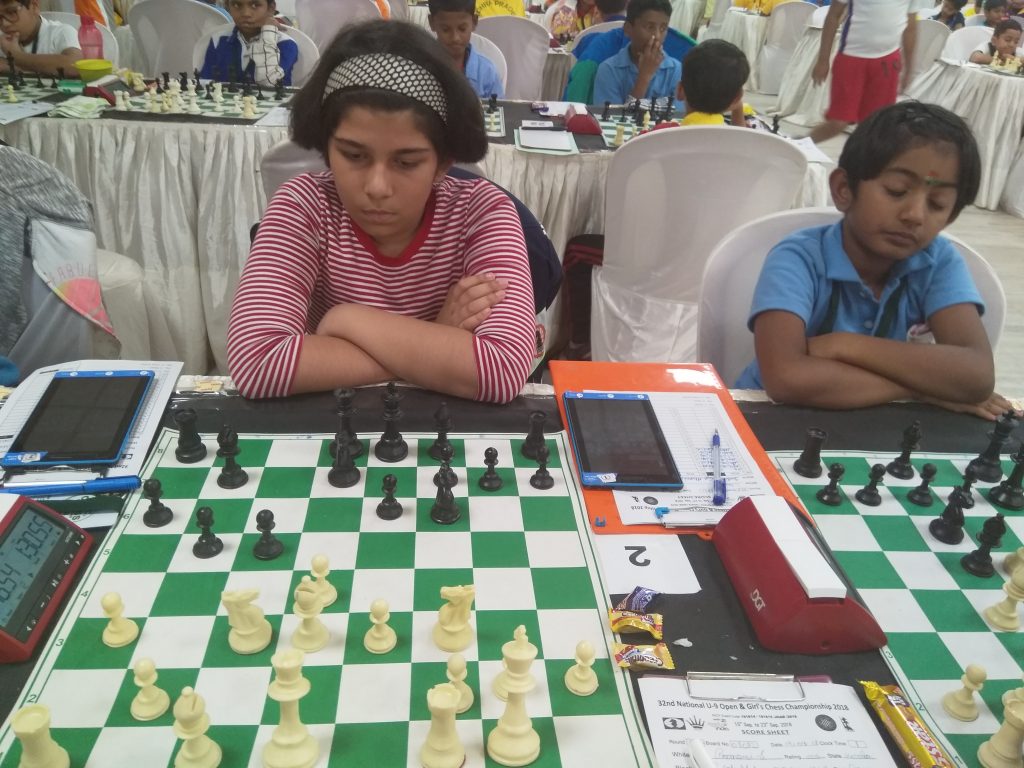 Palak Mohapatra with black pieces played a masterly game against Pournima (Kerala) in a Queen pawn opening. After a brilliant queen sacrifice, Black saddled her rooks to force White king to run for the life. Palak's three connected pawns on the king side backed by her king was sufficient enough to drag a mating net for the white king. When Black pushed her pawn to the g4 square exactly on her 50th move it turned out to be checkmate by a pawn!
Results
Open: Round 7
| | | | | | | | | | | | | | |
| --- | --- | --- | --- | --- | --- | --- | --- | --- | --- | --- | --- | --- | --- |
| Bo. | No. | | Name | Rtg | Club/City | Pts. | Result | Pts. | | Name | Rtg | Club/City | No. |
| 1 | 1 | | Ilamparthi A R | 1926 | Tamil Nadu | 6 | 1 – 0 | 5½ | | Aakash G | 1673 | Tamil Nadu | 2 |
| 2 | 9 | | Bharadia Yash | 1525 | Rajasthan | 5½ | ½ – ½ | 5½ | | Mayank Chakraborty | 1655 | Assam | 4 |
| 3 | 16 | | Abhyuday Santhosh | 1393 | Karnataka | 5½ | 1 – 0 | 5 | | Priansh Das | 1594 | Odisha | 6 |
| 4 | 3 | | Sadbhav Rautela | 1670 | Uttaranchal | 5 | ½ – ½ | 5 | | Jaiveer Mahendru | 1365 | Maharashtra | 21 |
| 5 | 29 | | Daakshin Arun | 1326 | Tamil Nadu | 5 | 0 – 1 | 5 | | Apoorv Kamble | 1502 | Karnataka | 10 |
| 6 | 45 | | Md Imran | 1249 | Andhra Pradesh | 5 | ½ – ½ | 5 | | Raghu Ram Reddy Seelam | 1445 | Telengana | 12 |
| 7 | 15 | | Sparsh Bisht | 1396 | Haryana | 5 | ½ – ½ | 5 | | Sriansh Das | 1347 | Odisha | 24 |
| 8 | 7 | | Kshatriya Nitin Vekhande | 1574 | Maharashtra | 4½ | 1 – 0 | 4½ | | Wanjari Krupal | 1307 | Maharashtra | 35 |
| 9 | 39 | | Advait Prashant Patil | 1278 | Maharashtra | 4½ | ½ – ½ | 4½ | CM | Bhagat Kush | 1539 | Maharashtra | 8 |
| 10 | 11 | | Borgaonkar Akshay | 1484 | Maharashtra | 4½ | 0 – 1 | 4½ | | Arshpreet Singh | 1291 | Haryana | 36 |
Girls: Round 7
| | | | | | | | | | | | | | |
| --- | --- | --- | --- | --- | --- | --- | --- | --- | --- | --- | --- | --- | --- |
| Bo. | No. | | Name | Rtg | Club/City | Pts. | Result | Pts. | | Name | Rtg | Club/City | No. |
| 1 | 12 | | Sanikommu Manasvi | 1164 | Karnataka | 5½ | 0 – 1 | 6 | | Indira Priyadharshini Subbu | 1178 | Tamil Nadu | 10 |
| 2 | 17 | | Pournami S | 1126 | Kerala | 5 | 0 – 1 | 5 | | Palak Mohapatra | 1267 | Odisha | 2 |
| 3 | 3 | | Panchal Hiya | 1267 | Gujrat | 5 | 1 – 0 | 5 | | Mehak Mathur | 1056 | Chhattisgarh | 33 |
| 4 | 5 | | Sneha Halder | 1245 | Bengal | 5 | ½ – ½ | 5 | | Debapriya Manna | 1036 | Bengal | 38 |
| 5 | 104 | | Patil Disha | 0 | Maharashtra | 5 | 0 – 1 | 5 | WCM | Suhaani Lohia | 1235 | Maharashtra | 6 |
| 6 | 7 | WCM | Shefali A N | 1224 | Karnataka | 5 | 1 – 0 | 5 | | Dhaaniya T | 1018 | Pondicherry | 43 |
| 7 | 23 | | Sarvani Cheedella | 1101 | Andhra Pradesh | 4½ | 0 – 1 | 4½ | WCM | Shriyana S Mallya | 1278 | Karnataka | 1 |
| 8 | 67 | | Behera Snehayukta | 0 | Odisha | 4½ | 1 – 0 | 4½ | | Sani Deshpande | 1219 | Maharashtra | 8 |
| 9 | 25 | | Srishanthi G | 1090 | Telangana | 4½ | ½ – ½ | 4½ | | Devaki Nandana | 1110 | Andhra Pradesh | 20 |
| 10 | 11 | | Hasmitha Jt | 1176 | Tamil Nadu | 4 | ½ – ½ | 4½ | | Mukherjee Shreya | 1036 | Maharashtra | 39 |