King Salman World Rapid and Blitz Chess Championships-2018
The King Salman World Rapid and Blitz Championship was conducted in Saint Petersburg from December 25 to 31, 2018. The total prize fund was USD 1,150,000/-
The Open starting list was headed by Five-time World Champion Viswanathan Anand (India), the reigning World Champion Magnus Carlsen (Norway), world strongest grandmasters Shakhriyar Mamedyarov (Azerbaijan), Anish Giri (Netherlands), Levon Aronian (Armenia), Alexander Grischuk, Sergey Karjakin, Ian Nepomniachtchi, Peter Svidler (all from Russia), India's no 2 Harikrishna Pentala and other top players.
In the women's events, Koneru Humpy and Dronavalli Harika spearheaded India's charge. Others included the reigning Women's World Champion Ju Wenjun (China), Anna and Mariya Muzychuk (both from Ukraine), Kateryna Lagno, Alexandra Kosteniuk, Aleksandra Goryachkina, Valentina Gunina, Olga Girya (all from Russia), Nana Dzagnidze (Georgia), Tan Zhongyi (China).
Rapid
The title in the Open Section went to Daniil Dubov (Russia), who collected 11 points in 15 games.  Half a point behind him was Shakhriyar Mamedyarov (Azerbaijan), Hikaru Nakamura (USA), Vladislav Artemiev (Russia), and Magnus Carlsen (Norway). Superior tie-break score gave Mamedyarov the silver, and Nakamura got the bronze.
Defending Champion Viswanathan Anand scored 10.5 points and had to be content with the 21st place.
In the women's section Ju Wenjun, who had defended her Women's World Champion's two months ago in Khanty-Mansiysk, managed to defend her champion's title in rapid chess as well. With 10 points in 12 games, the Chinese finished solely on top. Sarasadat Khademalsharieh's (Iran) superior tie-break secured her second place, and Aleksandra Goryachkina (Russia) got the bronze. India's Dronavalli Harika finished 14th with a score of 8.0/12 points.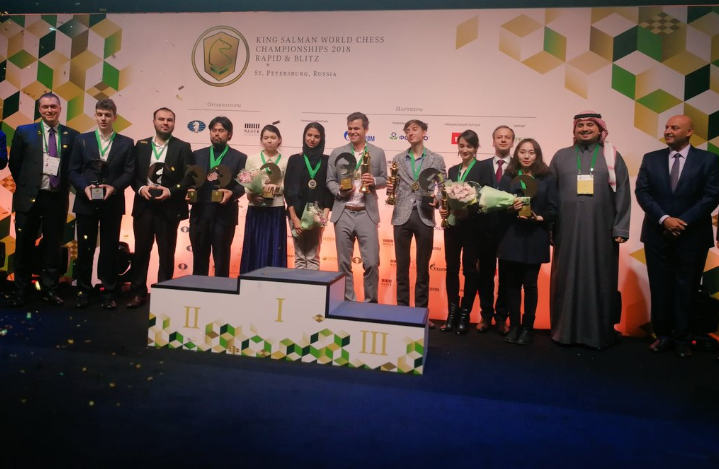 Blitz
Magnus Carlsen (Norway) defended his title of the world's strongest blitz player by dominating the championship with 17/21. Jan-Krzysztof Duda (Poland) finished second with 16.5 points. Hikaru Nakamura (USA) took third with 14.5 points.
India's Nihal Sarin had a dream run. He started as the 139th seed; won 11 games, drew five and lost five thereby ending with 13.5 points. Nihal outwitted players like GMs Le Quam Liem (Vietnam), Gawain Jones (England), and Alexander Zubov (Ukraine).
Kateryna Lagno (Russia) won the Women's Section. She collected 13.5 points. Sarasadat Khademalsharieh (Iran) won the silver with 13 points. Lei Tingjie (China) got the bronze with 12.5 points. Dronavalli Harika finished 21st with 10.5/17 points.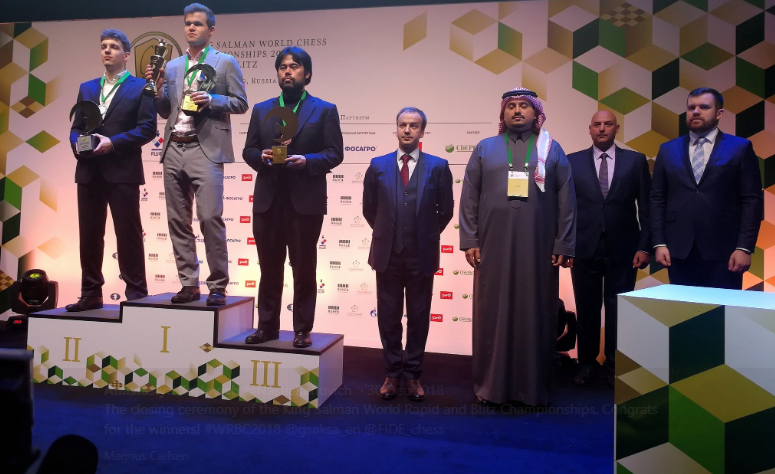 Rapid: Open
Final Ranking after 15 Rounds
| | | | | | | |
| --- | --- | --- | --- | --- | --- | --- |
| Rk. | SNo |   | Name | FED | RtgI | Pts. |
| 1 | 25 | GM | Dubov Daniil | RUS | 2723 | 11 |
| 2 | 6 | GM | Mamedyarov Shakhriyar | AZE | 2786 | 10.5 |
| 3 | 2 | GM | Nakamura Hikaru | USA | 2844 | 10.5 |
| 4 | 3 | GM | Artemiev Vladislav | RUS | 2812 | 10.5 |
| 5 | 1 | GM | Carlsen Magnus | NOR | 2903 | 10.5 |
| 6 | 169 | GM | Firouzja Alireza | IRI | 2412 | 10 |
| 7 | 11 | GM | Yu Yangyi | CHN | 2758 | 10 |
| 8 | 16 | GM | Giri Anish | NED | 2739 | 10 |
| 9 | 8 | GM | Karjakin Sergey | RUS | 2774 | 10 |
| 10 | 43 | GM | Petrosian Tigran L. | ARM | 2676 | 10 |
| 11 | 15 | GM | Korobov Anton | UKR | 2740 | 10 |
| 12 | 35 | GM | Matlakov Maxim | RUS | 2690 | 10 |
| 13 | 38 | GM | Duda Jan-Krzysztof | POL | 2683 | 10 |
| 14 | 29 | GM | Anton Guijarro David | ESP | 2708 | 10 |
| 15 | 19 | GM | Grischuk Alexander | RUS | 2732 | 10 |
Rapid: Women
Final Ranking after 12 Rounds
| | | | | | | |
| --- | --- | --- | --- | --- | --- | --- |
| Rk. | SNo |   | Name | FED | RtgI | Pts. |
| 1 | 2 | GM | Ju Wenjun | CHN | 2584 | 10 |
| 2 | 25 | IM | Khademalsharieh Sarasadat | IRI | 2402 | 9 |
| 3 | 11 | GM | Goryachkina Aleksandra | RUS | 2477 | 9 |
| 4 | 1 | GM | Muzychuk Anna | UKR | 2595 | 8.5 |
| 5 | 16 | GM | Tan Zhongyi | CHN | 2442 | 8.5 |
| 6 | 15 | IM | Abdumalik Zhansaya | KAZ | 2444 | 8.5 |
| 7 | 5 | GM | Lagno Kateryna | RUS | 2539 | 8.5 |
| 8 | 3 | GM | Lei Tingjie | CHN | 2545 | 8.5 |
| 9 | 17 | IM | Bodnaruk Anastasia | RUS | 2442 | 8.5 |
| 10 | 30 | IM | Saduakassova Dinara | KAZ | 2381 | 8 |
| 11 | 8 | GM | Muzychuk Mariya | UKR | 2493 | 8 |
| 12 | 26 | GM | Gunina Valentina | RUS | 2396 | 8 |
| 13 | 18 | IM | Arabidze Meri | GEO | 2431 | 8 |
| 14 | 9 | GM | Harika Dronavalli | IND | 2484 | 8 |
| 15 | 24 | WIM | Shuvalova Polina | RUS | 2411 | 8 |
Blitz Open
Final Ranking after 21 Rounds
| | | | | | | |
| --- | --- | --- | --- | --- | --- | --- |
| Rk. | SNo |   | Name | FED | RtgI | Pts. |
| 1 | 1 | GM | Carlsen Magnus | NOR | 2939 | 17 |
| 2 | 32 | GM | Duda Jan-Krzysztof | POL | 2694 | 16.5 |
| 3 | 2 | GM | Nakamura Hikaru | USA | 2889 | 14.5 |
| 4 | 3 | GM | Aronian Levon | ARM | 2858 | 14 |
| 5 | 11 | GM | Svidler Peter | RUS | 2770 | 14 |
| 6 | 4 | GM | Nepomniachtchi Ian | RUS | 2846 | 14 |
| 7 | 12 | GM | Karjakin Sergey | RUS | 2759 | 14 |
| 8 | 9 | GM | Andreikin Dmitry | RUS | 2777 | 13.5 |
| 9 | 6 | GM | Artemiev Vladislav | RUS | 2825 | 13.5 |
| 10 | 14 | GM | Giri Anish | NED | 2751 | 13.5 |
| 11 | 139 | GM | Nihal Sarin | IND | 2506 | 13.5 |
| 12 | 52 | GM | Matlakov Maxim | RUS | 2653 | 13.5 |
| 13 | 13 | GM | Mamedyarov Shakhriyar | AZE | 2754 | 13.5 |
| 14 | 31 | GM | Vitiugov Nikita | RUS | 2696 | 13.5 |
| 15 | 18 | GM | Dubov Daniil | RUS | 2743 | 13.5 |
Blitz: Women
Final Ranking after 17 Rounds
| | | | | | | |
| --- | --- | --- | --- | --- | --- | --- |
| Rk. | SNo |   | Name | FED | Rtg | Pts. |
| 1 | 2 | GM | Lagno Kateryna | RUS | 2560 | 13.5 |
| 2 | 25 | IM | Khademalsharieh Sarasadat | IRI | 2377 | 13 |
| 3 | 12 | GM | Lei Tingjie | CHN | 2458 | 12.5 |
| 4 | 10 | GM | Gunina Valentina | RUS | 2489 | 12 |
| 5 | 8 | GM | Tan Zhongyi | CHN | 2494 | 11.5 |
| 6 | 14 | GM | Goryachkina Aleksandra | RUS | 2422 | 11.5 |
| 7 | 15 | GM | Ushenina Anna | UKR | 2419 | 11.5 |
| 8 | 93 | WCM | Garifullina Leya | RUS | 2120 | 11 |
| 9 | 4 | GM | Ju Wenjun | CHN | 2558 | 11 |
| 10 | 52 | WGM | Mamedjarova Zeinab | AZE | 2271 | 11 |
| 11 | 40 | IM | Gaponenko Inna | UKR | 2314 | 11 |
| 12 | 3 | GM | Muzychuk Anna | UKR | 2559 | 11 |
| 13 | 7 | GM | Stefanova Antoaneta | BUL | 2496 | 11 |
| 14 | 29 | IM | Paehtz Elisabeth | GER | 2366 | 11 |
| 15 | 122 | WFM | Munkhzul Turmunkh | MGL | 1936 | 11 |