33rd VMRDA National under 13 Open and Girls Championship, 2019, Visakhapatnam
Report by IA S.PAUL AROKIA RAJ, Chief Arbiter
V. Pranav (Tamil Nadu) has emerged as the sole leader with 7 points after he registered his seventh straight victory in the 33rd VMRDA National under 13 Open chess championship now half way through at VMRDA Children's arena, Visakhapatnam. Nine others are behind the leaders with 6 points apiece.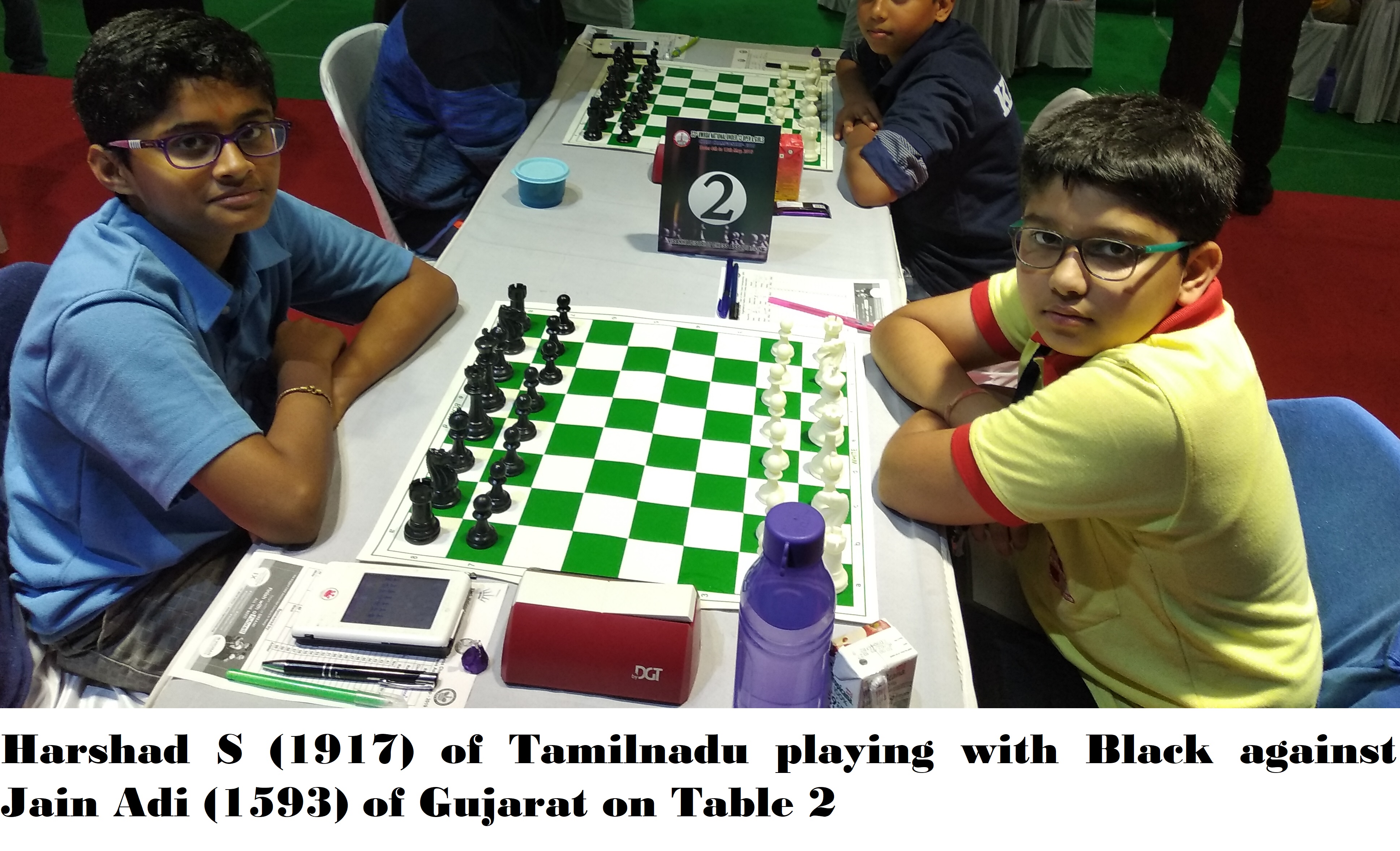 In a clash between two leaders on the top table namely Jubin Jimmy (Kerala) and Pranav the latter prevailed over the former in Nimzo Indian defense of d4 opening. Pranav handled his black side so meticulously to overcome the stiff resistance offered by his opponent in a long drawn battle of 60 moves.
In the girl's section, Velpula Sarayu (Telangana) and WCM Kriti Mayur Patel (Maharashtra) are sharing the lead with 6.5 points each. Renganayaki (Karnataka) is behind the joint leaders with 6 points. With four more rounds remaining the players are all set to sweat out over the sixty-four squares to earn a creditable placing in this important national championship.
Top seed Velpula Sarayu was simply impressive in today's match in taming her opponent Yash Jyoti Bir using Sicilian defense on black pieces.
Playing white Kriti Mayur Patel proved her mettle against Yashavishree M in a game involving Sicilian defense. The ended in checkmate on white's 54th move.
Important Results of Round 7
Open
| | | | | | | | | | | | | | |
| --- | --- | --- | --- | --- | --- | --- | --- | --- | --- | --- | --- | --- | --- |
| Bo. | No. | | Name | Rtg | Club/City | Pts. | Result | Pts. | | Name | Rtg | Club/City | No. |
| 1 | 3 | FM | Jubin Jimmy | 2214 | KER | 6 | 0 – 1 | 6 | | Pranav V | 2315 | TN | 2 |
| 2 | 32 | | Jain Adi | 1593 | GUJ | 5½ | ½ – ½ | 5½ | | Harshad S | 1917 | TN | 7 |
| 3 | 1 | FM | Pranesh M | 2333 | TN | 5 | 1 – 0 | 5 | | Adireddy Tarun | 1738 | TEL | 18 |
| 4 | 19 | | Shaik Sumer Arsh | 1737 | TEL | 5 | 0 – 1 | 5 | CM | Nikhil Magizhnan | 2175 | TN | 4 |
| 5 | 6 | | Manish Kumar (2006) | 1953 | Orissa | 5 | 1 – 0 | 5 | | Sreekar J S S | 1728 | TEL | 20 |
| 6 | 11 | | Aaditya Dhingra | 1867 | HAR | 5 | 1 – 0 | 5 | | Bharadia Yash | 1643 | RAJ | 27 |
| 7 | 33 | | Prithvvi Singh | 1593 | UP | 5 | 0 – 1 | 5 | | Aditya Varun Gampa | 1826 | TEL | 12 |
| 8 | 13 | | Aditya Bikram Paul | 1807 | WB | 5 | 0 – 1 | 5 | | Koustuv Dash | 1591 | Orissa | 34 |
| 9 | 5 | | Ilamparthi A R | 2074 | TN | 4½ | 1 – 0 | 4½ | | Mayank Chakraborty | 1684 | Assam | 25 |
| 10 | 31 | | Rohith Yadav B R | 1607 | TEL | 4½ | 0 – 1 | 4½ | | Shah Jeet | 1905 | MAH | 8 |
Girls
| | | | | | | | | | | | | | |
| --- | --- | --- | --- | --- | --- | --- | --- | --- | --- | --- | --- | --- | --- |
| Bo. | No. | | Name | Rtg | Club/City | Pts. | Result | Pts. | | Name | Rtg | Club/City | No. |
| 1 | 13 | | Yash Jyoti Bir | 1507 | WB | 5½ | 0 – 1 | 5½ | | Velpula Sarayu | 1768 | TEL | 1 |
| 2 | 17 | WCM | Kriti Mayur Patel | 1449 | MAH | 5½ | 1 – 0 | 5 | | Yashavishree N | 1422 | TN | 20 |
| 3 | 3 | | Boramanikar Tanisha S | 1694 | MAH | 5 | ½ – ½ | 5 | | Panda Miracle | 1379 | Orissa | 23 |
| 4 | 6 | AIM | Renganayaki V | 1610 | KAR | 5 | 1 – 0 | 5 | | Agrawal Aanya | 1356 | GUJ | 25 |
| 5 | 4 | WCM | Wankhade Sanskruti | 1630 | MAH | 4½ | ½ – ½ | 4½ | | Cera Dagaria | 1433 | MP | 19 |
| 6 | 22 | | Hemakshi Chauhan | 1385 | Haryana | 4½ | ½ – ½ | 4½ | | Harshavardhini M.S. | 1554 | PON | 7 |
| 7 | 24 | | Tejaswini G | 1374 | TN | 4½ | ½ – ½ | 4½ | | Ananya Arumbakkam | 1550 | KAR | 9 |
| 8 | 35 | | Prasiddhi Bhat | 1316 | KAR | 4½ | 0 – 1 | 4½ | | Kheerthi Ganta | 1545 | TEL | 11 |
| 9 | 42 | | Tejaswi R | 1284 | TN | 4½ | 0 – 1 | 4½ | | Anushka Gupta | 1456 | WB | 16 |
| 10 | 5 | | Akshaya Rajaraman | 1617 | TN | 4 | 1 – 0 | 4½ | | Mohitha V | 1355 | AP | 26 |