Tata Steel Chess India: Day 2 Rapid
All photos by Lennart Ootes
With a perfect score of 3/3 on the second day, Hikaru Nakamura is now tied for first place along with  Levon Aronian at the Tata Steel Chess India tournament in Kolkata. India no.2 Harikrishna Pentala is one point behind. He slipped to the third place after splitting the point against Wesley So with the white pieces of the Berlin defence in round six.
Meanwhile, reigning World rapid champion Viswanathan Anand drew his sixth straight game of the tournament to stay undefeated. Anand is placed mid-table at number four with three points.
Anand and Harikrishna played each other for the first time on home soil in India. The game was ended in a draw.
Vidit Gujrathi was the lone Indian to score a win. He outplayed Sergey Karjakin in the sixth round.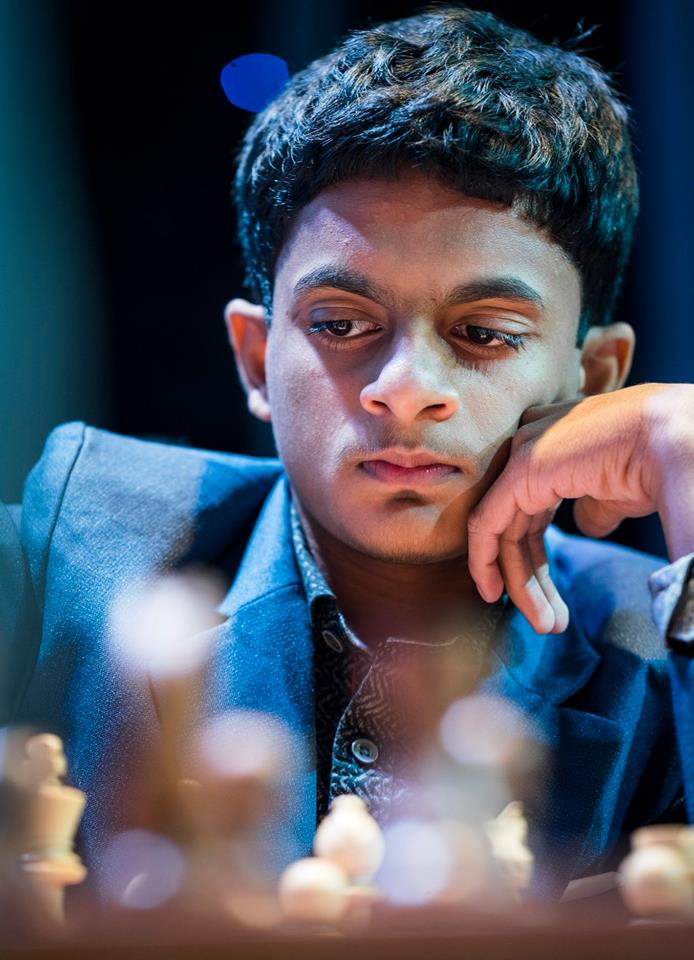 14-year-old prodigy Nihal Sarin was on the cusp of causing an upset by beating Mamedyarov who managed to hold on with some tricks and ended in perpetual checks on the 60th move.
"I'm playing quite well here. It's a very good experience, it's my first super tournament and a nice exposure. But I'm not under any extra pressure," Nihal, who is the world number one in U-14 section, said in the press conference.
Local favourite Surya Shekhar Ganguly is having a forgettable tournament as he managed to score only 0.5/3 points.
Rapid
Round 4:
Surya Shekhar Ganguly – Sergey Karjakin 0-1
Levon Aronian – Wesley So 1-0
Vidit Santosh Gujrathi – Viswanathan Anand ½-½
Pentala Harikrishna – Nihal Sarin ½-½
Shakhriyar Mamedyarov – Hikaru Nakamura 0-1
Round 5:
Hikaru Nakamura – Surya Shekhar Ganguly 1-0
Nihal Sarin – Shakhriyar Mamedyarov ½-½
Viswanathan Anand – Pentala Harikrishna ½-½
Wesley So – Vidit Santosh Gujrathi 1-0
Sergey Karjakin – Levon Aronian ½-½
Round 6:
Surya Shekhar Ganguly – Levon Aronian 0-1
Vidit Santosh Gujrathi – Sergey Karjakin 1-0
Pentala Harikrishna – Wesley So ½-½
Shakhriyar Mamedyarov – Viswanathan Anand ½-½
Hikaru Nakamura – Nihal Sarin 1-0
Standings after Round 6
| | | | |
| --- | --- | --- | --- |
| Rank |   | Points | Rating |
| 1 |  Nakamura, Hikaru | 4½ | 2844 |
| 2 |  Aronian, Levon | 4½ | 2802 |
| 3 |  Harikrishna, Pentala | 3½ | 2743 |
| 4 |  So, Wesley | 3 | 2808 |
| 5 |  Mamedyarov, Shakhriyar | 3 | 2794 |
| 6 |  Karjakin, Sergey | 3 | 2792 |
| 7 |  Anand, Viswanathan | 3 | 2737 |
| 8 |  Vidit, Santosh Gujrathi | 2½ | 2660 |
| 9 |  Nihal Sarin | 2 | 2127 |
| 10 |  Ganguly, Surya Shekhar | 1 | 2608 |