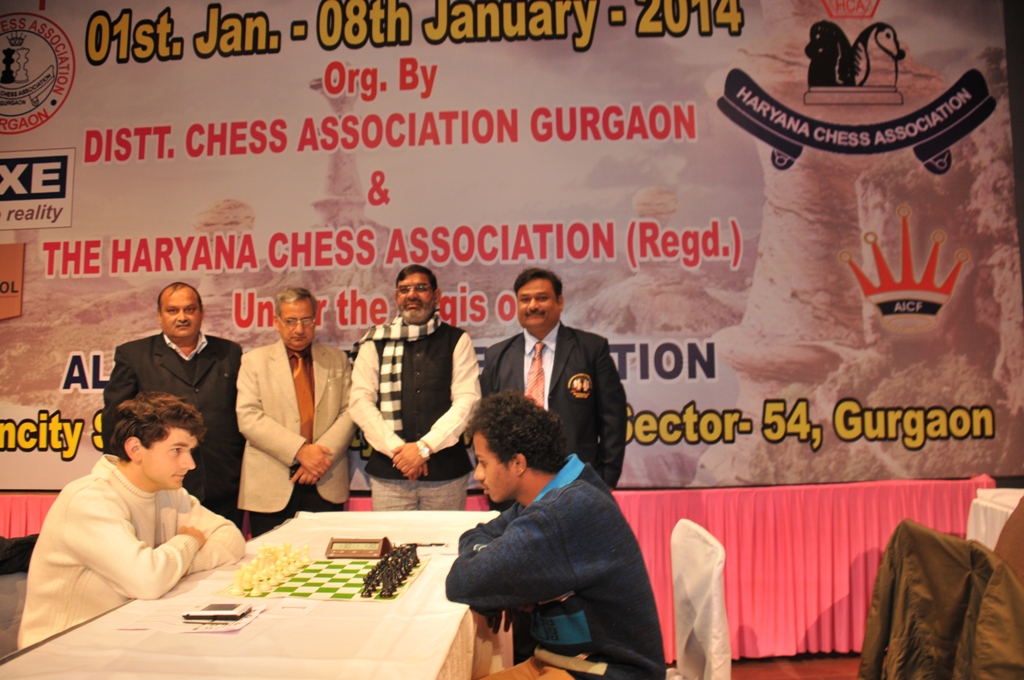 Vikramjit and Tillayev shocks Grandmasters –  By M.S.Gopakumar
Gurgaon (03 Jan 14) :- Grandmaster Arun Prasad and seasoned Uzbek Grandmaster Marat Dzhumaev suffered shock defeats by the hands of railway man Vikramjit Singh and Tillayev Ulugbek in the third round of the ongoing 2nd Gurgaon International Grandmasters Chess Tournament organized by The Haryana Chess Association and District Chess Association at Suncity World School.
Playing with white pieces in Classical variation of Nimzo-Indian Defence, Vikramjit sacrificed his bishop in the middle game to destroy the pawn structure of his fancied rival and went on to garner full point after just 28 moves while Tillayev displayed sheer attacking skills to outwit compatriot Grandmaster rival in 41 moves.
Meanwhile top seed Kravtsiv Martyn of Ukraine and second seed Oliver Barbosa of Philippines continued their winning ways as they over powered talented Indian youngsters Akash PC Iyer and Tiwari Arjun respectively in the third round.
Among Indian players Grandmaster Sahaj Grover defeated Abhilash Reddy while International Masters Swayams Mishra, Shyam Nikil and Satyapragyn moved to fourth round with full points.
Fourth round of the tournament is in progress at the time of report was inaugurated by Shri. G L Sharma, Senior Leader of Haryana Insaaf Manch in presence of Shri. Naresh Sharma, General Secratary Haryana Chess Association and Shri. Rajpal Chauhan, Organising Secretary.
Important Results (Indians otherwise stated) :-
Round -3 :- Akash PC Iyer (2) lost to GM Martyn Kravstiv of UKR (3); GM Oliver Barbosa of PHI (3) beat Arjun Tiwari (2); Hemant Sharma (2) lost to GM Alexander Evdokimov of RUS (3); GM John Paul Gomez of PHI (3) beat Abhishek Kelkar (2); GM Tornike Sanikidze of GEO (3) beat Lokesh P (2); Tillyaev Ulugbek of UZB (3) beat GM Marat Dzhumaev of UZB (2); Vikramjit Singh (3) beat GM Arun Prasad (2); GM Sahaj Grover (3) beat Abhilash Reddy (2); GM Eldar Gasanov of UKR (3) beat Surendran N (2); IM Swayams Mishra (3) beat Manigandan S S (2); Puneet Jaiswal (2) lost to IM Shyam Nikil (3); IM Rajesh VAV (2.5) drew with Anil Kumar O T (2.5); Bobir Sattarov of UZB (2) lost to IM Satya Pragyan (3); IM Prasanna Rao (3) beat WIM Ivana Maria Furtado (2); Karthik V (2) lost to Ravi Teja S (3); Sekar B (2) lost to GM Raset Ziatdinov of USA (3); Kayastha Madan Krishna of NEP (2) lost to Sameer Kathmale (3); Kunal M (3) beat Lakshmi Narayanan M V (2); IM Vikramaditya Kulkarni (3) beat Aradhya Garg (2); Virender Singh Negi (2) lost to IM Nitin S (3).