Photo: Niki Riga
World Youth Chess Championships 2018—Greece
Report by IM Chandrashekhar Gokhale 
The sixth round of 2018 World Youth Chess Championships was unfavourable for Indians. All players faced tougher opposition in their respective age categories.
In the U-14 Girls', WCM Mrudul Dehankar lost to higher rated Turkish WFM Caglar Sila. While WIM Divya Deshmukh, playing white, lost to WCM Jyotsna L in a Slav Exchange game. On move 14 she erred by ignoring a central break which resulted in doubled pawn in the center. In a complex middle game, Divya managed to get a small advantage but couldn't convert it into a win and immediately lost after blundering on move 34.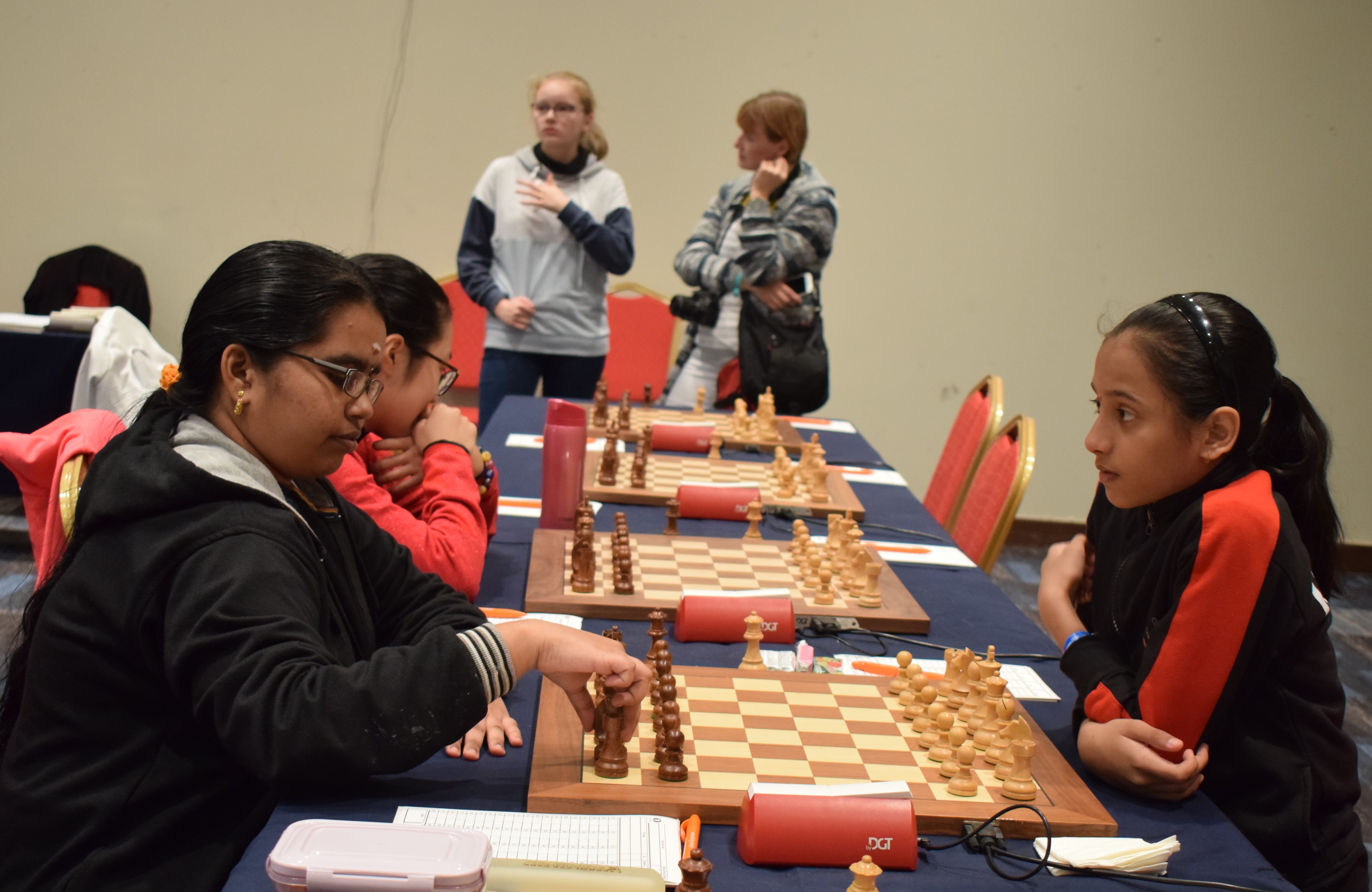 This was the first game of the Championship where two fellow Indians were paired with each other.
In the U-14 Open, AGM Srihari L lost to Denmark's IM Bjerre Jonas Buhl on the sixth board. Whereas, IM Raja Rithvik displayed his superiority and technique to outplay Subelj Jan of Slovenia in just 43 moves. Raja opted Trompowsky Attack and slowly gained a decisive advantage in the middlegame.
Sankalp Gupta held higher-rated FM Kosakowski Jakub to a draw. At 4.5/6, he is jointly sharing the third place with seven more players in U-16 Open. In the girls' category, WFM Saina Salonika fell behind the leaders after losing to Russia's WGM Maltsevskaya Aleksandra in 25 moves.
In U-18 Open, FM Mitrabha Guha was pitted against Uzbekistan's Abdusattorov Nodirbek—the third youngest Grandmaster of history. The game ended in Uzebek's favour.
There was a small get together party for all Indian contingent in the evening of 24th October. Jharkhand's Vatsal Singhania celebrated his 16th birthday.
All players, coaches and accompanying persons were present to cheer and wish the Birthday Boy.
The Championship had a rest day on  25th October.  The seventh round will begin on 26th October at 5.30 pm IST.
Results
U-14 Open
| | | | | | | | | | | | | | |
| --- | --- | --- | --- | --- | --- | --- | --- | --- | --- | --- | --- | --- | --- |
| 6 | 1 | | IM | Bjerre Jonas Buhl | 2438 | 3½ | 1 – 0 | 4 | AGM | Srihari L R | 2170 | | 40 |
| 7 | 3 | | IM | Raja Rithvik R | 2421 | 3½ | 1 – 0 | 3½ | FM | Subelj Jan | 2281 | | 27 |
U-14 Girls
| | | | | | | | | | | | | | |
| --- | --- | --- | --- | --- | --- | --- | --- | --- | --- | --- | --- | --- | --- |
| 2 | 20 | | WCM | Mrudul Dehankar | 1996 | 4 | 0 – 1 | 4 | WFM | Caglar Sila | 2184 | | 3 |
| 3 | 4 | | WIM | Divya Deshmukh | 2180 | 4 | 0 – 1 | 4 | WCM | Jyothsna L | 2060 | | 11 |
U-16 Open
| | | | | | | | | | | | | | |
| --- | --- | --- | --- | --- | --- | --- | --- | --- | --- | --- | --- | --- | --- |
| 6 | 13 | | FM | Kosakowski Jakub | 2413 | 4 | ½ – ½ | 4 | | Sankalp Gupta | 2352 | | 28 |
| | | | | | | | | | | | | | |
| --- | --- | --- | --- | --- | --- | --- | --- | --- | --- | --- | --- | --- | --- |
| 30 | 70 | | | Lou Vincent | 2155 | 2½ | 0 – 1 | 2½ | | Koustav Chatterjee | 2344 | | 30 |
U-16 Girls
| | | | | | | | | | | | | | |
| --- | --- | --- | --- | --- | --- | --- | --- | --- | --- | --- | --- | --- | --- |
| 2 | 21 | | WFM | Salonika Saina | 2093 | 4 | 0 – 1 | 4 | WGM | Maltsevskaya Aleksandra | 2290 | | 1 |
| | | | | | | | | | | | | | |
| --- | --- | --- | --- | --- | --- | --- | --- | --- | --- | --- | --- | --- | --- |
| 6 | 22 | | WFM | Kucharska Honorata | 2073 | 3½ | ½ – ½ | 3½ | WFM | Makhija Aashna | 2197 | | 5 |
U-18 Boys
| | | | | | | | | | | | | | |
| --- | --- | --- | --- | --- | --- | --- | --- | --- | --- | --- | --- | --- | --- |
| 6 | 3 | | GM | Abdusattorov Nodirbek | 2558 | 3½ | 1 – 0 | 3½ | FM | Mitrabha Guha | 2352 | | 30 |
| | | | | | | | | | | | | | |
| --- | --- | --- | --- | --- | --- | --- | --- | --- | --- | --- | --- | --- | --- |
| 28 | 83 | | | Manu David Suthandram R | 1970 | 2½ | ½ – ½ | 2½ | FM | Ozates Tuna | 2225 | | 56 |
U-18 Girls
| | | | | | | | | | | | | | |
| --- | --- | --- | --- | --- | --- | --- | --- | --- | --- | --- | --- | --- | --- |
| 3 | 8 | | WIM | Injac Teodora | 2258 | 4 | ½ – ½ | 4 | WIM | Tejaswini Sagar | 2139 | | 22 |
| | | | | | | | | | | | | | |
| --- | --- | --- | --- | --- | --- | --- | --- | --- | --- | --- | --- | --- | --- |
| 5 | 20 | | WFM | Arpita Mukherjee | 2147 | 3½ | ½ – ½ | 3½ | WIM | Kiolbasa Oliwia | 2254 | | 9 |