The FIDE Women's World Chess Championship 2018 is a knock-out tournament, to decide a new women's world champion in chess. It is the second world championship held in 2018, after the Tan Zhongyi vs Ju Wenjun match in May 2018. The tournament is a 64-player knockout format being held from 2 to 23 November in Khanty-Mansiysk, Russia.
Knock-out Format
Five rounds of matches will be played, comprising two games per round, with the winners progressing to the next round. The 6th (final) round shall be played over four games and the winner will be declared Women's World Champion.
Humpy and Harika are the two remaining Indians in the last-32. Humpy will meet Jolanta Zawadzka of Poland while Harika takes on another Georgian Bela Khotenashvili – in the second round of the USD 450,000 Championship.
Round 1 Game 2
Koneru Humpy scored second straight victory over Hayat Toubal of Algeria. Thus, advancing to second round without any hiccups.
However, compatriot Dronvalli Harika was stretched to the tiebreaker with Sopiko Khukashvili of Georgia following a second draw.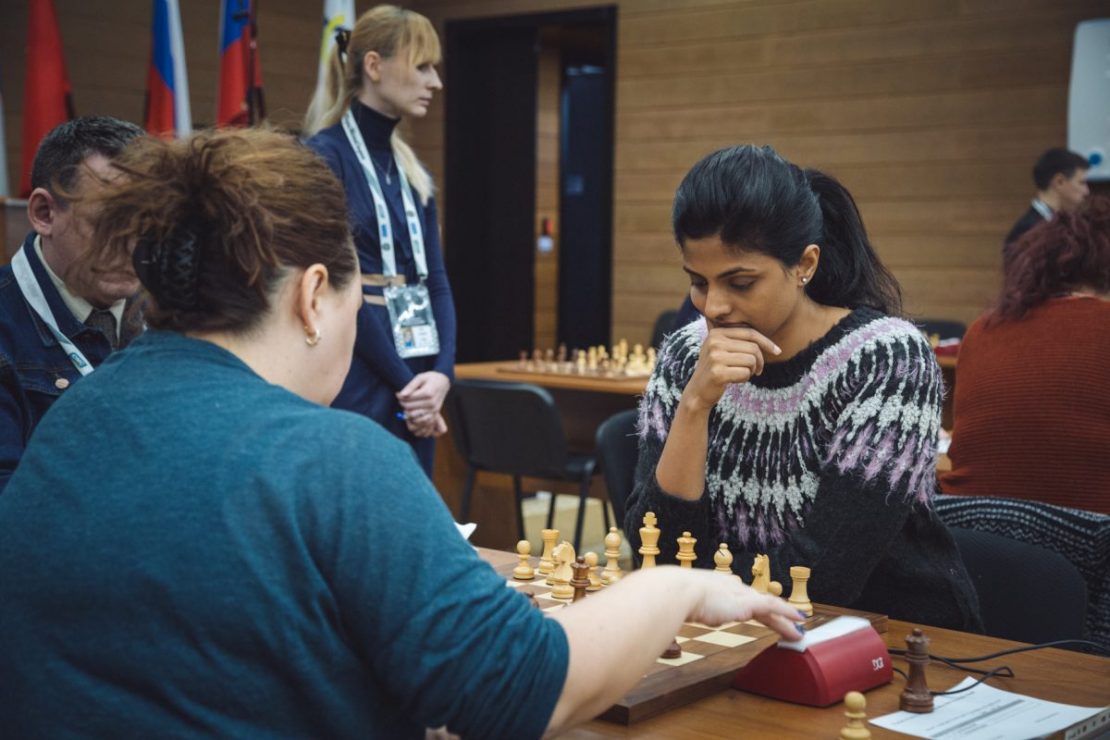 Harika Dronavalli and Sopiko Khukhashvili ended their first tie-break game peacefully. The second game started calmly, but the endgame was full of mutual errors. After the dust has settled, the Indian took the upper hand and advanced to the second round.
Padmini Rout is the other Indian to get into the tie-breaks after she did well to hold Zhansaya Abdumalik of Kazakhstan for the second day in a row.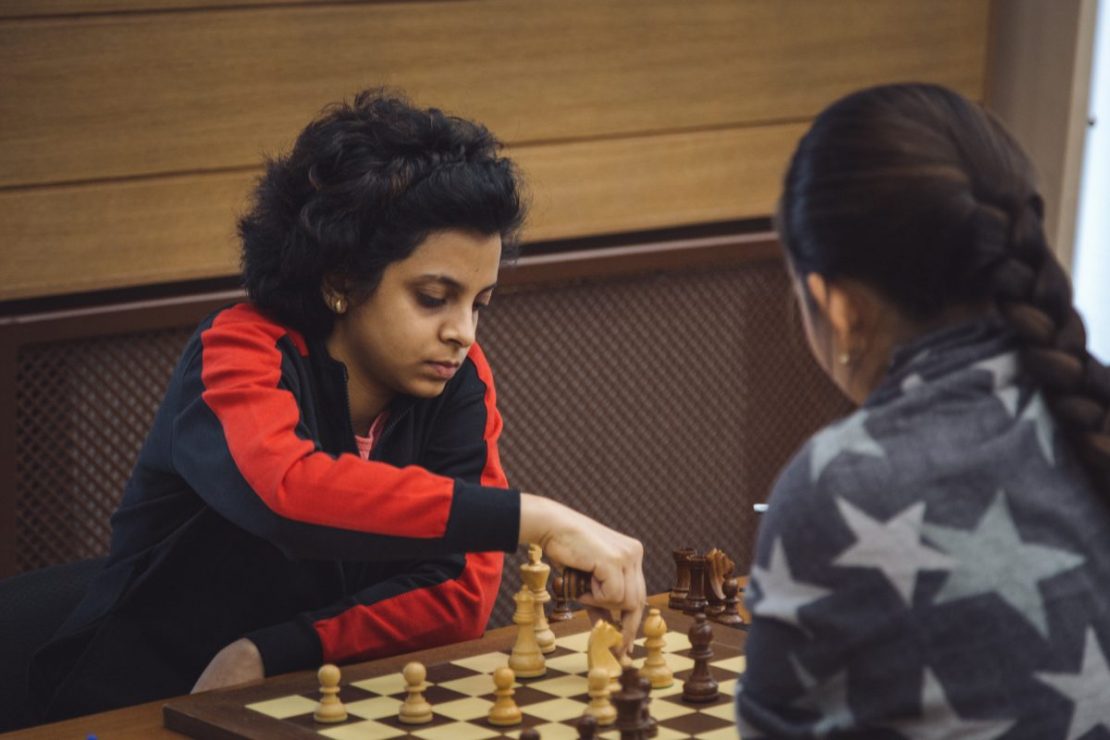 In the tie-break, Zhansaya and Padmini drew their first game, but in the second one the player from Kazakhstan was stronger and proceeded to the next stage.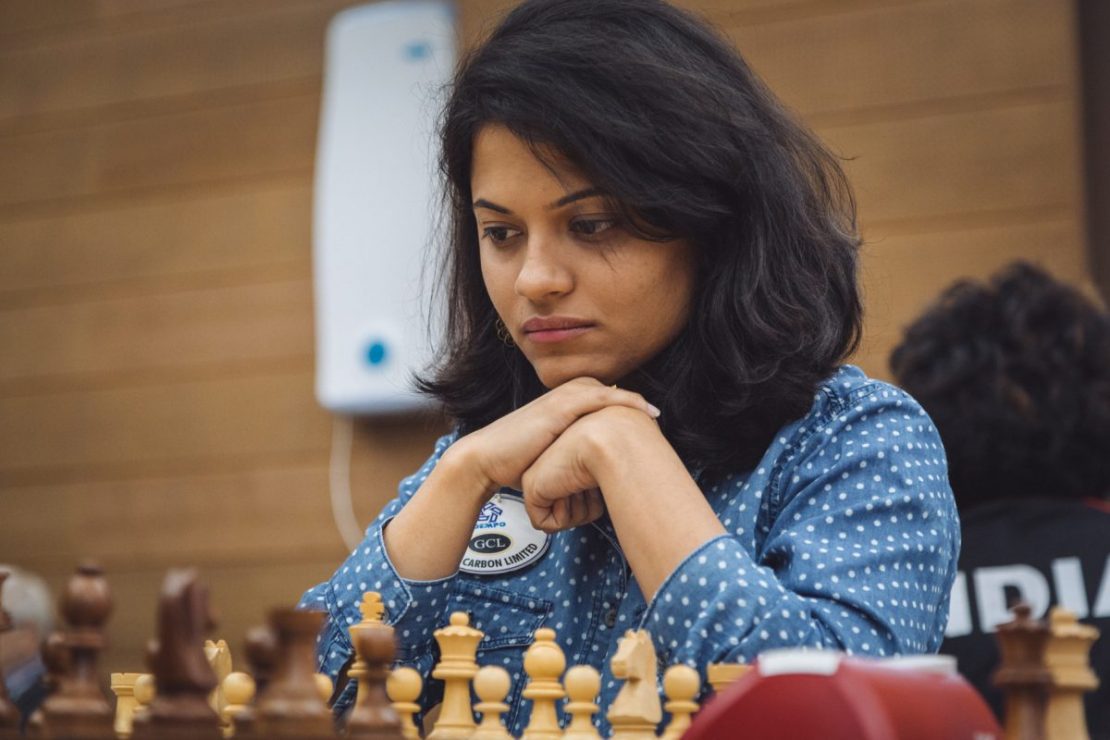 The fourth Indian in the fray, WGM Bhakti Kulkarni was eliminated from the championship after drawing with Natalija Pogonina of Russia in the second game under normal time control. Natalija won the first game and only needed a draw to advance to the second round.
Round 2
| | | | | |
| --- | --- | --- | --- | --- |
|  Ju Wenjun | (CHN) | – |  Krush Irina | (USA) |
|  Zawadzka Jolanta | (POL) | – |  Koneru Humpy | (IND) |
|  Lagno Kateryna | (RUS) | – |  Hoang Thanh Trang | (HUN) |
|  Bodnaruk Anastasia | (RUS) | – |  Muzychuk Anna | (UKR) |
|  Kosteniuk Alexandra | (RUS) | – |  Ni Shiqun | (CHN) |
|  Galliamova Alisa | (RUS) | – |  Goryachkina Aleksandra | (RUS) |
|  Muzychuk Mariya | (UKR) | – |  Atalik Ekaterina | (TUR) |
|  Tokhirjonova Gulrukhbegim | (UZB) | – |  Tan Zhongyi | (CHN) |
|  Gunina Valentina | (RUS) | – |  Ushenina Anna | (UKR) |
|  Socko Monika | (POL) | – |  Alinasab Mobina | (IRI) |
|  Dzagnidze Nana | (GEO) | – |  Lei Tingjie | (CHN) |
|  Khotenashvili Bela | (GEO) | – |  Harika Dronavalli | (IND) |
|  Stefanova Antoaneta | (BUL) | – |  Saduakassova Dinara | (KAZ) |
|  Zhu Jineer | (CHN) | – |  Pogonina Natalija | (RUS) |
|  Abdumalik Zhansaya | (KAZ) | – |  Zhao Xue | (CHN) |
|  Zhai Mo | (CHN) | – |  Batsiashvili Nino | (GEO) |