FIDE World Junior and Girl Under 20 Chess Championship 2017
Tarvisio, Italy: The World Juniors Chess Championship has commenced on November 12. This eleven-round event will run until November 26th. India has a strong contingent consisting of 13 participants in the Open and 11 in the Girls championship.
R. Praggnanadhaa, who is the world's youngest International Master and a firebrand player on the board is cruising through the World Juniors Championship. This prestigious event was earlier won by only three Indians in the past: GM Viswanathan Anand (1987), GM P. Harikrishna (2004), and GM Abhijeet Gupta (2008). Now, India's brightest hopes are on the shoulders of this twelve-year-old lad from Chennai.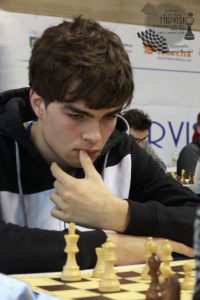 In round 4, Pragga dismantled his 100 points higher-rated opponent from Netherlands in 44 moves. The innocous looking move 39..a5 proved fatal in endgame for the Dutchman.
The duel between compatriots in the 5th round ended in Pragga's favour. India's 40th Grandmaster S.L Narayanan was having a good run in the opening until he made a bold sacrifice on move 13, which complicated matters on the board. Pragga found no difficulties in neutralizing white's attack on the kingside.
Narayanan overlooked 20.. Bxf2! and the rest was a matter of technique for Black.
After defeating two grandmasters in a row, Praggnandhaa was paired against IM Xu Xiangyu of China. The game ended in a draw. With 05/6 points, he is now joint second position in the tournament.
Other Indians in the fray, Grandmasters Karthikeyan Murali, Aravindh Chithambaram Vr. and Gagare Shardul are on 4.5 points each.
In the Girls Championship, IM Abdumalik Zhansaya of Khazakstan is maintaining the pole position with 5.5 points. WIM Aakanksha Hagawane and WIM Vaishali R. are with 4.5 points respectively. In Round 7, we will witness a clash between them on board 4.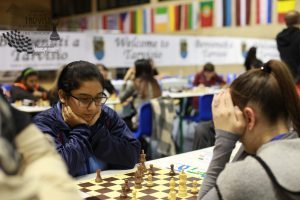 Round 7
Pairings/Results
| | | | | | | | | | | | | | |
| --- | --- | --- | --- | --- | --- | --- | --- | --- | --- | --- | --- | --- | --- |
| Bo. | No. | | | Name | Rtg | Pts. | Result | Pts. | | Name | Rtg | | No. |
| 1 | 14 | | GM | Liang Awonder | 2558 | 5 | | 5½ | GM | Tari Aryan | 2581 | | 5 |
| 2 | 11 | | GM | Alekseenko Kirill | 2563 | 5 | | 5 | IM | Praggnanandhaa R | 2509 | | 26 |
| 3 | 21 | | IM | Xu Xiangyu | 2543 | 5 | | 5 | IM | Dragnev Valentin | 2461 | | 44 |
| 4 | 25 | | IM | Bellahcene Bilel | 2510 | 4½ | | 4½ | GM | Oparin Grigoriy | 2606 | | 2 |
| 5 | 31 | | IM | Gholami Aryan | 2483 | 4½ | | 4½ | GM | Karthikeyan Murali | 2578 | | 6 |
| 6 | 7 | | GM | Aravindh Chithambaram Vr. | 2572 | 4½ | | 4½ | FM | Liu Yan | 2422 | | 56 |
| 7 | 30 | | IM | Lomasov Semen | 2490 | 4½ | | 4½ | GM | Martirosyan Haik M. | 2561 | | 12 |
| 8 | 33 | | GM | Gagare Shardul | 2482 | 4½ | | 4½ | GM | Petrosyan Manuel | 2554 | | 16 |
| 9 | 37 | | IM | Zanan Evgeny | 2471 | 4½ | | 4½ | GM | Shevchenko Kirill | 2550 | | 18 |
| 10 | 42 | | IM | Christiansen Johan-Sebastian | 2468 | 4½ | | 4½ | GM | Tran Tuan Minh | 2538 | | 22 |
Pairings/Results
| | | | | | | | | | | | | | | | |
| --- | --- | --- | --- | --- | --- | --- | --- | --- | --- | --- | --- | --- | --- | --- | --- |
| Bo. | No. | | | Name | FED | Rtg | Pts. | Result | Pts. | | Name | FED | Rtg | | No. |
| 1 | 1 | | IM | Abdumalik Zhansaya | KAZ | 2428 | 5½ | | 5 | WIM | Khomeriki Nino | GEO | 2347 | | 9 |
| 2 | 13 | | FM | Yu Jennifer | USA | 2321 | 5 | | 5 | IM | Osmak Iulija | UKR | 2345 | | 10 |
| 3 | 11 | | WGM | Tsolakidou Stavroula | GRE | 2340 | 4½ | | 4½ | IM | Nomin-Erdene Davaademberel | MGL | 2358 | | 8 |
| 4 | 15 | | WIM | Aakanksha Hagawane | IND | 2312 | 4½ | | 4½ | WIM | Vaishali R | IND | 2325 | | 12 |
| 5 | 4 | | WGM | Mammadzada Gunay | AZE | 2393 | 4 | | 4½ | WGM | Paramzina Anastasya | RUS | 2123 | | 44 |
| 6 | 18 | | WIM | Dordzhieva Dinara | RUS | 2295 | 4 | | 4 | IM | Khademalsharieh Sarasadat | IRI | 2419 | | 2 |
| 7 | 3 | | WFM | Assaubayeva Bibisara | RUS | 2395 | 4 | | 4 | WIM | Terbe Julianna | HUN | 2263 | | 20 |
| 8 | 19 | | WIM | Heinemann Josefine | GER | 2293 | 4 | | 4 | WIM | Badelka Olga | BLR | 2374 | | 6 |
| 9 | 49 | | | Nie Xin | CHN | 2106 | 4 | | 4 | | Zhu Jiner | CHN | 2363 | | 7 |
| 10 | 14 | | WIM | Obolentseva Alexandra | RUS | 2320 | 4 | | 4 | WIM | Uuriintuya Uurtsaikh | MGL | 2213 | | 24 |