National Open Senior Chess Championship 2018
Report by I.A Ganesh Babu S
In this thirteen rounds championship, six players GM Vaibhav Suri, GM Aravindh Chithambaram, GM Deep Sengupta, IM Stany G.A, GM Anurag Mhamal and GM Bakre Tejas are in lead with 7.0 points each at the end of 9th round. On the second spot seven players are in with 6.5 points each.
Karnataka's Stany G.A drew against GM Aravindh Chithambaram to score his third and final GM norm here. He made his maiden GM norm in the 7th Lucopen tournament in Lille, France, in April 2016 and added a second norm in the Gujarat GM tournament in October 2018. He completed all the requirements to become India's latest Grandmaster. Besides, Stany, FM Niranjan Navalgund and untitled G B Harshvardhan also managed to score IM norms.
Individual encounter between the overnight leaders ended up in a draw. GM Deep Sengupta managed to escape with a draw in a pawn down position in the hands of GM Vaibhav Suri.
IM Stany battled all the way to a 53 move draw with GM Aravindh Chithambaram to gain his third and final GM Norm.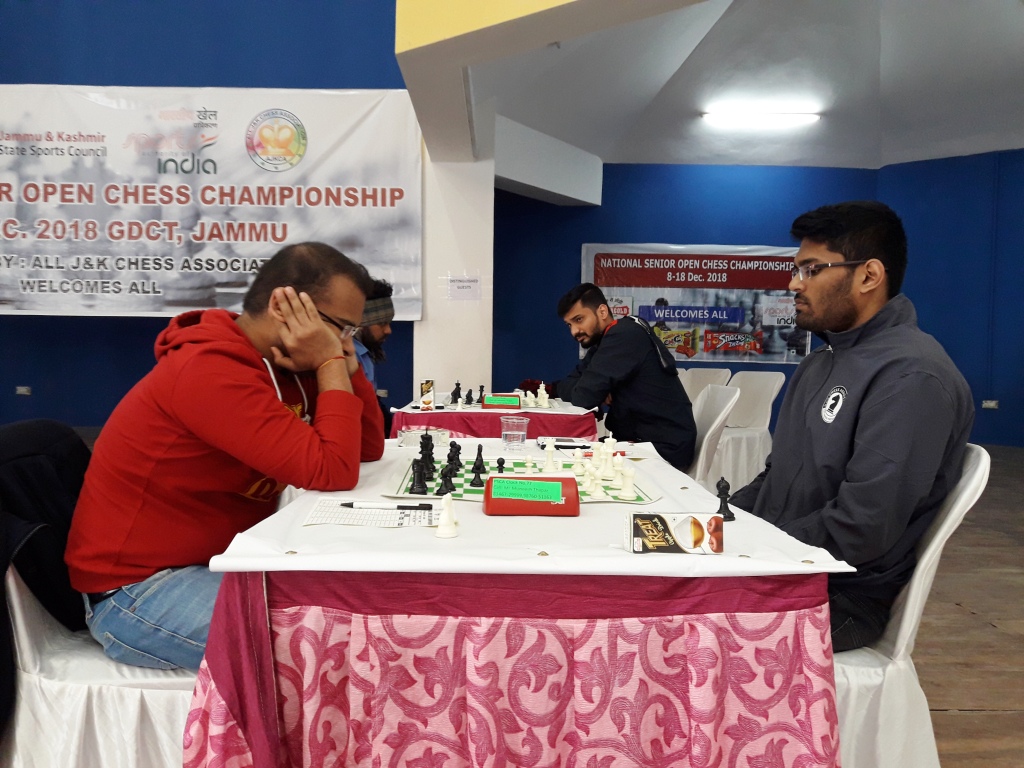 GM Anurag Mhamal caused an upset against GM Abhijeet Gupta to rejoin the leaders at seven points.
GM Bakre Tejas win over GM Vishnu Prasanna made him to join the lead with five other players.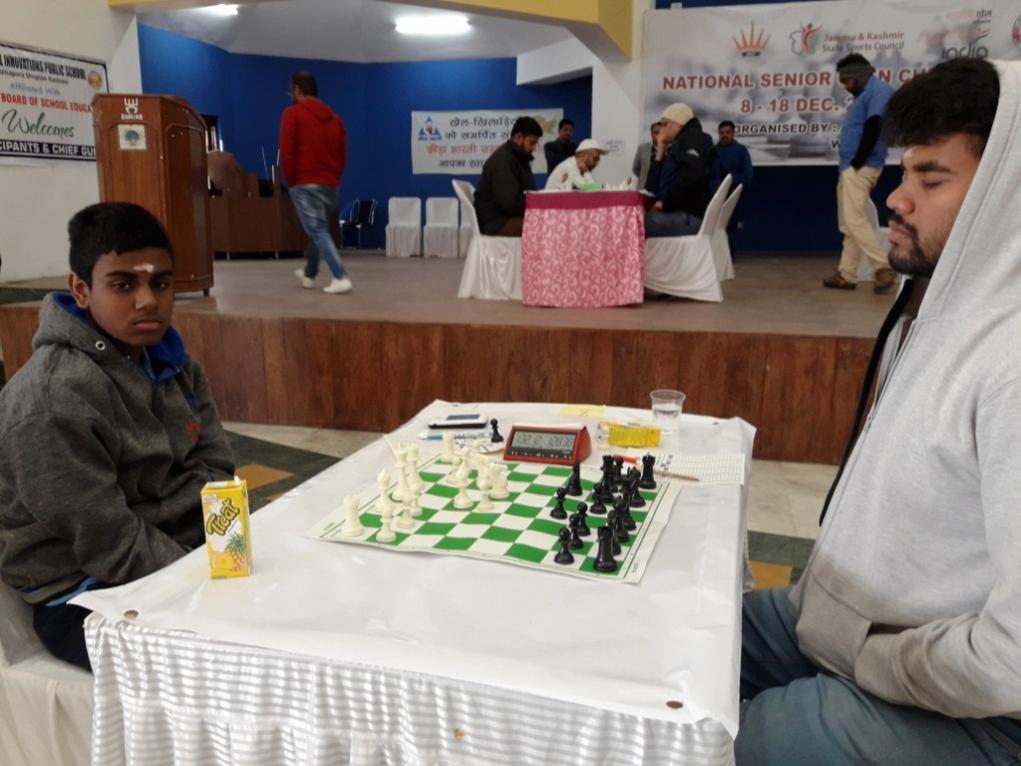 G B Harshavardhan made his first IM Norm by scoring against IM Karthikeyan.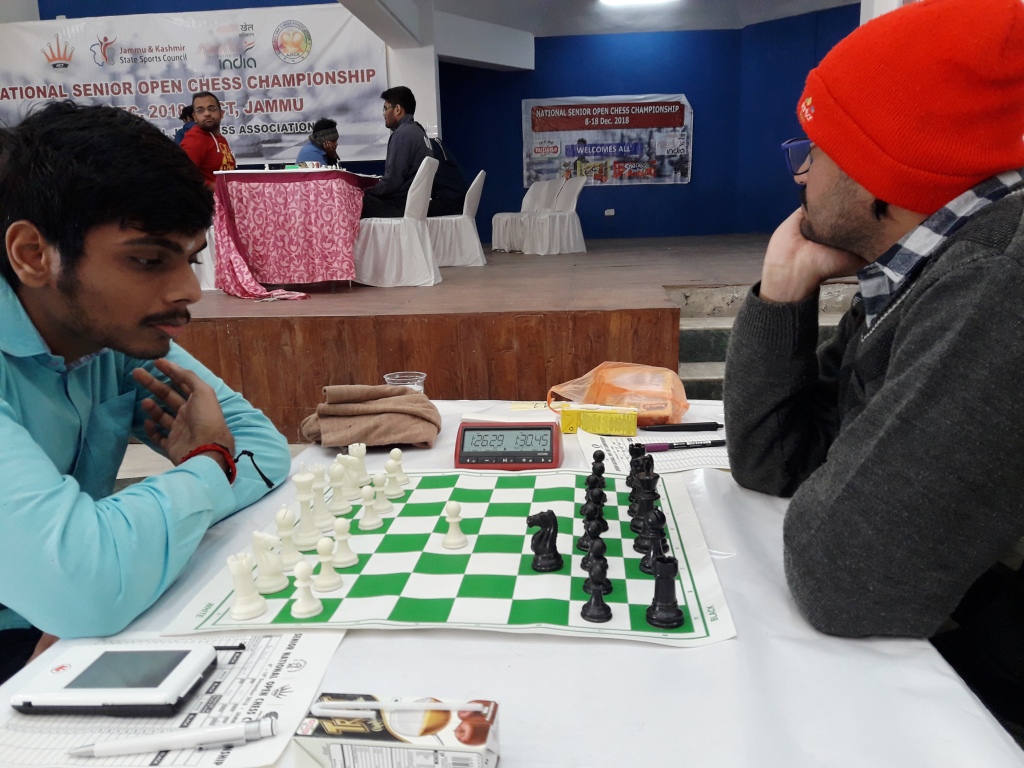 FM Navalgund Niranjan also made his second IM Norm.
Three players who scored norms.
Pairings
Round 10
| | | | | | | | | | | | |
| --- | --- | --- | --- | --- | --- | --- | --- | --- | --- | --- | --- |
| Bo. | No. | | Name | Rtg | Pts. | Result | Pts. | | Name | Rtg | No. |
| 1 | 3 | GM | Vaibhav Suri | 2589 | 7 | | 7 | GM | Anurag Mhamal | 2491 | 13 |
| 2 | 24 | GM | Bakre Tejas | 2433 | 7 | | 7 | GM | Aravindh Chithambaram Vr. | 2584 | 4 |
| 3 | 12 | IM | Stany G.A. | 2509 | 7 | | 7 | GM | Sengupta Deep | 2565 | 5 |
| 4 | 7 | GM | Deepan Chakkravarthy J. | 2550 | 6½ | | 6½ | | Harshavardhan G B | 2163 | 66 |
| 5 | 20 | IM | Nitin S. | 2450 | 6½ | | 6½ | GM | Swapnil S. Dhopade | 2490 | 14 |
| 6 | 27 | GM | Thipsay Praveen M | 2400 | 6½ | | 6½ | IM | Krishna C R G | 2464 | 16 |
| 7 | 25 | GM | Neelotpal Das | 2412 | 6½ | | 6 | GM | Karthikeyan Murali | 2591 | 2 |
| 8 | 1 | GM | Gupta Abhijeet | 2597 | 6 | | 6 | IM | Akash G | 2443 | 22 |
| 9 | 23 | GM | Laxman R.R. | 2436 | 6 | | 6 | GM | Chanda Sandipan | 2555 | 6 |
| 10 | 26 | IM | Rajesh V A V | 2402 | 6 | | 6 | GM | Karthik Venkataraman | 2527 | 9 |