National Open Senior Chess Championship 2018
GM Aravindh Chidambram of Tamil Nadu maintained  his sole lead with five and half points after signing peace treaty with  GM Anurag Mhamal of Goa in the sixth round of the ongoing Senior National Chess Championship. Organized by All J&K Chess Association on behalf of All India Chess Federation, at Gurjar Desh Charitable Trust, Jammu.
Grandmaster Deep Sengupta (PSPB), with Vaibhav Suri (PSPB), Anurag Mhamal (Goa) Vishnu Prasanna (TN) and  Deepan Chakkravarthy J (RSPB) are at second spot with a drift of half point from the leader. Two rounds were played on Tuesday.
In round 5, playing with white side of Grunfeld defence game, Aravindh put up a tough fight against top-seed rival GM Abhijeet Gupta. Aravindh utilized Abhijeet's blunder's on move 52 to take home the full point.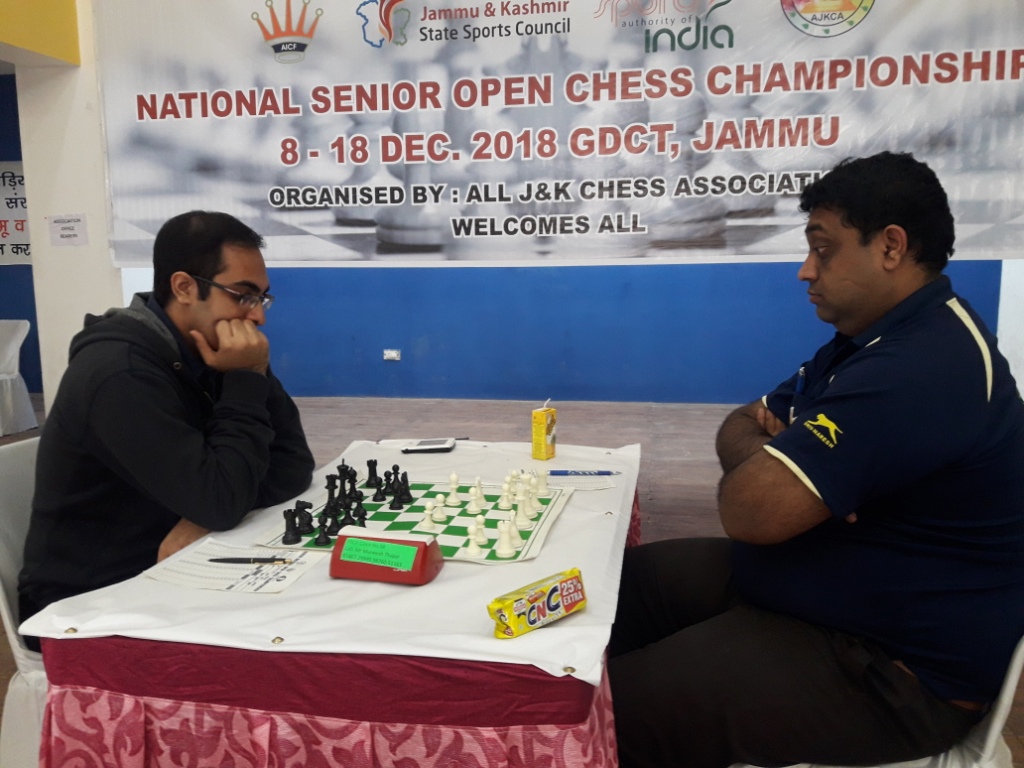 In the fifth round encounters, GM Vaibhav Suri and GM Laxman Rajaram signed the peace treaty after 25 moves while GM Neelotpal Das and untitled Ritviz Parab had the same result against GM Deep Sengupta  and GM Deepan Chakkravarthy respectively.
In the sixth round Aravindh managed a miraculous draw against Anurag. He was outplayed in the middlegame by Anurag and forced to rely on accurate defense over next two hours to secure a peaceful result.
Board 2-5 witnessed decisive battles. Third-seed Vaibhav defeated Stany in 39 moves.
Likewise Deep Sengupta overcome Laxman in a well fought battle while Deepan Chakkravarthy got better off Neelotpal Das.
Seven more rounds are remaining in this thirtheen round Swiss system championship.
Pairings
Round 7
| | | | | | | | | | | | |
| --- | --- | --- | --- | --- | --- | --- | --- | --- | --- | --- | --- |
| Bo. | No. | | Name | Rtg | Pts. | Result | Pts. | | Name | Rtg | No. |
| 1 | 4 | GM | Aravindh Chithambaram Vr. | 2584 | 5½ | | 5 | GM | Sengupta Deep | 2565 | 5 |
| 2 | 10 | GM | Vishnu Prasanna. V | 2518 | 5 | | 5 | GM | Vaibhav Suri | 2589 | 3 |
| 3 | 13 | GM | Anurag Mhamal | 2491 | 5 | | 5 | GM | Deepan Chakkravarthy J. | 2550 | 7 |
| 4 | 12 | IM | Stany G.A. | 2509 | 4½ | | 4½ | IM | Girinath P.D.S. | 2313 | 41 |
| 5 | 14 | GM | Swapnil S. Dhopade | 2490 | 4½ | | 4½ | IM | Konguvel Ponnuswamy | 2282 | 49 |
| 6 | 36 | IM | Rathnakaran K. | 2366 | 4½ | | 4½ | IM | Karthikeyan P. | 2482 | 15 |
| 7 | 18 | IM | Vignesh N R | 2455 | 4½ | | 4½ | | Ritviz Parab | 2338 | 39 |
| 8 | 34 | | Sammed Jaykumar Shete | 2378 | 4½ | | 4½ | IM | Swayams Mishra | 2452 | 19 |
| 9 | 22 | IM | Akash G | 2443 | 4½ | | 4½ | IM | Rahul Srivatshav P | 2379 | 33 |
| 10 | 66 | | Harshavardhan G B | 2163 | 4½ | | 4 | GM | Venkatesh M.R. | 2528 | 8 |
| 11 | 45 | | Srijit Paul | 2298 | 4 | | 4 | GM | Gupta Abhijeet | 2597 | 1 |
| 12 | 38 | IM | Saravana Krishnan P. | 2346 | 4 | | 4 | GM | Sundararajan Kidambi | 2458 | 17 |
| 13 | 20 | IM | Nitin S. | 2450 | 4 | | 4 | | Neelash Saha | 2351 | 37 |
| 14 | 46 | GM | Roy Chowdhury Saptarshi | 2296 | 4 | | 4 | IM | Shyaamnikhil P | 2448 | 21 |
| 15 | 50 | FM | Dushyant Sharma | 2271 | 4 | | 4 | GM | Laxman R.R. | 2436 | 23 |
| 16 | 24 | GM | Bakre Tejas | 2433 | 4 | | 4 | IM | Mohota Nisha | 2264 | 52 |
| 17 | 25 | GM | Neelotpal Das | 2412 | 4 | | 4 | | Saurabh Anand | 2246 | 54 |
| 18 | 26 | IM | Rajesh V A V | 2402 | 4 | | 4 | FM | Wagh Suyog | 2240 | 56 |
| 19 | 73 | | Baivab Mishra | 2133 | 4 | | 4 | GM | Thipsay Praveen M | 2400 | 27 |
| 20 | 30 | IM | Viani Antonio Dcunha | 2392 | 4 | | 4 | | Bhambure Shantanu | 2223 | 57 |