India China Grim
Report by IA Suresh Chandra Sahoo
The Summit started with a deadlock in the Inaugural Round of the 3rd India – China chess Summit 2018, organised by All Odisha Chess Association & KIIT, on behalf of All India Chess Federation at International Chess Hall, KiiT University, Bhubaneswar.
The 2 teams (8-player) event has a prize fund of Rs. 10 Lakhs. 60% for Winner and 40% for the Runner-up. The Summit is being played under Scheveningen system, with India and China fielding four players in their teams. Each member of one team will play against same member of the other team in two successive rounds. Two members of a team will play with White pieces in each round.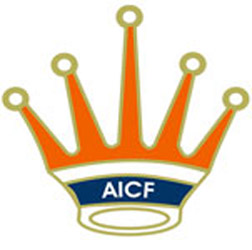 In the inaugural round, all the four board witnessed extremely tense battle and ended with 2 – 2 draw with a fluctuation of fortunes.
On the Top board in the Sicilian Classical system, White went for English attack set up and reached a Rook + 2 pawns versus two minor pieces. White created a strong passed pawn on A file & won in a King and pawn endgame.
On the 2nd Board in a Petroff Defence game, Srinath got a very active position in middle game. When the Queen and Rook of his opponent were passively placed. Moreover, the color complex helped the former to launch a strong initiative and win smoothly.
Speaking to AICF about this game, GM Srinath Narayanan commented, "'Today was not one of his (GM Xiangyu Xu's)  best days and he was a bit unfortunate but I expect the games and the fight will be very interesting and fierce in the coming rounds."
On the 3rd Board Aravindh opted for Nimzo-Indian Defence and faced the Leningrad system. After several exchanges of pieces, both the compatriots signed peace after 31 moves.
On the 4th Board, Aryan launched English attack against Sicilian Scheveningen variation of Yinglun. With a skillful play, he reached pawn up endgame with Rook & Bishop against Rook & Knight. But soon fizzled out to a theoretical draw in a wrong colour Bishop + Rook pawn end game.
Round 1 Results
Round 1 on 2018/10/17 at 15:30 Hrs
Bo.
1
  China
Rtg
–
2
  India
Rtg
2 : 2
1.1
GM
2635
–
GM
2604
1 – 0
1.2
GM
2577
–
GM
2565
0 – 1
1.3
GM
2566
–
GM

| | |
| --- | --- |
| | Aravindh, Chithambaram Vr. |

2579
½ – ½
1.4
GM
2533
–
GM
2541
½ – ½
Round 2 Pairings
Round 2 on 2018/10/18 at 10:00 Hrs
Bo.
2
  India
Rtg
–
1
  China
Rtg
0 : 0
1.1
GM
2604
–
GM
2635
1.2
GM
2565
–
GM
2577
1.3
GM

| | |
| --- | --- |
| | Aravindh, Chithambaram Vr. |

2579
–
GM
2566
1.4
GM
2541
–
GM
2533