3rd India China Chess Summit – 2018
Report by I.A Suresh Chandra Sahoo
Team India drew China with the scoreline reading 1.5-1.5 in the third round of the 3rd India – China Chess Summit 2018, being organised by All Odisha Chess Association & KIIT, on behalf of All India Chess Federation at International Chess Hall, KiiT University, Bhubaneswar.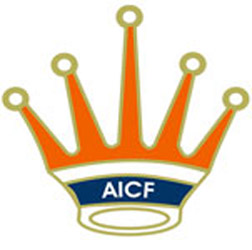 On Top Board Indian GM Srinath Narayan displayed his subtle Opening preparation against French Defence, Rubinstein Variation. However, his Chinese counterpart defended stubbornly and both the players agreed to draw on 30th move with a Rook, Bishop and six pawns each.
On second Board Chinese GM Xu Xiangyu preferred to avoid the well-trodden path in the Spanish (Berlin) Defence game, where Indian GM offered a pawn sacrifice to play a double-edged game with skilful play, Arvind won a pawn. After reaching a Rook and Pawn endgame, Arvind played and won with accurate play.
On third Board, GM Bai Jinshi opted for the Petroff Defence which was met sharply by GM Aryan Chopra with Kings castled on opposite wing. Aryan started a pawn storm which was countered well by Bai Jinshi. After the Queens and all the minor pieces were exchanged in regular interval, the Chinese Grand Master was a pawn ahead in a double Rook end game. Finally, the game was drawn after marathon 72 moves.
On fourth Board, former Indian Champion Murali followed the game of previous round between Xu Yinglun and Aryan Chopra for nine moves in a Kings Indian Classical game. However, on 9th move the Indian GM varied & played very aggressively. In the middle game, Xu Yinglun turned the table with a stunning exchange sacrifice on 18th move. The game ended in Xu Yinglun's favour.
Results of Third Round
           India                                          2 – 2                     China
w  GM Narayanan Srinath                  drew with           GM Lu Shanglei
     GM Aravindh, Chitahmbaram Vr.       beat          w  GM Xu Xiangyu
w  GM Aryan Chopra                         drew with            GM Bai Jinshi
     GM Karthikeyan Murali                     lost to         w  GM Xu, Yinglun