Report by: R. Anantharam IA
Eighteen-year-old grandmaster Aravindh Chithambaram of Tamil Nadu maintained his slender half point lead at the end of the seventh round of the Khadi India National Premier Chess Championship, organised by All Bihar Chess Association at Lemon Tree Hotel, Patna today. He has scored 5 points, and the top four players of the tournament are occupying the first four slots in the ranking. Three grandmasters – defending champion Karthikeyan Murali of Tamil Nadu, Lalith Babu of PSPB and SL Narayanan of Kerala have scored 4.5 points each. Playing for a draw against his Madurai city mate GM Deepan Chakkravarthy of Railways, Aravindh achieved it after a long 102 moves fight.
In the Catalan opening game by Lalith Babu, Laxman unnecessarily exchanged his comparatively active queen with relatively less active Lalith's queen on move 21. The latter was able to control the c-file with his doubled rook. When Laxman forced a rook exchange, he lost a pawn. In the ensuing knight and pawns ending, Lalith cleverly broke the opponent's four connected pawn chain. Laxman acknowledged his defeat, when his a- pawn was about to be captured, leaving an outside passer pawn to Lalith.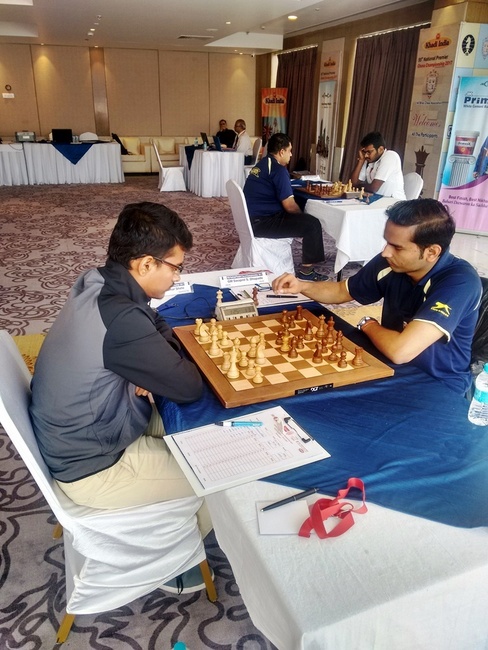 Railways grandmaster Swapnil Dhopade, won against the untitled Sammed Jaykumar S. of Maharashtra with black pieces. In his Caro Kann defence, the weak eleventh move by Sammed provided a big advantage to Swapnil. The advantage increased to manifold when Sammed captured the unsupported e4- pawn on 21st move. Swapnil converged all his five pieces on the a– and c- files to deliver a mate. Sammed realised that his rook as well as pawn sacrifice offers did not divert Swapnil from his master plan and accepted his defeat in just 29 moves.
In a game of fluctuating fortunes, Odisha's only grandmaster Debashis Das held the upper hand finally against Haryana's lone grandmaster Himanshu Sharma, now working for Railways. Himanshu had a better position in the middle game but buckled under time pressure to pass the advantage button to Debashis. When Himanshu was slowly losing the grip in the game, Deabashis's pawn capture with his rook on 43rd move took away all his winning chances. Within seconds after breathing fresh air for a new life, Himanshu did not utilise the opportunity to split the point. Instead, he committed two more mistakes in successive moves to make a memorable present to Debashis.
In the Scheveningen variation of Sicilian defence, international master P. Shyaamnikhil committed a mistake on 20th move to lose the game to his teammate Arghyadip Das after two more moves. His accurate play at this juncture might have given him some advantage.
In another Sicilian defence, Kerala's grandmaster SL Narayanan kept his second spot in ranking intact, when he conceded a draw to former national champion Abhijit Kunte of PSPB. There was nothing extraordinary in the 35 move game, as the opening moves advantage of Narayanan was neutralised by Abhijit's counter play.
When the extended Modern defence game had a smooth sailing for both players, Aravindh Chithambaram made a minor mistake on the 30th move. Though Deepan had one pawn in excess, his doubled a- pawn did not look like a big threat. But, when Deepan's a5 – pawn started its march, Aravindh realised that some danger is brewing and sacrificed his bishop to get those two pawns off the board. In the end game of rook and bishop vs rook, Aravindh exhibited a perfect defence for a hard-earned draw.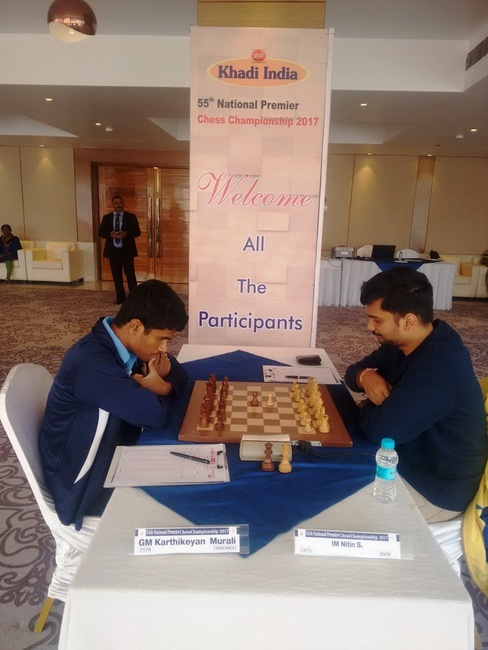 Defending champion Karthikeyan Murali of Tamil Nadu played it safe against another Tamil Nadu player S Nitin of Railways in a Ruy Lopez game. They repeated their bishops thrice to the same positions to claim a draw.
Round 7 on 2017/11/04 at 10:00 AM
Bo.
No.
Rtg
Name
Result
Name
Rtg
No.
1
4
2310
Sammed Jaykumar Shete
0 – 1
GM
Swapnil S. Dhopade
2516
14
2
5
2477
GM
Deepan Chakkravarthy J.
½ – ½
GM
Aravindh Chithambaram Vr.
2573
3
3
6
2568
GM
Sunilduth Lyna Narayanan
½ – ½
GM
Kunte Abhijit
2503
2
4
7
2525
GM
Lalith Babu M R
1 – 0
GM
Laxman R.R.
2392
1
5
8
2415
IM
Nitin S.
½ – ½
GM
Karthikeyan Murali
2578
13
6
9
2422
IM
Shyaamnikhil P
0 – 1
IM
Das Arghyadip
2434
12
7
10
2510
GM
Himanshu Sharma
0 – 1
GM
Debashis Das
2494
11
Round 8 on 2017/11/05 at 10:00 AM
Bo.
No.
Rtg
Name
Result
Name
Rtg
No.
1
14
2516
GM
Swapnil S. Dhopade
GM
Debashis Das
2494
11
2
12
2434
IM
Das Arghyadip
GM
Himanshu Sharma
2510
10
3
13
2578
GM
Karthikeyan Murali
IM
Shyaamnikhil P
2422
9
4
1
2392
GM
Laxman R.R.
IM
Nitin S.
2415
8
5
2
2503
GM
Kunte Abhijit
GM
Lalith Babu M R
2525
7
6
3
2573
GM
Aravindh Chithambaram Vr.
GM
Sunilduth Lyna Narayanan
2568
6
7
4
2310
Sammed Jaykumar Shete
GM
Deepan Chakkravarthy J.
2477
5