FIDE World Junior and Girl Under 20 Chess Championship 2018
Report by IM Ravi Teja
Gebze, Turkey: The World Juniors Chess Championship has commenced on September 5. This eleven-round event will run until September 15th. India has a strong contingent consisting of 10 participants in the Open and 7 in the Girls championship.
Karthik Venkataraman, who is the 55th GrandMaster and a firebrand player on the board is cruising through the World Juniors Championship. This prestigious event was earlier won by only three Indians in the past: GM Viswanathan Anand (1987), GM P. Harikrishna (2004), and GM Abhijeet Gupta (2008). Now, India's brightest hopes are on the shoulders of this Latest GrandMaster from Andhra Pradesh.
In Round 6, Karthik outplayed his fellow Indian GM Vr. Aravind Chithambaram after Aravind miscalculated a variation on move 29.Nxd5. After a series of complications, Black stood with decisive material with which Karthik converted easily to a full point placing himself with 5/6 just behind the leaders GM Maghsoodloo Parham(IRI) and IM Sindarov Javokhir(UZB).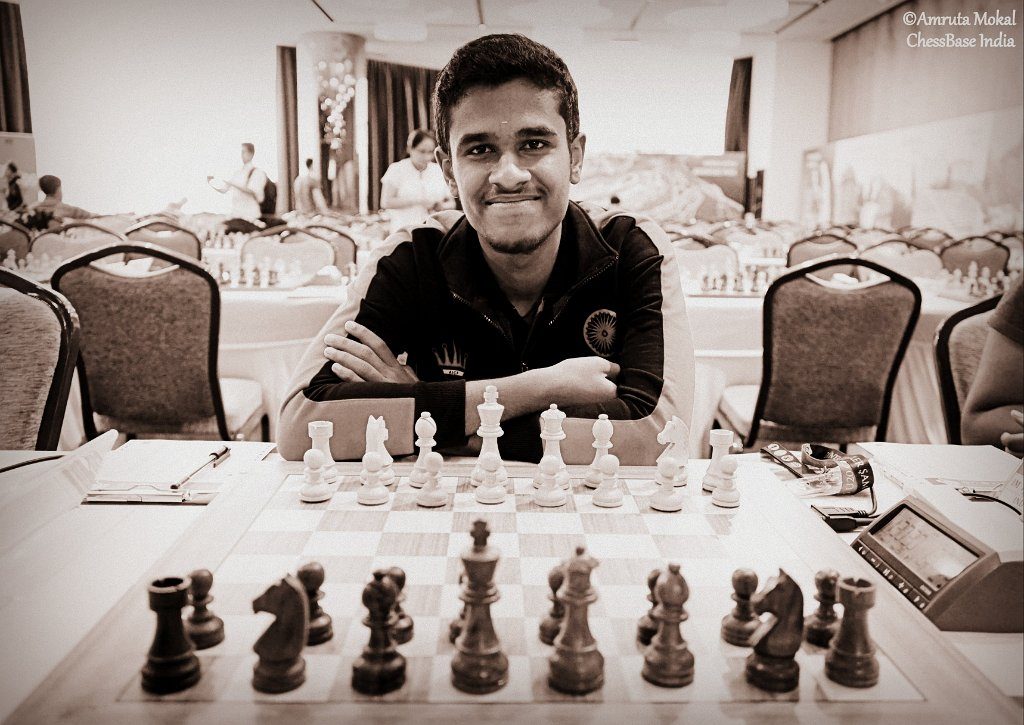 Other Indians in the fray, GM Karthikeyan Murali, GM Narayanan SL, GM Abhimanyu Puranik are on 4.5/6
In the Girls Championship, WIM Komeriki Nino of Georgia is maintaining the pole position with 6 points. WIM Mahalakshmi and Meenal Gupta are with 4 points respectively. In Round 6, Meenal Gupta and Isha Sharma won with much higher rated opponents WFM Kanakova Natalie (CZE) and Caglar Sila (TUR) respectively.
| | | | | | | | | | | | |
| --- | --- | --- | --- | --- | --- | --- | --- | --- | --- | --- | --- |
| BO. | | NAME | RTG | FED | PTS | RES. | PTS | | NAME | RTG | FED |
| 1 | GM | Maghsoodloo, Parham | 2649 | IRI | 5½ | | 5½ | IM | Sindarov, Javokhir | 2484 | UZB |
| 2 | GM | Firouzja, Alireza | 2582 | IRI | 5 | | 5 | IM | Vavulin, Maksim | 2559 | RUS |
| 3 | IM | Karthik, Venkataraman | 2519 | IND | 5 | | 5 | GM | Tabatabaei, M.Amin | 2576 | IRI |
| 4 | GM | Van Foreest, Jorden | 2624 | NED | 4½ | | 4½ | IM | Lobanov, Sergei | 2535 | RUS |
| 5 | GM | Hakobyan, Aram | 2554 | ARM | 4½ | | 4½ | GM | Donchenko, Alexander | 2614 | GER |
| 6 | GM | Karthikeyan, Murali | 2605 | IND | 4½ | | 4½ | GM | Puranik, Abhimanyu | 2524 | IND |
| 7 | GM | Esipenko, Andrey | 2593 | RUS | 4½ | | 4½ | IM | Thybo, Jesper Sondergaard | 2499 | DEN |
| 8 | GM | Kollars, Dmitrij | 2536 | GER | 4½ | | 4½ | GM | Petrosyan, Manuel | 2581 | ARM |
| 9 | GM | Liang, Awonder | 2575 | USA | 4½ | | 4½ | GM | Santos Ruiz, Miguel | 2524 | ESP |
| 10 | IM | Christiansen, Johan-Sebastian | 2525 | NOR | 4½ | | 4½ | GM | Sunilduth Lyna, Narayanan | 2573 | IND |
Girls Pairings, Round 7 on 11/9/2018 at 5:30 pm
| | | | | | | | | | | | |
| --- | --- | --- | --- | --- | --- | --- | --- | --- | --- | --- | --- |
| BO. | | NAME | RTG | FED | PTS | RES. | PTS | | NAME | RTG | FED |
| 1 | WIM | Dordzhieva, Dinara | 2318 | RUS | 5 | | 6 | WIM | Khomeriki, Nino | 2313 | GEO |
| 2 | | Maltsevskaya, Aleksandra | 2234 | RUS | 5 | | 5 | WGM | Paramzina, Anastasya | 2222 | RUS |
| 3 | FM | Gorti, Akshita | 2315 | USA | 4½ | | 4½ | IM | Tsolakidou, Stavroula | 2393 | GRE |
| 4 | FM | Antova, Gabriela | 2292 | FID | 4½ | | 4½ | FM | Assaubayeva, Bibisara | 2371 | RUS |
| 5 | WFM | Potapova, Margarita | 2277 | RUS | 4½ | | 4 | WIM | Sieber, Fiona | 2277 | GER |
| 6 | WGM | Tokhirjonova, Gulrukhbegim | 2369 | UZB | 4 | | 4 | WIM | Mahalakshmi, M | 2213 | IND |
| 7 | WIM | Haussernot, Cecile | 2237 | FRA | 4 | | 4 | WIM | Zhu, Jiner | 2364 | CHN |
| 8 | WGM | Hojjatova, Aydan | 2356 | AZE | 4 | | 4 | WCM | Song, Yuxin | 2156 | CHN |
| 9 | WIM | Unuk, Laura | 2299 | SLO | 4 | | 4 | WFM | Nurgali, Nazerke | 2080 | KAZ |
| 10 | WFM | Sliwicka, Alicja | 2272 | POL | 4 | | 4 | | Meenal, Gupta | 1963 | IND |