Indian Team at the Delhi Aiport. [Photos: Niklesh Jain/ ChessBase India]
The Aeroflot Open 2018 international chess festival is being held from 19 February to 1 March at the Cosmos Hotel. The competition is one of the world's oldest and most popular and is traditionally held with support from Aeroflot. This year's event is taking place in the Russian capital for the 16th time and brings together a strong line-up of participants. The festival consists of three tournaments (A, B and C), into which competitors are entered according to their ratings. Players in all sections will play according to the Swiss system of nine rounds. Naturally, much of the interest is centred on the "A" group, in which players must have a ranking of Elo: 2550 or higher.

As a part of the exposure trip, the selected Indian team consisting of 39 members (18 men + 17 women + 4 coaches) are being sponsored at full cost by the Government of India, Ministry of Youth Affairs & Sports. Here you can find the team list.
Top rated Indian Grandmasters Vidit Gujrathi, Sasikiran Krishnan, Sethuraman S.P and  Aravindh Chithambaram are in the fray.
The first round of the Open A category, India no. 3, GM Vidit Gujrathi (2723) was held to a draw by GM S.L Narayanan (2573). Vidit faced King's Indian Defence Unusual setup from white pieces. A typical middlegame struggle ensued and players soon agreed to a draw on move 31.
In another Indian encounter, one of the India's greatest Grandmasters Sasikiran Krishnan (2671) was pitted against…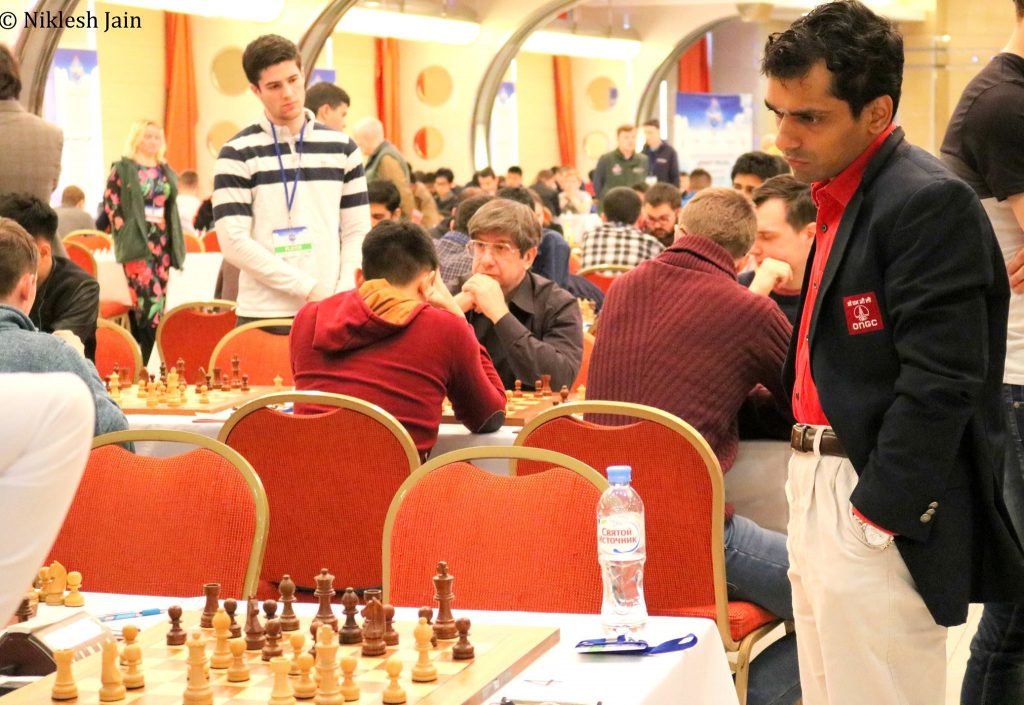 …13-year-old IM Nihal Sarin (2532). 
The 58-moves complicated battle ended in a draw.
GM Sethuraman S.P (2646) had a good day at the office. He defeated IM Sychev Klementy (2529) of Russia.
World's Youngest International Master Praggnanandhaa R (2507) drew against experienced Russian GM Romanov Evgeny (2621).
In another notable result, IM Eesha Karavade (2386) outwitted IM Tabatabaei M.Amin (2577) of Iran to claim the victory.
Pairings of the next round for IND
| | | | | | | | | | | | | | | |
| --- | --- | --- | --- | --- | --- | --- | --- | --- | --- | --- | --- | --- | --- | --- |
| Rd. | Bo. | No. | | Name | FED | Rtg | Pts. | Result | Pts. | | Name | FED | Rtg | No. |
| 2 | 2 | 43 | GM | Karthikeyan Murali | IND | 2585 | 1 | | 1 | GM | Artemiev Vladislav | RUS | 2697 | 6 |
| 2 | 6 | 15 | GM | Sethuraman S.P. | IND | 2646 | 1 | | 1 | GM | Kulaots Kaido | EST | 2582 | 44 |
| 2 | 12 | 92 | IM | Karavade Eesha | IND | 2386 | 1 | | ½ | GM | Vidit Santosh Gujrathi | IND | 2723 | 2 |
| 2 | 15 | 7 | GM | Inarkiev Ernesto | RUS | 2684 | ½ | | ½ | IM | Nihal Sarin | IND | 2532 | 57 |
| 2 | 16 | 48 | GM | Narayanan.S.L | IND | 2573 | ½ | | ½ | GM | Najer Evgeniy | RUS | 2683 | 8 |
| 2 | 18 | 11 | GM | Sasikiran Krishnan | IND | 2671 | ½ | | ½ | IM | Firouzja Alireza | IRI | 2549 | 53 |
| 2 | 25 | 23 | GM | Aleksandrov Aleksej | BLR | 2618 | ½ | | ½ | GM | Aryan Chopra | IND | 2509 | 67 |
| 2 | 26 | 68 | IM | Praggnanandhaa R | IND | 2507 | ½ | | ½ | GM | Lysyj Igor | RUS | 2618 | 24 |
| 2 | 27 | 25 | GM | Aravindh Chithambaram Vr. | IND | 2617 | ½ | | ½ | IM | Liu Yan | CHN | 2476 | 83 |
| 2 | 28 | 70 | GM | Debashis Das | IND | 2501 | ½ | | ½ | GM | Jumabayev Rinat | KAZ | 2614 | 26 |
| 2 | 29 | 72 | GM | Gagare Shardul | IND | 2494 | ½ | | ½ | GM | Paravyan David | RUS | 2603 | 32 |
| 2 | 30 | 78 | IM | Belyakov Bogdan | RUS | 2486 | ½ | | ½ | GM | Gupta Abhijeet | IND | 2598 | 36 |
| 2 | 32 | 41 | GM | Martirosyan Haik M. | ARM | 2586 | ½ | | ½ | IM | Raja Harshit | IND | 2448 | 91 |
| 2 | 34 | 45 | GM | Sarana Alexey | RUS | 2577 | ½ | | ½ | IM | Iniyan P | IND | 2460 | 87 |
| 2 | 35 | 88 | FM | Erigaisi Arjun | IND | 2458 | ½ | | 0 | GM | Mamedov Rauf | AZE | 2709 | 4 |