Photo by Amruta Mokal/ ChessBase India
Madhya Pradesh: Bhopal International Grandmaster Tournament 2017, had a rousing start in Hotel Kanta Shrawan Palace. Organized by Sports and Youth Welfare Department M.P. & Academy of Chess Education, Bhopal, this event runs from 21st to 28th of December. A total of 322 players from across the world are participating, including 8 Grandmasters.
Inauguration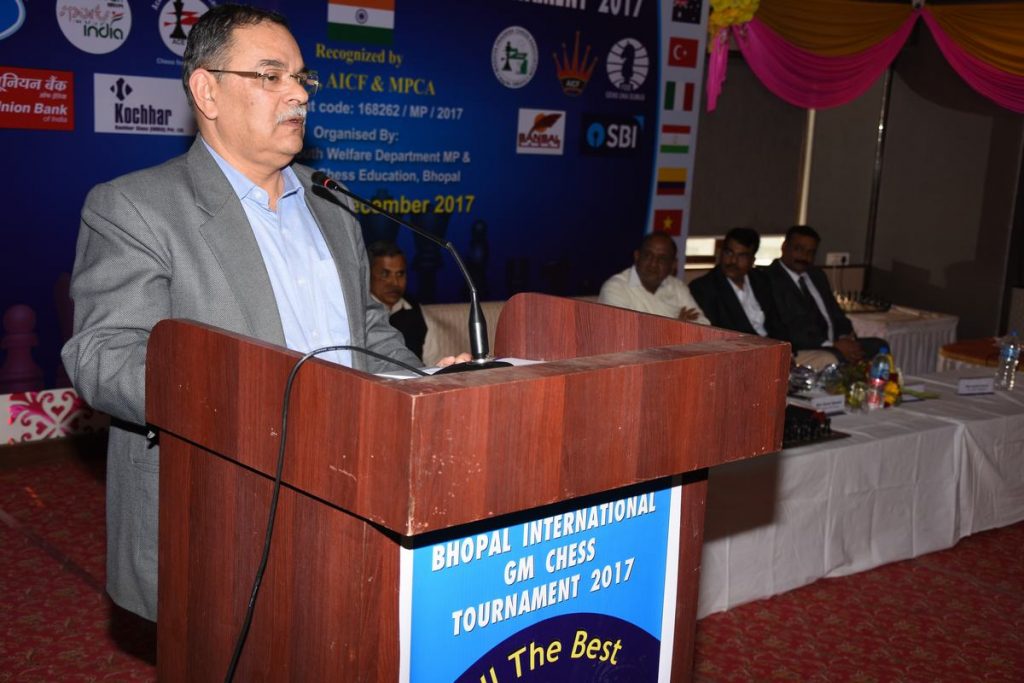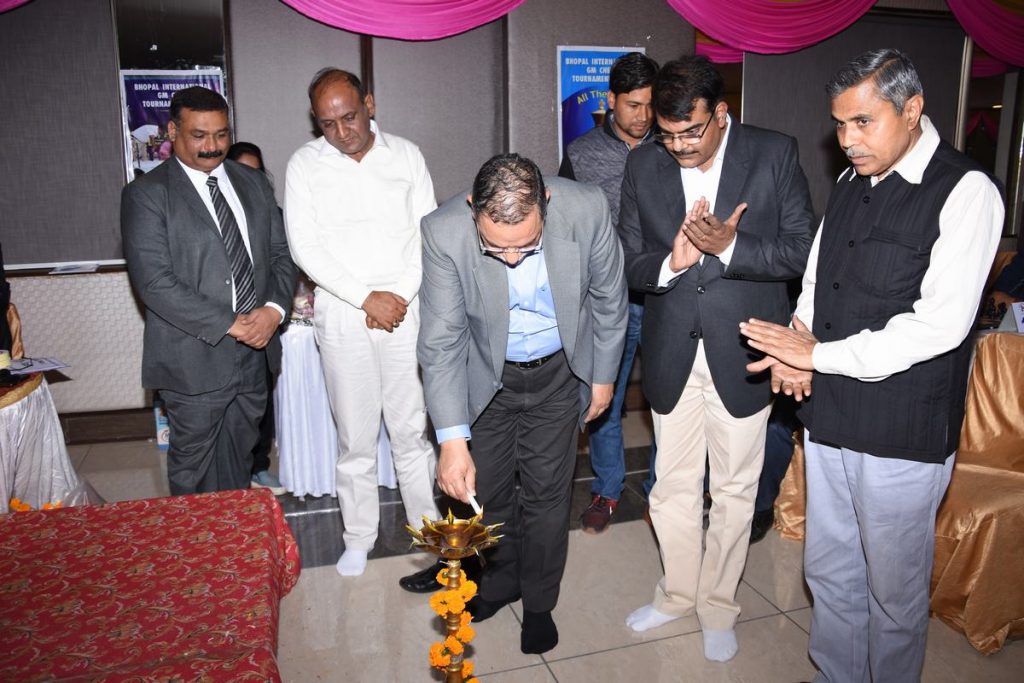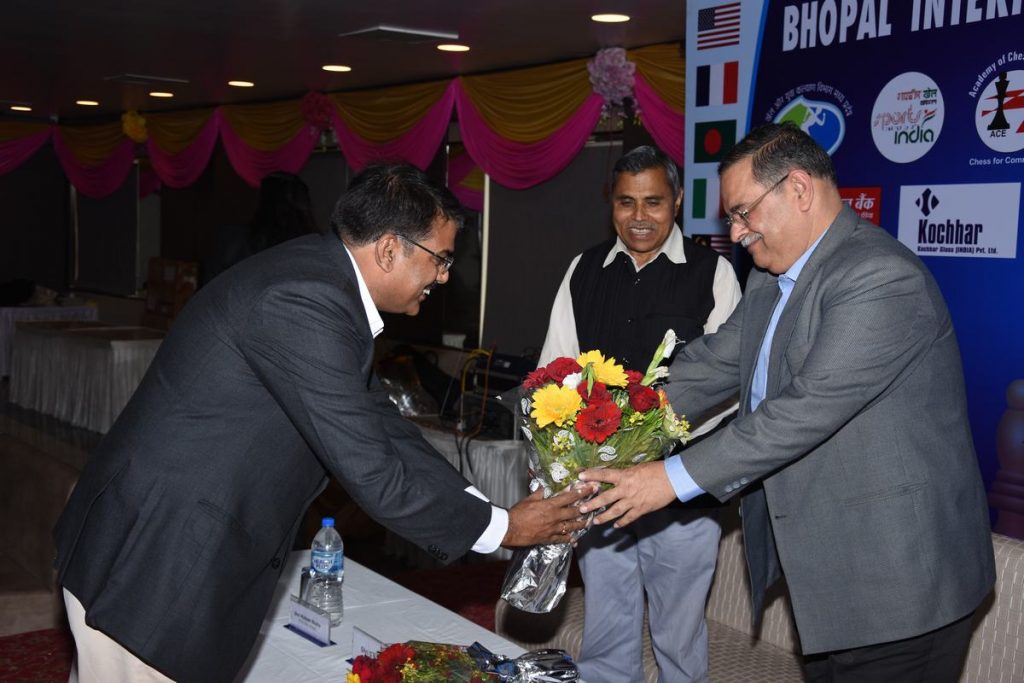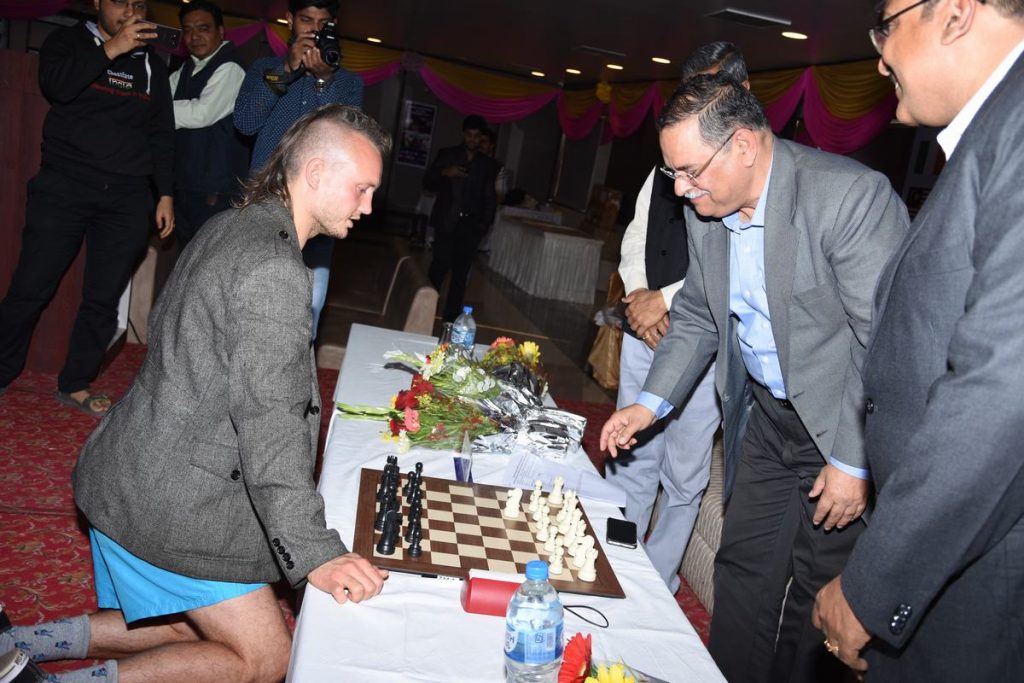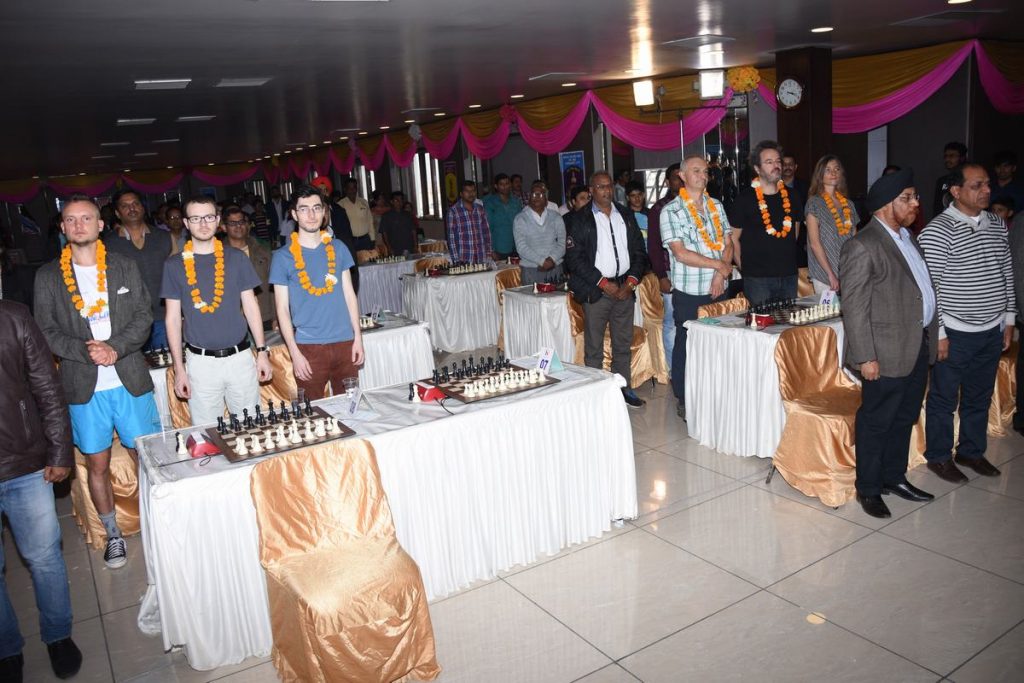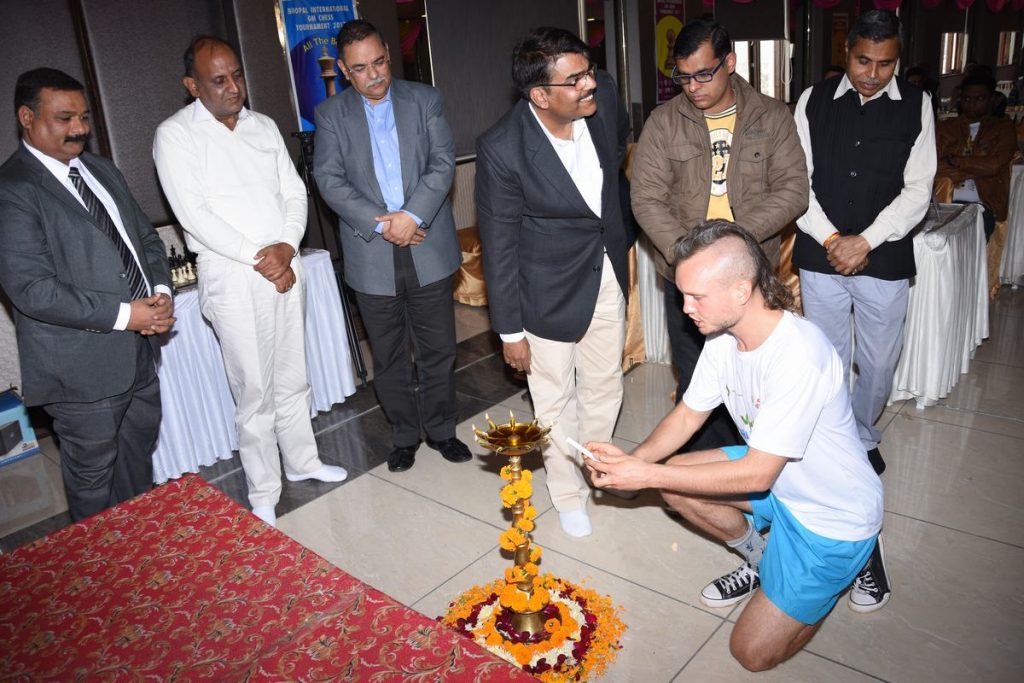 Round 1
Many top-seeded players had a smooth sailing in the first round. However, the biggest upset was caused by Souhardo Basak of West Bengal on board 3. He defeated GM Adam Tukhaev of Ukraine, who has a rating difference of 700 Elo points. The 10-year-old boy played a fine game with a scrumptious attack on Kingside, Tukhaev collapsed on move 41.
Rank after Round 2
| | | | | | | | | | | | | | | |
| --- | --- | --- | --- | --- | --- | --- | --- | --- | --- | --- | --- | --- | --- | --- |
| Rk. | SNo | | | Name | sex | FED | RtgI | Club/City | Pts. |  TB1 |  TB2 |  TB3 |  TB4 |  TB5 |
| 1 | 2 | | GM | Rozum Ivan | | RUS | 2595 | | 2,0 | 0,0 | 1,0 | 2,0 | 2,00 | 2,0 |
| | 4 | | GM | David Alberto | | ITA | 2571 | | 2,0 | 0,0 | 1,0 | 2,0 | 2,00 | 2,0 |
| | 5 | | GM | Atalik Suat | | TUR | 2545 | | 2,0 | 0,0 | 1,0 | 2,0 | 2,00 | 2,0 |
| | 7 | | GM | Nguyen Duc Hoa | | VIE | 2504 | | 2,0 | 0,0 | 1,0 | 2,0 | 2,00 | 2,0 |
| | 8 | | IM | Yeoh Li Tian | | MAS | 2480 | | 2,0 | 0,0 | 1,0 | 2,0 | 2,00 | 2,0 |
| | 14 | | IM | Wohl Aleksandar H. | | AUS | 2370 | | 2,0 | 0,0 | 1,0 | 2,0 | 2,00 | 2,0 |
| | 24 | | IM | Sangma Rahul | | IND | 2311 | DEL | 2,0 | 0,0 | 1,0 | 2,0 | 2,00 | 2,0 |
| | 25 | | IM | Rathnakaran K. | | IND | 2307 | KER | 2,0 | 0,0 | 1,0 | 2,0 | 2,00 | 2,0 |
| | 29 | | FM | Gajwa Ankit | | IND | 2284 | MP | 2,0 | 0,0 | 1,0 | 2,0 | 2,00 | 2,0 |
| | 30 | | IM | Deshmukh Anup | | IND | 2283 | MAH | 2,0 | 0,0 | 1,0 | 2,0 | 2,00 | 2,0 |
| | 32 | | | Sekar B | | IND | 2274 | | 2,0 | 0,0 | 1,0 | 2,0 | 2,00 | 2,0 |
| | 33 | | | Ram S. Krishnan | | IND | 2255 | | 2,0 | 0,0 | 1,0 | 2,0 | 2,00 | 2,0 |
| | 34 | | | Masango Spencer | | ZIM | 2253 | | 2,0 | 0,0 | 1,0 | 2,0 | 2,00 | 2,0 |
| | 37 | | | Kumar Gaurav | | IND | 2231 | BIH | 2,0 | 0,0 | 1,0 | 2,0 | 2,00 | 2,0 |
| | 38 | | | Kulkarni Vinayak | | IND | 2230 | KAR | 2,0 | 0,0 | 1,0 | 2,0 | 2,00 | 2,0 |
| | 40 | | | Snehal Bhosale | | IND | 2215 | MAH | 2,0 | 0,0 | 1,0 | 2,0 | 2,00 | 2,0 |
| | 41 | | | Nayak Rajesh | | IND | 2211 | ORI | 2,0 | 0,0 | 1,0 | 2,0 | 2,00 | 2,0 |
| | 46 | | | Aishwin Daniel | | IND | 2184 | MP | 2,0 | 0,0 | 1,0 | 2,0 | 2,00 | 2,0 |
| | 47 | | WIM | Chitlange Sakshi | w | IND | 2178 | MAH | 2,0 | 0,0 | 1,0 | 2,0 | 2,00 | 2,0 |
| | 48 | | CM | Kushagra Mohan | | IND | 2174 | | 2,0 | 0,0 | 1,0 | 2,0 | 2,00 | 2,0 |