Ten Indian players are fighting to reach the finals in the 128-players knockout— FIDE World Cup 2019. The top two finalists of the World Cup will qualify for the Candidates cycle and the winner of that tournament will get to play the current world champion Magnus Carlsen in the World Chess Championship in November 2020.
The total prize fund is $1.6 million, with $110,000 for the winner and $6,000 for first round losers. The format is six knockout rounds of 2-game classical matches before a 4-game final.
Five-time World Champion Viswanathan Anand gave this event a miss. Indian players include P. Harikrishna, Vidit Gujrathi, Surya Sekhar Ganguly, Adhiban Baskaran, S.P Sethuraman, S.L.Narayanan, Abhijeet Gupta, Aravindh Chithambaram, Nihal Sarin and Karthikeyan Murali.
In the second day of the prestigious FIDE World Cup, P. Harikrishna and Nihal Sarin completed 2-0 victories while Vidit Gujrathi and B. Adhiban posted 1.5-0.5 points to advance to the second round.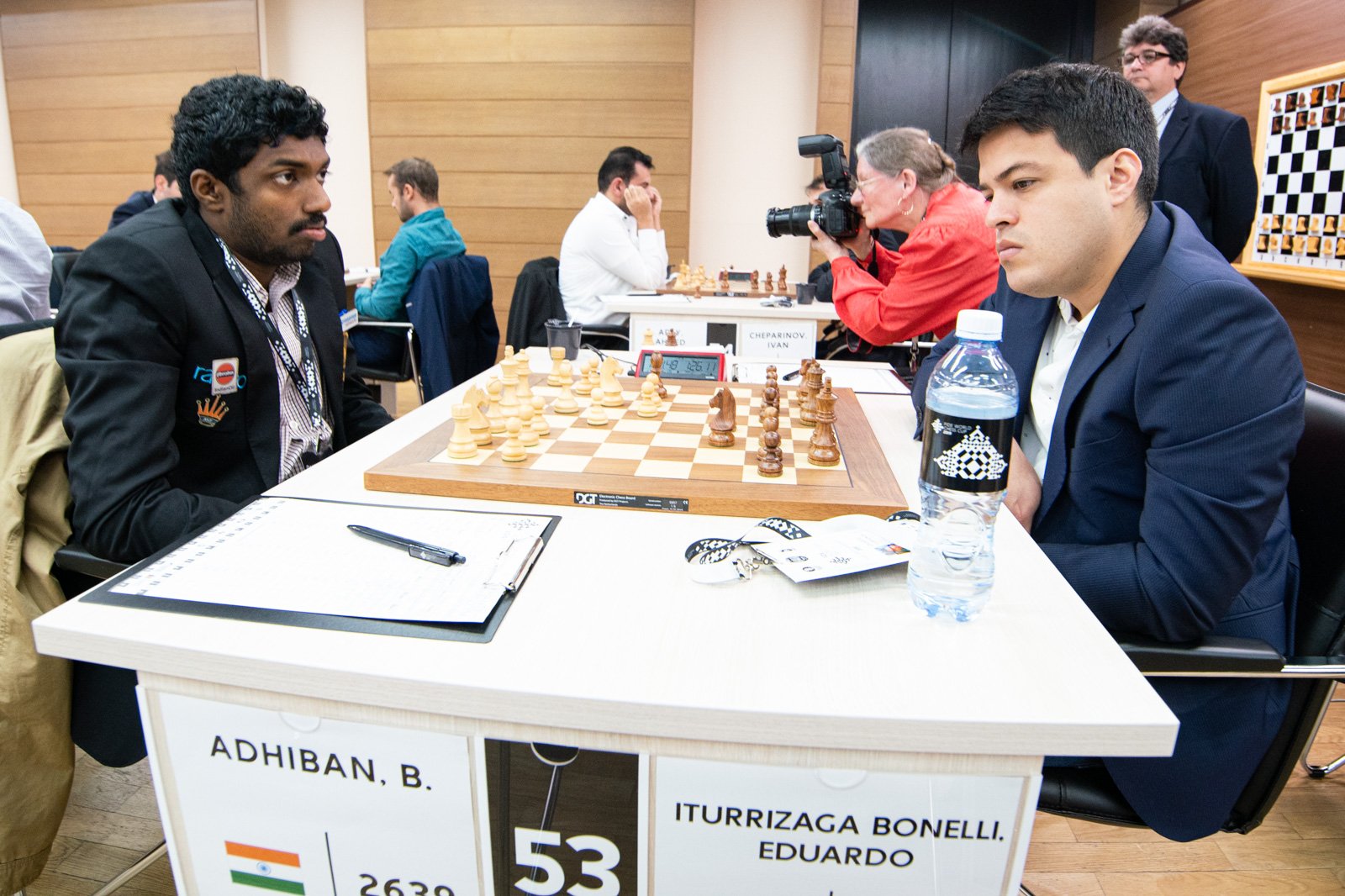 Vidit won and Adhiban drew the second game of round one to set up the required margin to advance in the knockout competition.
Bouncing back from yesterday's defeats, Surya Shekhar Ganguly, S. P. Sethuraman and S. L. Narayanan scored much-needed victories to stay in the contention. And multiple times Commonwealth Champion Abhijeet Gupta drew his game to equal the score.  Now they will be seen in action during Thursday's tie-break rapid games. If the tie persists, blitz games will also be played to decide the winner.
Murali Karthikeyan became the first Indian to mark an early exit following a defeat against Ernesto Inarkiev.
First-round pairings (involving Indians):
P. Hari Krishna (2746) 2-0 Yuri Gonzalez Vidal (Cuba, 2552);
Surya Shekhar Ganguly (2658) 1-1 Vladimir Fedoseev (Russia, 2664);
M.Karthikeyan (2617) 1.5-0.5 Ernesto Inarkiev (Russia, 2693);
Aravindh Chithambaram (2609) 1-1 Michael Adams (England, 2694);
S. L. Narayanan (2611) 1-1 David Anton Guijarro (Spain, 2674);
B. Adhiban (2639) 1.5-0.5 Eduardo Iturrizaga Bonelli (Venezuela, 2626);
Vidit Gujrathi (2718) 1.5-0.5 Alan Pichot (Argentina, 2600);
Abhijeet Gupta (2609) 1-1  Anton Korobov (Ukraine, 2679);
Nihal Sarin (2610) 2-0 Jorge Cori (Peru, 2676);
S. P. Sethuraman (2624) 1-1 Tamir Nabaty (Israel, 2658)