National Open Senior Chess Championship 2018
Report by I.A Ganesh Babu S
Three Players GM Vaibhav Suri, GM Deep Sengupta and IM Stany GA joined the lead with GM Aravindh Chithambaram at the end of the eighth round of ongoing National Open Senior Chess Championship being held at Jammu. Followed by seven players with 6.0 points including the top seed GM Abhijeet Gupta.
Aravindh could not get more than a draw against GM Vishnu Prasanna on board one.
The other over night leader GM Anurag Mhamal lost to IM Stany in 54 moves, where Stany's powerful double bishops gave him a material advantage in the endgame.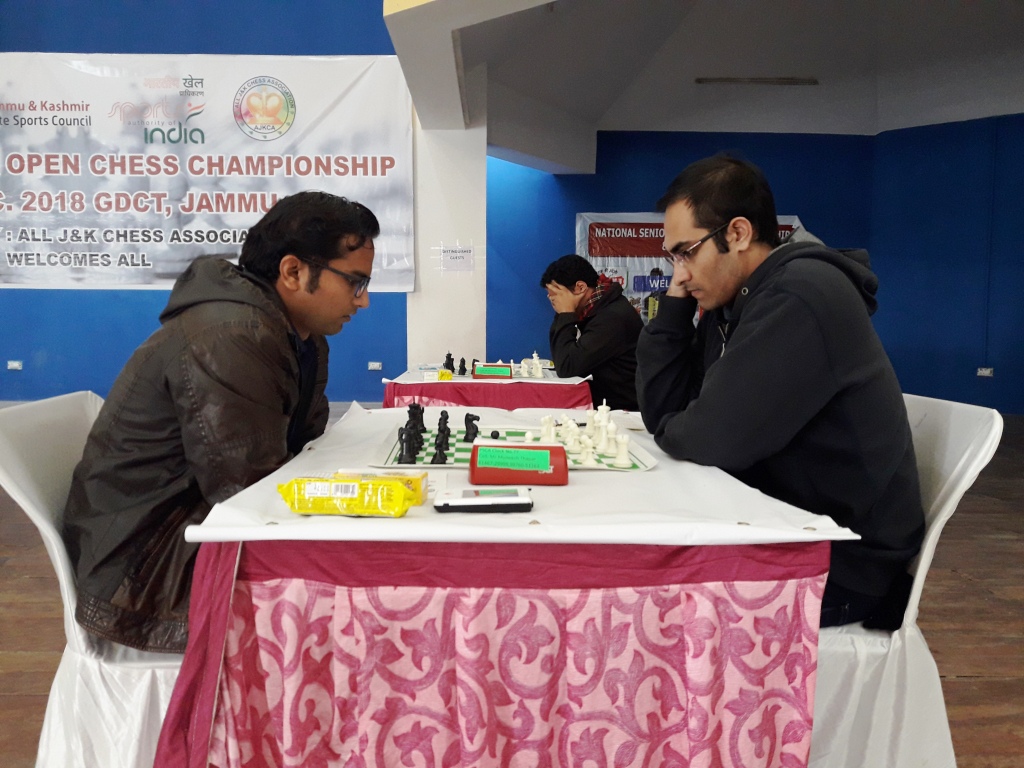 GM Vaibhav Suri had enough compensation for the pawn by weakening GM Swapnil's kingside, later his attack on the kingside forced Swapnil to lose the queen and Vaibhav won the game in 73 moves.
GM Deep Sengupta's strong attack on the queenside against G B Harshavardhan gave him an extra piece and checkmated him in 73 moves.
Top seed GM Abhijeet Gupta had a quick victory over Sammed Jayakumar Shete in 27 moves.
Pairings
Round 9
| | | | | | | | | | | | |
| --- | --- | --- | --- | --- | --- | --- | --- | --- | --- | --- | --- |
| Bo. | No. | | Name | Rtg | Pts. | Result | Pts. | | Name | Rtg | No. |
| 1 | 5 | GM | Sengupta Deep | 2565 | 6½ | | 6½ | GM | Vaibhav Suri | 2589 | 3 |
| 2 | 4 | GM | Aravindh Chithambaram Vr. | 2584 | 6½ | | 6½ | IM | Stany G.A. | 2509 | 12 |
| 3 | 13 | GM | Anurag Mhamal | 2491 | 6 | | 6 | GM | Gupta Abhijeet | 2597 | 1 |
| 4 | 20 | IM | Nitin S. | 2450 | 6 | | 6 | GM | Deepan Chakkravarthy J. | 2550 | 7 |
| 5 | 24 | GM | Bakre Tejas | 2433 | 6 | | 6 | GM | Vishnu Prasanna. V | 2518 | 10 |
| 6 | 9 | GM | Karthik Venkataraman | 2527 | 5½ | | 6 | GM | Thipsay Praveen M | 2400 | 27 |
| 7 | 14 | GM | Swapnil S. Dhopade | 2490 | 5½ | | 5½ | IM | Viani Antonio Dcunha | 2392 | 30 |
| 8 | 66 | | Harshavardhan G B | 2163 | 5½ | | 5½ | IM | Karthikeyan P. | 2482 | 15 |
| 9 | 16 | IM | Krishna C R G | 2464 | 5½ | | 5½ | | Raahul V S | 2381 | 31 |
| 10 | 34 | | Sammed Jaykumar Shete | 2378 | 5½ | | 5½ | GM | Sundararajan Kidambi | 2458 | 17 |
| 11 | 22 | IM | Akash G | 2443 | 5½ | | 5½ | FM | Navalgund Niranjan | 2240 | 55 |
| 12 | 25 | GM | Neelotpal Das | 2412 | 5½ | | 5½ | IM | Rathnakaran K. | 2366 | 36 |
| 13 | 2 | GM | Karthikeyan Murali | 2591 | 5 | | 5 | | Ritviz Parab | 2338 | 39 |
| 14 | 6 | GM | Chanda Sandipan | 2555 | 5 | | 5 | FM | Nitish Belurkar | 2310 | 42 |
| 15 | 38 | IM | Saravana Krishnan P. | 2346 | 5 | | 5 | GM | Venkatesh M.R. | 2528 | 8 |
| 16 | 18 | IM | Vignesh N R | 2455 | 5 | | 5 | IM | Navin Kanna T.U. | 2307 | 43 |
| 17 | 45 | | Srijit Paul | 2298 | 5 | | 5 | IM | Swayams Mishra | 2452 | 19 |
| 18 | 54 | | Saurabh Anand | 2246 | 5 | | 5 | IM | Shyaamnikhil P | 2448 | 21 |
| 19 | 56 | FM | Wagh Suyog | 2240 | 5 | | 5 | GM | Laxman R.R. | 2436 | 23 |
| 20 | 26 | IM | Rajesh V A V | 2402 | 5 | | 5 | | Gurpreet Singh Maras | 2261 | 53 |