32nd National Under 9 Open and Girls, 2018, Ranchi
Report by IA Paul Arokia Raj
Ilamparthi A R (Tamil Nadu) recorded his ninth straight victory and moved closer to the title in the open section of the 32nd national under 9 open chess championship which will conclude on Sunday. On the second spot is Bharadia Yash ( Rajasthan) who is one point behind the leader. Additionally, an 11 member group is on the third spot with 7 points each.
In the girl's section Panchal Hiya (Gujarat) emerged as the sole leader with 8 points by inflicting a defeat over WCM Shriyana S Mallya (Karnataka). Close on the heels of the leader is Sneha Halder (Bengal) and WCM Shefali AN also from Karnataka with 7.5 points each. Four other players are half a point behind them.
In the classical variation of Sicilian dragon, Mayank Chakroborty's queen enacted the story of Mahabaratha's hero Veera Abimanyu. Mayank made premature Queen moves and got it trapped by himself on the white side. This technical flaw by white was more than enough for Illamparthi—the Asian under 8 Gold medalist to wind up the game in his favour.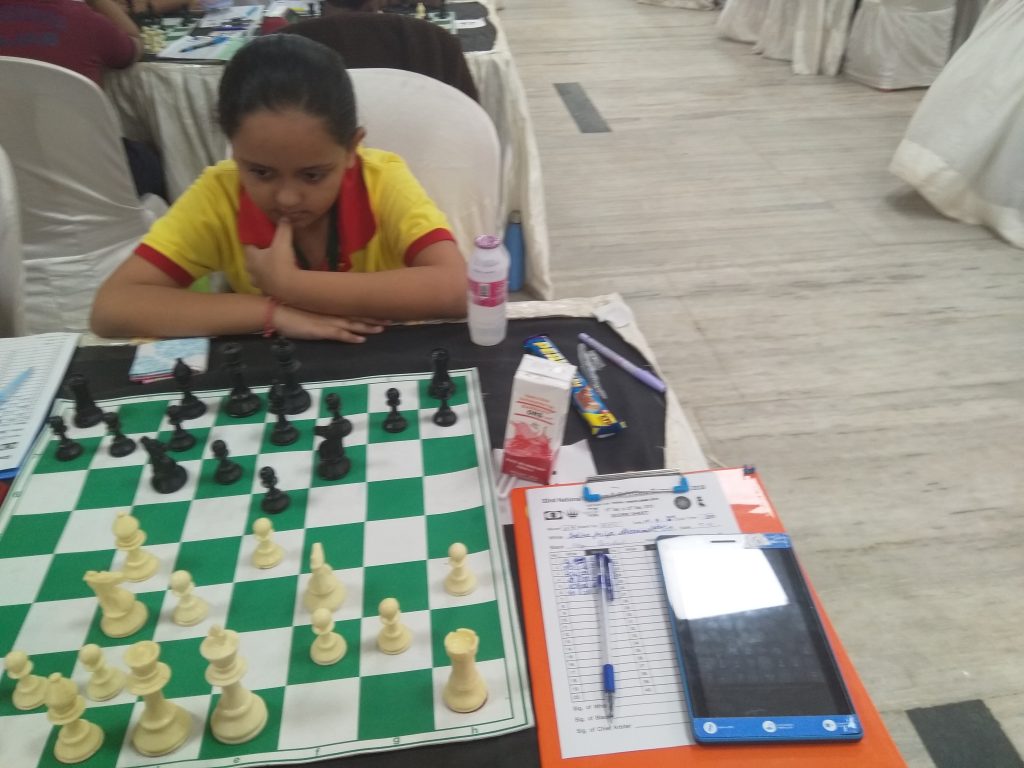 Panchal Hiya (Gujarat) with white piece emerged a piece up when she trapped Karnataka's Shreneya's bishop by a brilliant en passant move in a game involving e4 opening. She maintained the extra bishop to get a full point in the end game Playing white Sneha Halder after becoming pawn down demonstrated a great skill in taming the black king by saddling all her pieces on the kingside. Although Palak Mohopatra tried her best to counter attack the white king, Panchal superseded her opponent in checkmating her King first.
Karnataka's Shefali Ali was too good in showing her theoretical knowledge in the minor piece end game. After emerging one pawn up in the knight versus bishop end game Shefali made cautious moves to net a winner.
Results
Open: Round 9
| | | | | | | | | | | | | | |
| --- | --- | --- | --- | --- | --- | --- | --- | --- | --- | --- | --- | --- | --- |
| Bo. | No. | | Name | Rtg | Club/City | Pts. | Result | Pts. | | Name | Rtg | Club/City | No. |
| 1 | 1 | | Ilamparthi A R | 1926 | Tamil Nadu | 8 | 1 – 0 | 7 | | Mayank Chakraborty | 1655 | Assam | 4 |
| 2 | 7 | | Kshatriya Nitin Vekhande | 1574 | Maharashtra | 6½ | 0 – 1 | 7 | | Bharadia Yash | 1525 | Rajasthan | 9 |
| 3 | 105 | | Agarwal Mukund H | 1095 | Gujrat | 6½ | ½ – ½ | 6½ | | Aakash G | 1673 | Tamil Nadu | 2 |
| 4 | 15 | | Sparsh Bisht | 1396 | Haryana | 6½ | ½ – ½ | 6½ | | Suhaas A | 1327 | Telengana | 28 |
| 5 | 45 | | Md Imran | 1249 | Andhra Pradesh | 6½ | ½ – ½ | 6½ | | Abhyuday Santhosh | 1393 | Karnataka | 16 |
| 6 | 31 | | Arnav Pradhan | 1322 | Telengana | 6 | 0 – 1 | 6 | CM | Bhagat Kush | 1539 | Maharashtra | 8 |
| 7 | 51 | | Panda Hrishikesh | 1223 | Odisha | 6 | 0 – 1 | 6 | | Apoorv Kamble | 1502 | Karnataka | 10 |
| 8 | 39 | | Advait Prashant Patil | 1278 | Maharashtra | 6 | ½ – ½ | 6 | | Raghu Ram Reddy Seelam | 1445 | Telengana | 12 |
| 9 | 17 | | Barnil Kumar Das | 1379 | Assam | 6 | ½ – ½ | 6 | | Pranav K P | 1312 | Tamil Nadu | 34 |
| 10 | 19 | | Aryan Mohapatra | 1374 | Odisha | 6 | 1 – 0 | 6 | | Nirnay Garg | 1325 | Haryana | 30 |
Girls: Round 9
| | | | | | | | | | | | | | |
| --- | --- | --- | --- | --- | --- | --- | --- | --- | --- | --- | --- | --- | --- |
| Bo. | No. | | Name | Rtg | Club/City | Pts. | Result | Pts. | | Name | Rtg | Club/City | No. |
| 1 | 3 | | Panchal Hiya | 1267 | Gujrat | 7 | 1 – 0 | 6½ | WCM | Shriyana S Mallya | 1278 | Karnataka | 1 |
| 2 | 7 | WCM | Shefali A N | 1224 | Karnataka | 6½ | 1 – 0 | 7 | | Indira Priyadharshini Subbu | 1178 | Tamil Nadu | 10 |
| 3 | 5 | | Sneha Halder | 1245 | Bengal | 6½ | 1 – 0 | 6½ | | Palak Mohapatra | 1267 | Odisha | 2 |
| 4 | 38 | | Debapriya Manna | 1036 | Bengal | 6½ | 0 – 1 | 6 | WCM | Suhaani Lohia | 1235 | Maharashtra | 6 |
| 5 | 39 | | Mukherjee Shreya | 1036 | Maharashtra | 6 | ½ – ½ | 6 | | Arushi Srichandan | 1132 | Odisha | 16 |
| 6 | 17 | | Pournami S | 1126 | Kerala | 6 | 1 – 0 | 6 | | Patil Divya | 1107 | Maharashtra | 22 |
| 7 | 104 | | Patil Disha | 0 | Maharashtra | 6 | 1 – 0 | 6 | | Devaki Nandana | 1110 | Andhra Pradesh | 20 |
| 8 | 18 | | Jayashri M | 1124 | Tamil Nadu | 5½ | ½ – ½ | 6 | | Lakshana Subramanian | 1024 | Tamil Nadu | 42 |
| 9 | 44 | | Saara Jain | 1016 | Jharkhand | 5½ | ½ – ½ | 5½ | | Sani Deshpande | 1219 | Maharashtra | 8 |
| 10 | 12 | | Sanikommu Manasvi | 1164 | Karnataka | 5½ | 1 – 0 | 5½ | | Jasmaira Gumber | 1012 | Uttaranchal | 46 |