The 19-year-old grandmaster entered the tenth and final round of the Gibraltar International Chess Festival yesterday with 7 points from a possible nine. He finished second at the Masters tournament with a brilliant win against the tournament top seed Maxime Vachier-Lagrave.
The tournament was held in Caleta Hotel from January 23 to February 1, 2018, Gibraltar
Half a point ahead of Karthikeyan Murali was tournament winner Vladislav Artemiev of Russia. Artemiev finished the tournament on 8.5 points out of 10.
Karthikeyan went home richer by £20,000 second prize, while Artemiev was awarded the £25,000 cheque for first prize.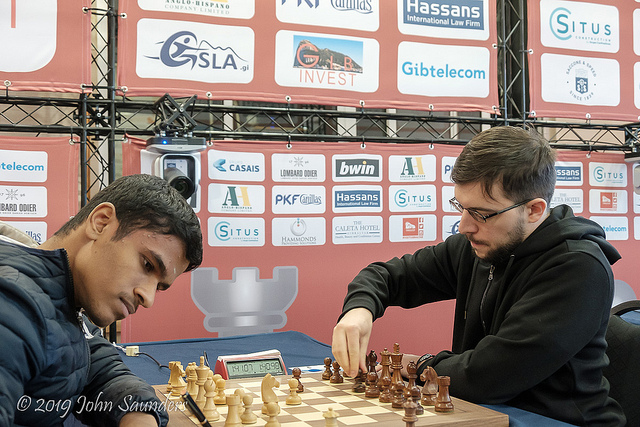 The Chennai grandmaster showed great character and temperament as he produced outstanding performance to put it across three grandmasters rated above 2700. His efforts have earned him a performance rating of 2747 which is an increase of 23 rating points.
The other Indian who performed well is the former Indian Champion GM Rohit Lalith Babu; finishing eighth.
Final Ranking after 10 Rounds
| | | | | | | |
| --- | --- | --- | --- | --- | --- | --- |
| Rk. | SNo |   | Name | FED | Rtg | Pts. |
| 1 | 11 | GM | Artemiev Vladislav | RUS | 2709 | 8,5 |
| 2 | 49 | GM | Karthikeyan Murali | IND | 2570 | 8,0 |
| 3 | 8 | GM | Vitiugov Nikita | RUS | 2720 | 7,5 |
| 4 | 19 | GM | Howell David W L | ENG | 2685 | 7,5 |
| 5 | 27 | GM | Anton Guijarro David | ESP | 2642 | 7,5 |
| 6 | 6 | GM | Navara David | CZE | 2738 | 7,0 |
| 7 | 20 | GM | Grandelius Nils | SWE | 2682 | 7,0 |
| 8 | 55 | GM | Lalith Babu M R | IND | 2547 | 7,0 |
| 9 | 9 | GM | Le Quang Liem | VIE | 2714 | 7,0 |
| 10 | 17 | GM | Saric Ivan | CRO | 2690 | 7,0 |
| 11 | 3 | GM | So Wesley | USA | 2765 | 7,0 |
| 12 | 4 | GM | Yu Yangyi | CHN | 2764 | 7,0 |
| 13 | 1 | GM | Vachier-Lagrave Maxime | FRA | 2780 | 7,0 |
| 14 | 13 | GM | Adams Michael | ENG | 2701 | 7,0 |
| | 28 | GM | Alekseenko Kirill | RUS | 2637 | 7,0 |
| 16 | 5 | GM | Nakamura Hikaru | USA | 2749 | 7,0 |
| 17 | 26 | GM | Edouard Romain | FRA | 2643 | 7,0 |
| 18 | 12 | GM | Mamedov Rauf | AZE | 2703 | 7,0 |
| 19 | 21 | GM | Eljanov Pavel | UKR | 2680 | 7,0 |
| 20 | 23 | GM | Melkumyan Hrant | ARM | 2660 | 7,0 |
| 21 | 14 | GM | Matlakov Maxim | RUS | 2700 | 7,0 |
| 22 | 74 | GM | Tan Zhongyi | CHN | 2502 | 7,0 |
| 23 | 62 | GM | Muzychuk Mariya | UKR | 2540 | 6,5 |
| 24 | 2 | GM | Aronian Levon | ARM | 2767 | 6,5 |
| 25 | 41 | GM | Vaibhav Suri | IND | 2590 | 6,5 |
| 26 | 36 | GM | Lagarde Maxime | FRA | 2604 | 6,5 |
| 27 | 80 | IM | Gukesh D | IND | 2497 | 6,5 |
| 28 | 18 | GM | Adhiban B. | IND | 2689 | 6,5 |
| 29 | 35 | GM | Jumabayev Rinat | KAZ | 2604 | 6,5 |
| 30 | 15 | GM | Cheparinov Ivan | GEO | 2691 | 6,5 |
Photos: John Saunders/ Gibraltar Chess Festival