Sonipat: The 29th National Under-17 Open & Girls Chess Championships-2018" is currently being held at Gateway Education Campus, Sonipat, Haryana from September 3 to 11. The championship is being organized by Haryana Chess Association under the aegis of All India Chess Federation. About 200 players are in the fray, which carries a total cash prize of ₹2,50,000.
The top seeds for this year are West Bengal's FM Mitrabha Guha and WFM Arpita Mukherjee in the Open and girls category respectively. The Open section has one FIDE Master, while the girls category features five Women FIDE Masters, and four women Candidate Masters.
Top-seed FM Mitrabha Guha (WB) is having a smooth run in the Open section. He has amassed 4.0/4 points to jointly share the lead with Paesar Vedant (MAH) and Vinay Thomas Abraham (KER) who also scored 4 points respectively.
Second round proved to be a shocker for third-seed Krishnater Kushager (MAH) when he went down to Soham Dey (WB). Whereas, second-seed Srijit Paul had to be content with a draw against lower rated Aditya Melani (GUJ).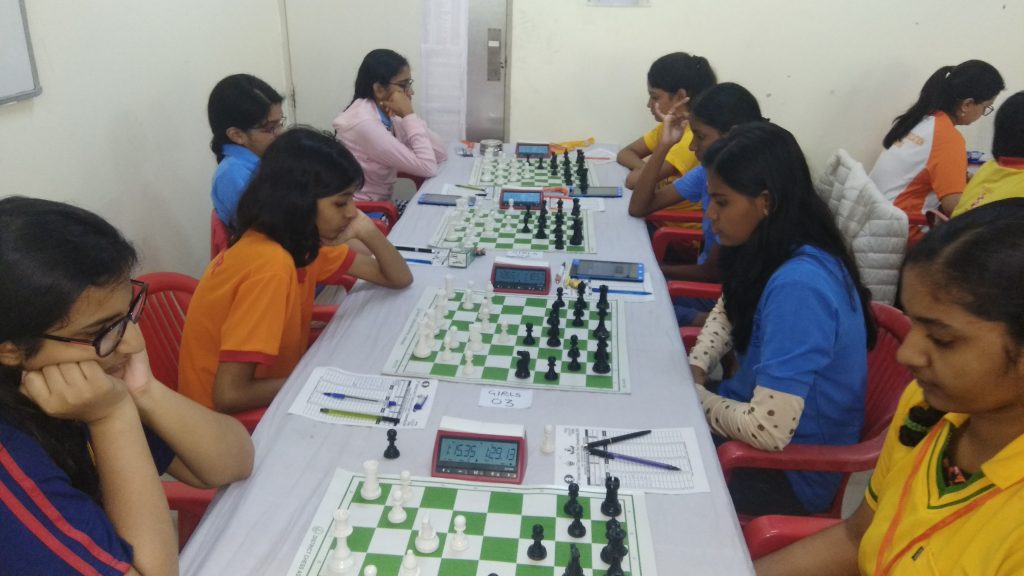 In the girls section, WFM Harishini A (TN) emerged sole leader after four rounds. Trailing behind by half-point are K Priyanka (TN) and WCM Jyothsna L (TN).
Top-seed WFM Arpita Mukherjee started the championship on a high note after winning first and second rounds. However, Toshali V. (AP) put a pause on the winning streak and held Arpita to a draw. Followed by another draw against Srishti Pandey (MAH) in the fourth round.
The Fifth round is currently underway.
Pairings
Open: Round 5
| | | | | | | | | | | | |
| --- | --- | --- | --- | --- | --- | --- | --- | --- | --- | --- | --- |
| Bo. | No. | | Name | Rtg | Pts. | Result | Pts. | | Name | Rtg | No. |
| 1 | 16 | | Vinay Thomas Abraham | 1953 | 4 | | 4 | FM | Mitrabha Guha | 2376 | 1 |
| 2 | 6 | | Gaurav Rajesh Zagade | 2177 | 3½ | | 4 | | Panesar Vedant | 2124 | 8 |
| 3 | 54 | | Tuhin Kashyap | 1616 | 3½ | | 3½ | | Harshita Guddanti | 1972 | 14 |
| 4 | 17 | | Aakash Sharadchandra Dalvi | 1947 | 3½ | | 3½ | | Sreekar J S S | 1538 | 64 |
| 5 | 22 | | Arjun C Krishnamachari | 1901 | 3½ | | 3½ | | Cheela Naga Sampath | 1935 | 18 |
| 6 | 4 | | Tarun V Kanth | 2258 | 3 | | 3 | | Manish Anto Cristiano F | 1995 | 13 |
| 7 | 21 | | Punit Indora | 1902 | 3 | | 3 | | Vatsal Singhania | 2225 | 5 |
| 8 | 7 | | Shyam Prasad Reddy K | 2148 | 3 | | 3 | | Dubey Sanchay | 1862 | 25 |
| 9 | 9 | | Pruthu Deshpande | 2068 | 3 | | 3 | | Deota Snehil S | 1851 | 27 |
| 10 | 29 | | Rupam Mukherjee | 1837 | 3 | | 3 | | Manu David Suthandram R | 2044 | 10 |
Pairings
Girls: Round 5
| | | | | | | | | | | | |
| --- | --- | --- | --- | --- | --- | --- | --- | --- | --- | --- | --- |
| Bo. | No. | | Name | Rtg | Pts. | Result | Pts. | | Name | Rtg | No. |
| 1 | 3 | WFM | Harshini A | 2160 | 4 | | 3½ | | Priyanka K | 2163 | 2 |
| 2 | 7 | WCM | Jyothsna L | 1964 | 3½ | | 3 | WFM | Tarini Goyal | 2072 | 4 |
| 3 | 1 | WFM | Arpita Mukherjee | 2207 | 3 | | 3 | WCM | Jain Nityata | 1807 | 14 |
| 4 | 5 | WCM | Mrudul Dehankar | 2065 | 3 | | 3 | | Adane Narayani | 1755 | 16 |
| 5 | 17 | | Tejasvi M | 1747 | 3 | | 3 | | Sanskriti Goyal | 1965 | 6 |
| 6 | 18 | | Benasir M | 1736 | 3 | | 3 | | Pandey Srishti | 1958 | 8 |
| 7 | 32 | | Mistry Tinaz Dinkoo | 1478 | 3 | | 3 | | Ghosh Samriddhaa | 1904 | 10 |
| 8 | 11 | | Bhagyashree Patil | 1885 | 3 | | 3 | | Kaur Palkin | 1697 | 19 |
| 9 | 22 | | Kalyani B | 1656 | 3 | | 3 | | Toshali V | 1875 | 12 |
| 10 | 9 | WFM | Tanishka Kotia | 1918 | 2½ | | 3 | | Garima Gaurav | 1615 | 23 |