The 5th Sunway Sitges International Chess Festival was a 10-round Swiss open which held from 14-23 December 2018 in the Hotel Sunway Playa Golf & Spa in Sitges, Spain. The tournament had attracted both experienced grandmasters like Vassily Ivanchuk and Sasikiran Krishnan, and also prodigies like Praggnanandhaa R and Nihal Sarin. Indians had the second-highest number of participation after the host country.
Sreeshwan Maralakshikari, U-12 Commonwealth Chess Champion 2018, created a big sensation after defeating GM Vassily Ivanchuk (who has 473 rating points more than him) in just 26 moves.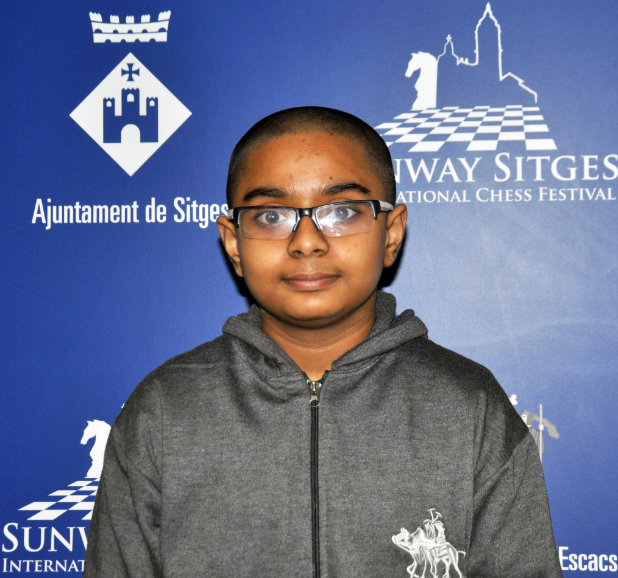 Fourth-seeded GM Sasikiran Krishnan, who was leading the tournament until 8th round, faced a loss against top-seed GM Andreikin Dmitry of Russia. Sasikiran made a comeback in the next two rounds and tied for joint-second.
Tournament Winner GM Alvar Alonso of Spain was the only player to reach a score of 8/10. There was a playoff among the top three players on 7.5 points.
IM Krishna Teja scored his maiden GM norm
WGM Vaishali R was declared the woman's champion. She took the 1.500 € cumulative first prize and was followed by WGM Natalia Pogonina and WFM Cholleti Sahajasri.
Final Ranking after 10 rounds
| | | | | |
| --- | --- | --- | --- | --- |
| Rk. |   | Name | FED | Pts. |
| 1 | GM | Alonso Rosell Alvar | ESP | 8 |
| 2 | GM | Inarkiev Ernesto | RUS | 7.5 |
| 3 | GM | Sasikiran Krishnan | IND | 7.5 |
| 4 | GM | Andreikin Dmitry | RUS | 7.5 |
| 5 | GM | Dragnev Valentin | AUT | 7.5 |
| 6 | GM | Santos Ruiz Miguel | ESP | 7.5 |
| 7 | GM | Indjic Aleksandar | SRB | 7.5 |
| 8 | GM | Ivanchuk Vassily | UKR | 7.5 |
| 9 | GM | Edouard Romain | FRA | 7 |
| 10 | GM | Vocaturo Daniele | ITA | 7 |
| 11 | GM | Santos Latasa Jaime | ESP | 7 |
| 12 | IM | Sosa Tomas | ARG | 7 |
| 13 | GM | Xu Xiangyu | CHN | 7 |
| 14 | GM | Kadric Denis | BIH | 7 |
| 15 | GM | Petrosyan Manuel | ARM | 6.5 |
| 16 | GM | Lagarde Maxime | FRA | 6.5 |
| 17 | GM | Romanov Evgeny | RUS | 6.5 |
| 18 | IM | Harutyunian Tigran K. | ARM | 6.5 |
| 19 | GM | Peralta Fernando | ARG | 6.5 |
| 20 | GM | Liang Awonder | USA | 6.5 |
| 21 | GM | Nihal Sarin | IND | 6.5 |
| 22 | IM | Krishna Teja N | IND | 6.5 |
| 23 | IM | Sadhwani Raunak | IND | 6.5 |
| 24 | IM | Gukesh D | IND | 6.5 |
| 25 | GM | Praggnanandhaa R | IND | 6.5 |