Photos by Alina l'Ami
The Tata Steel Chess Tournament is one of the most prestigious events in the international chess calendar. The "Wimbledon of Chess" attracts the very best chess grandmasters in the world. In 2018, the Tata Steel Chess Tournament celebrates its 80th anniversary. The venue is the De Moriaan Community Centre in Wijk aan Zee.
The tournament has taken place since 1938 and was known as the Corus Chess Tournament. The Indian company Tata Steel bought Corus in 2006 and the chess event was rebranded accordingly.
The fully-packed hall.
Thousands of amateur players, live event visitors are playing alongside…

…all Tata Steel Masters.
Five-time World Champion Viswanathan Anand and GM Adhiban Baskaran (2017 Tata Steel Masters second runner-up) are two Indians featured in the Master's category. Whereas, GM Vidit Gujrathi and GM Dronavalli Harika are taking part in the Challengers category.
Anand enjoys joint lead after five rounds. He had a roaring start with a victory over Russian Grandmaster Maxim Matlakov in Ruy Lopez opening. Anand got the better of super tournament debutant after a few inaccuracies by the Russian left Vishy in the driving seat.
The masterpiece against Fabiano Caruana was applauded by fans and contemporaries alike. The 46th move stamped the seal. After the game, Anand commented, "After 27.Bf4, it wasn't end of the world for Black, it was quite unclear. Black has an extra pawn after all and the rooks are quite active. I think he really lost the game after 27..a5? …Something went wrong in his (Fabiano Caruana) calculations, so he went down in a very forced line and his calculations missed the mark."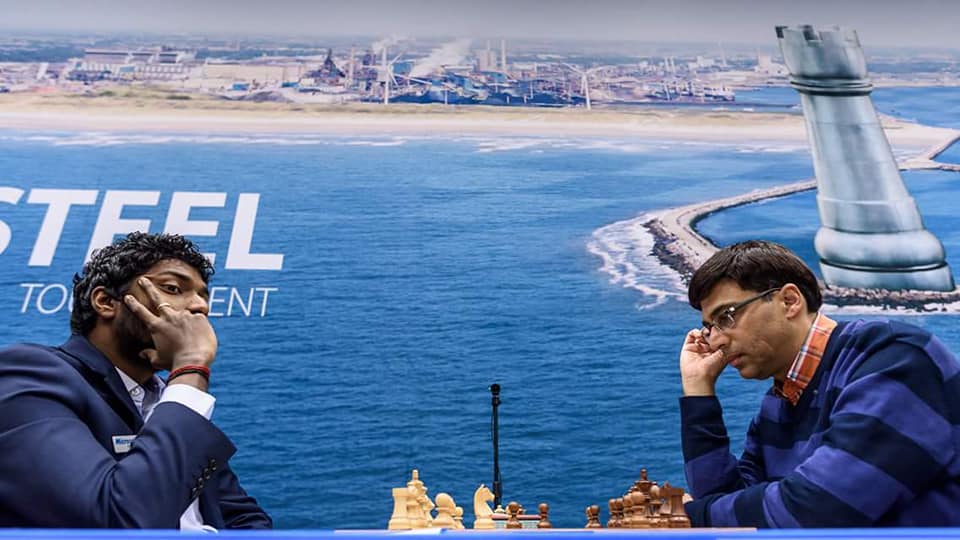 GM Adhiban Baskaran held Anand to a draw in the 4th round. On the game, Adhiban told the official site, "The tournament is going exactly the way it did last year for me. Also, Anand said he wasn't really feeling well today and he made some errors. I decided to stay solid and went for a draw."
Round 6 – Friday the 19th
Hou, Yifan – Karjakin, Sergey
Caruana, Fabiano – Matlakov, Maxim
Adhiban, B. – Mamedyarov, Shakhriyar
Wei, Yi – So, Wesley
Giri, Anish – Anand, Viswanathan
Kramnik, Vladimir – Jones, Gawain C B
Svidler, Peter – Carlsen, Magnus
GM Vidit Gujrathi is the top seed of the challengers' event. After three victories and two draws, he is on second spot; half-a-point behind the tournament leader GM Anton Korobov.
Winner of the challenger's category will secure a spot in the next year's Master's Category.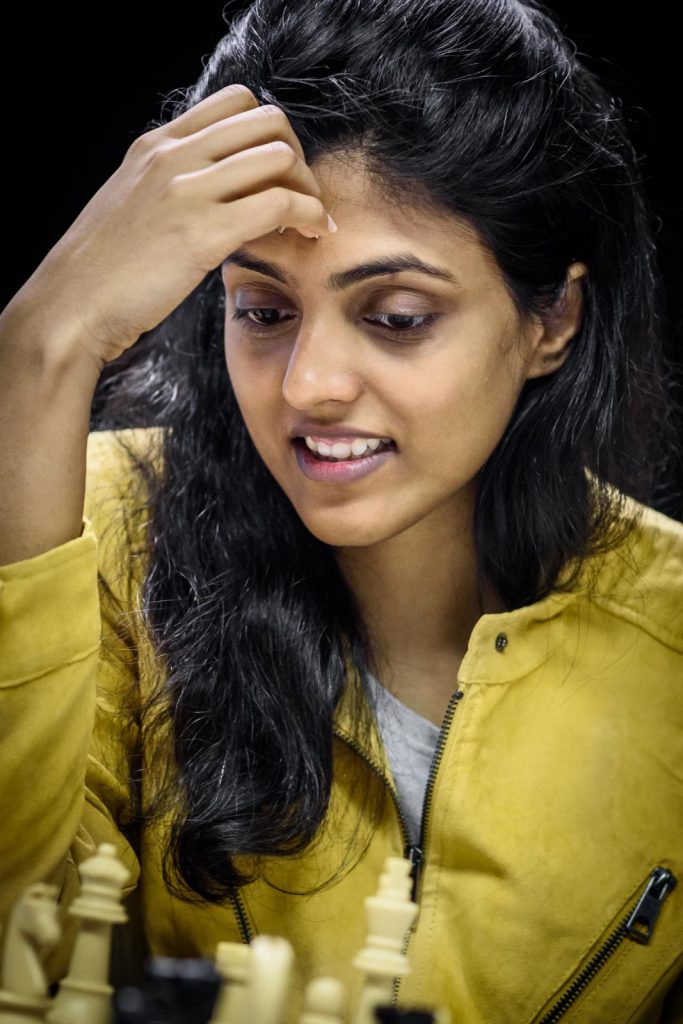 India's top female Grandmaster Dronavalli Harika is on 2.0/5.
Round 6 – Friday the 19th
Bok, Benjamin – Vidit, Santosh Gujrathi
Van Foreest, Lucas – L'Ami, Erwin
Gordievsky, Dmitry – Harika, Dronavalli
Bluebaum, Matthias – Amin, Bassem
Xiong, Jeffery – Krasenkow, Michal
Korobov, Anton – Tari, Aryan
Girya, Olga – Van Foreest, Jorden