World Youth Chess Championship 2018
Report by FI Puneet Jaiswal
In the under-18 Girls category, WIM Tejaswini Sagar improved her chances for a podium finish when she defeated Hng Mei-En Emmanuelle of Singapore in the 8th round of The World Youth Chess Championship 2018 at Chalkidiki Greece.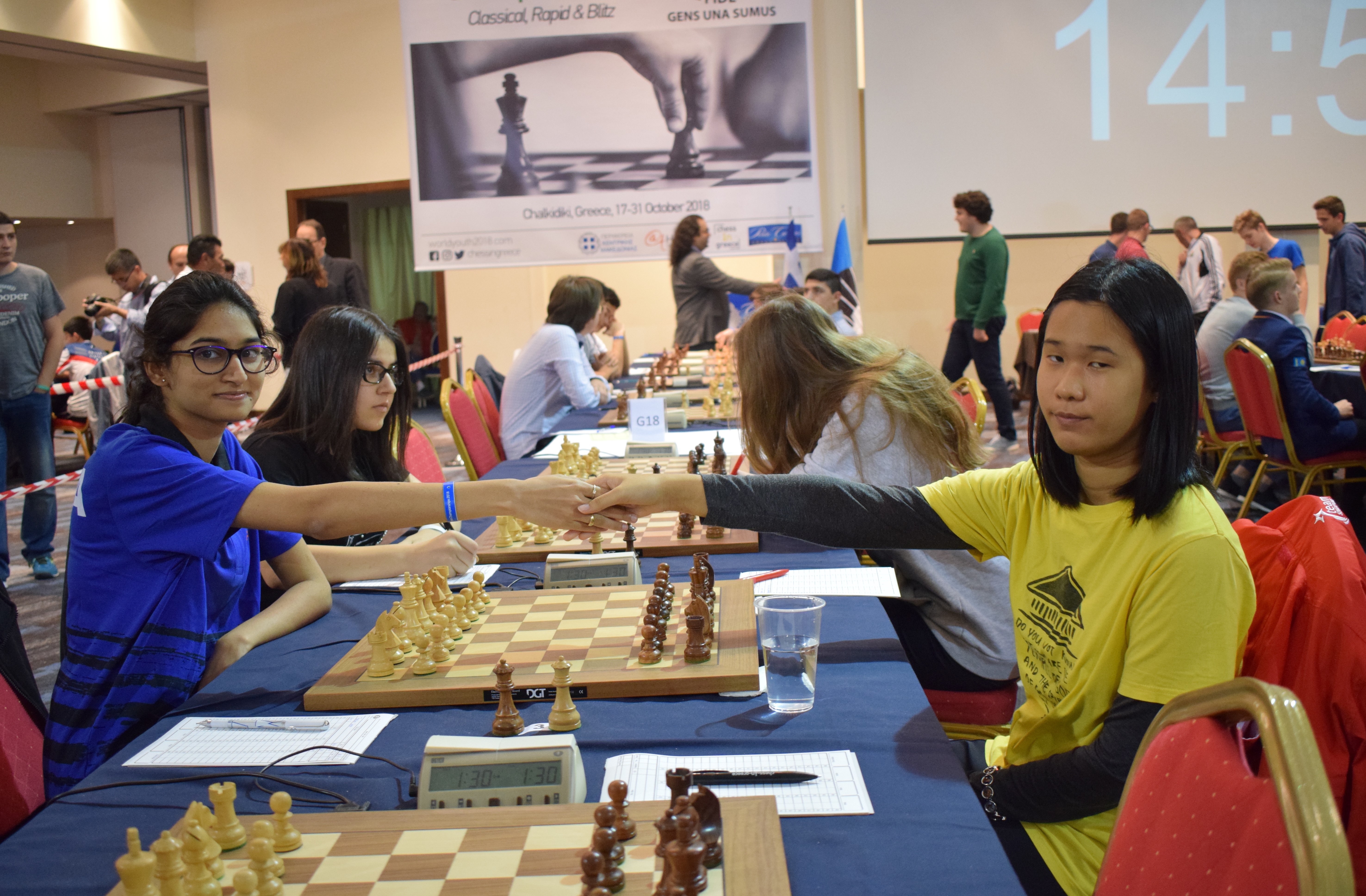 Tejaswini played untested move on move nine against Kan variation of Sicilian Defence. Later in an equal middle game she obtained double bishop along with two vs one pawn majority on the queenside. On move 26th she won the weak A-pawn and converted the extra pawn to a full point in 38 moves.
Tejaswini will take on the leader WIM Shuvolova Polina of Russia with black pieces.
In the under-14 open section, CM Kushagra Mohan, playing black pieces, held Danish IM Bjerre Jonas Buhl to a draw. He employed Open variation of Ruy Lopez where both the players followed the laid path of Caruana and Batista till move 25. Bhul tried to press and eventually obtained a small edge but it was not sufficient and both settled for a draw after 38 moves in heavy pieces endgame.
Kushagra along with Raja Ritwik with 6 points stays at joint fourth spot whereas the FM Antonio of Spain leads with 7.5 points ahead of FM Kacharava of Georgia and Huang Renjie of China.
In the under-14 girls' section, WCM Jyothsna played the French defence on which her Russian opponent Stepanyan Eva employed the Tarrasch variation. On move 17 white varied the theory and let Jyothsna to equalize with ease further they settle for a draw in a rook and pawn ending seeing no further headway after 41 moves.
The encounter between the two Indian girls WIM Divya Deshmukh and WCM Mrudul Dehankar witnessed the Larsen opening. In a see-saw battle in an equal middlegame position, Mrudul went for a queen exchange on move 31. The move led Divya to obtain a small edge in double rook knight ending. Divya converted into a full point in 73 moves in a knight ending.
Jyothsna and Divya are sharing the second spot along with seven others. The leader Ning Kaiyu of China has 1.5 points lead with 7.5 points.
Results: Round 8
Under-14 Open
Under-14 Girls
Under-16 Open
Under-16 Girls
Under-18 Open
Under-18 Girls