Report by Priyadarshan Banjan
Nihal and Praggnanandhaa walked into the tournament hall together. The young duo of India Greens is clearly the talk of the tournament hall. A young boy and his mother, playing for one of the South-East Asian teams walked up to them and requested for a photo with her son. That was the beginning.
Players young and old, fans, mothers, girls — they all wanted a photo with them. Indeed, if the future of Indian chess had to be described in two names, they would be Nihal Sarin and Praggnanandhaa Rameshbabu.
India Green started the day as firm favourites to beat the Russians. On all the boards, the Indians out rated their opponents. At worst, it could be a draw, the spectators and the pundits speculated.
In the end, it was just short of a total destruction, but the other way around.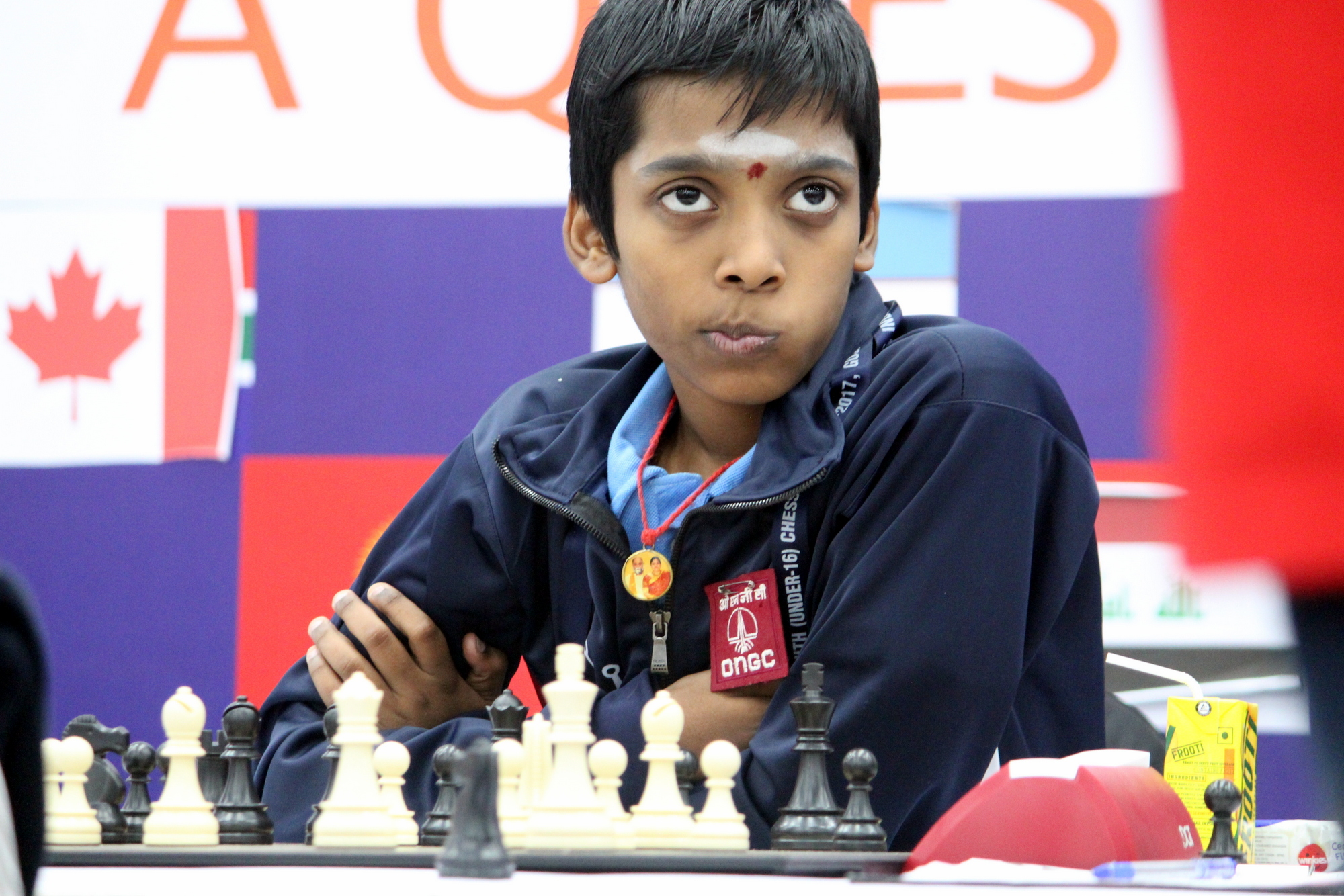 IM Praggnanandhaa R. started his game with the black pieces. His opponent Sergei Lobanov chose to enforce the Ruy Lopez Opening. Black played the typical moves and Praggnanandhaa had a fine position going into the middlegame.
But people began to raise their eyebrows when the young boy played …g5 on the kingside where he had castled. This moves weakened the king position. But Praggnanandhaa had defended worse positions.
This time, it was too much. Black made a series of bad moves and the Russian just calmly improved all his pieces, aiming at Praggu's King. The game was over in an hour. It was a massacre that rattled the entire Indian team.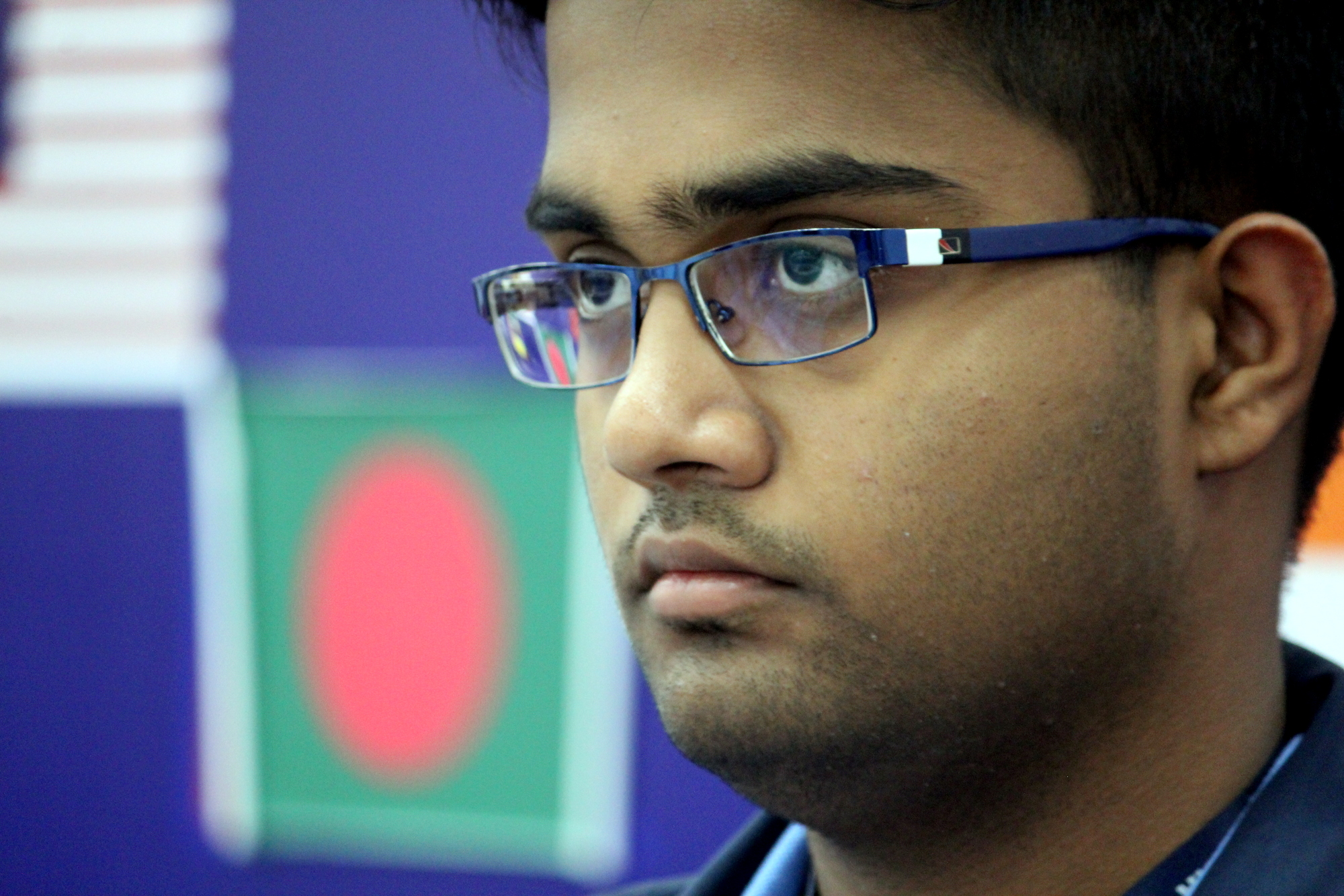 IM P. Iniyan, who had been playing fast due to his superior opening position, gained a clearly better game from the black side of a Sicilian Defence. However, the early loss on board two meant that Iniyan had to win at any cost.
The pressure was immense.
Iniyan tried to be foxy and set as many traps as he could conjure up. But Timur resolutely avoided all pitfalls. In fact, there was a reversal of fortunes and Timur even gained a huge advantage. But he had very less time on the clock and chose to take the safer route to a draw.
The pressure got Iniyan. Russia led 1.5-0.5.
Meanwhile, seeing the sudden turn of events, GM Aryan Chopra on the first board was obviously not happy. He had been caught in his opponent IM Semen Lamasov's opening preparation and was already behind on the clock. But he eventually refused to repeat and gained a comfortable position.
After seeing that his team was behind, Aryan took undue risks and began to play without objectivity. This backfired immediately and Lomasov took the win.
Russia had completed the victory, almost, and was leading 2.5-1.5.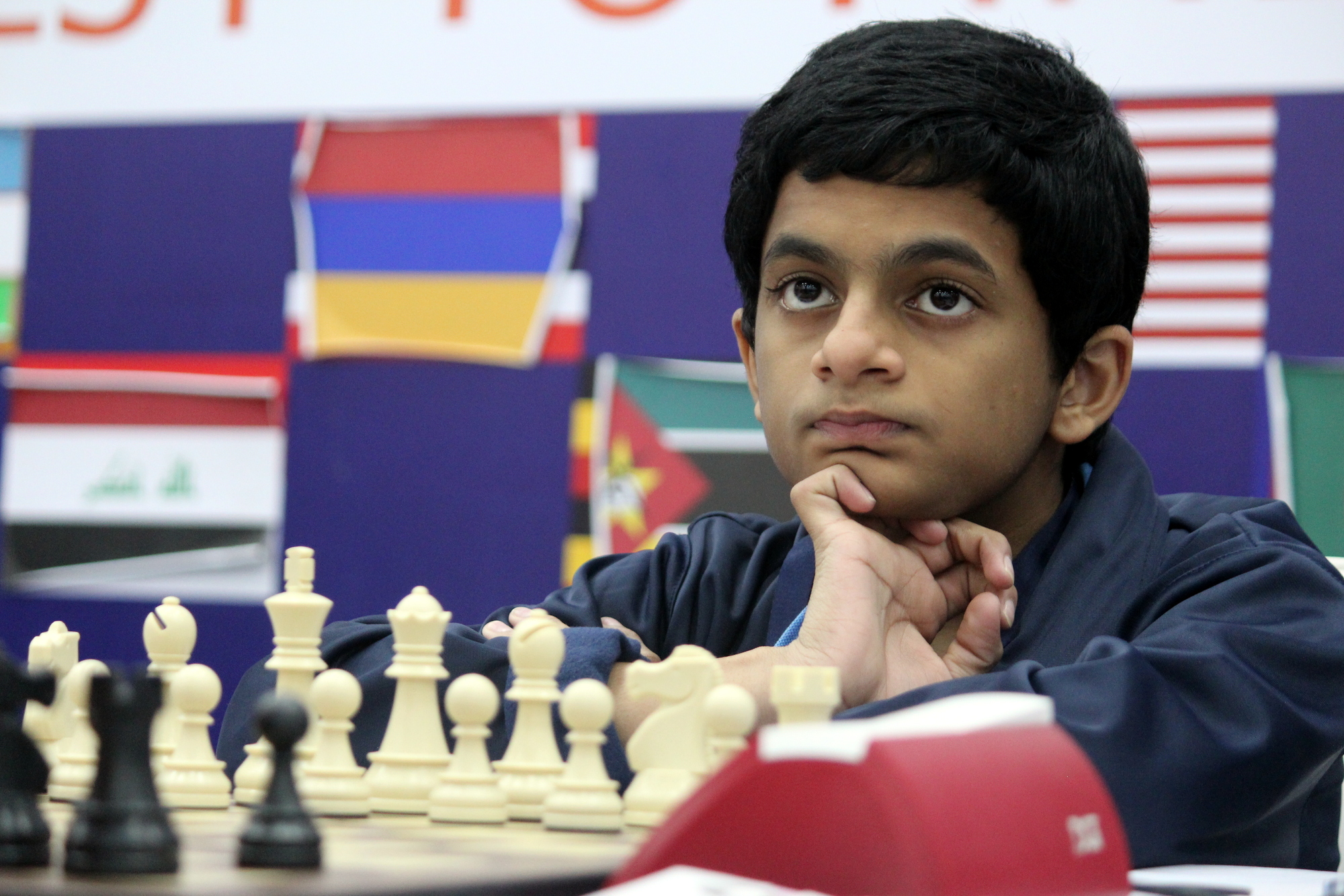 IM Nihal Sarin, sacrificed a pawn in the opening and was trying to milk his compensation. The terrible turn of events around him also didn't make matters any better.
While in the previous match, he had fought out a win to take India Green home, this time, it was a tough task for Nihal. He had to eventually race towards a rook endgame where he was slightly worse but had enough resources to hold a practical draw, which he did. This anyway was not enough. Russia had shut India Green down 3-1.
Armenia, the fifth seed was up against Iran but this time, Iran was in no mood to relent. Putting behind a bad Day 02 at the office, Iran fought powerfully to take home the win, also winning 3-1.
Russia has clearly taken the lead and is in a comfortable position going into the second half of the tournament. Meanwhile, Iran and India now have to slug it out to keep up in the race to the finish.
Team pairings
Round 4 on 2017/12/13 at 1530
No.
SNo
Team
Pts.
MP
Res.
:
Res.
MP
Pts.
Team
SNo
1
1
India Green
9
6
1
:
3
6
10
Russia
3
2
4
Armenia
8½
4
1
:
3
5
8½
Iran
2
3
5
Uzbekistan
8½
5
3
:
1
4
8½
Belarus
10
4
12
Argentina
8
4
1½
:
2½
4
7½
India Red
6
5
8
Turkey
7½
4
2
:
2
4
7
Mongolia
13
6
9
Israel
8
4
2½
:
1½
4
9
Canada
15
7
11
Kazakhstan
9
4
4
:
0
4
6½
Thailand
22
8
7
India Blue
7
3
4
:
0
3
4½
South Africa A
20
9
16
Bangladesh
5½
2
3
:
1
3
6½
Malaysia
14
10
17
Indonesia
4½
2
2
:
2
2
5
South Africa B
24
11
21
Australia
4½
2
2½
:
1½
2
4
Iraq
18
12
19
Sri Lanka
4½
2
4
:
0
2
3
Kenya B
26
13
28
Mozambique
3½
1
2½
:
1½
1
2½
Kenya A
29
14
27
Kyrgyzstan
3½
1
3
:
1
0
2
Nepal A
23
15
25
Nepal B
0
0
2
:
0
0
0
bye
-1
16
30
Uganda
0
0
:
0
0
not paired
-2
Rank after Round 4
| | | | | | | | | | | | | |
| --- | --- | --- | --- | --- | --- | --- | --- | --- | --- | --- | --- | --- |
| Rk. | SNo | | Team | Games |   + |   = |   – |  TB1 |  TB2 |  TB3 |  TB4 |  TB5 |
| 1 | 3 | | Russia | 4 | 4 | 0 | 0 | 8 | 13,0 | 0 | 107,3 | 34,0 |
| 2 | 2 | | Iran | 4 | 3 | 1 | 0 | 7 | 11,5 | 1 | 113,3 | 40,5 |
| 3 | 5 | | Uzbekistan | 4 | 3 | 1 | 0 | 7 | 11,5 | 1 | 93,3 | 35,0 |
| 4 | 11 | | Kazakhstan | 4 | 3 | 0 | 1 | 6 | 13,0 | 0 | 71,5 | 26,5 |
| 5 | 9 | | Israel | 4 | 3 | 0 | 1 | 6 | 10,5 | 0 | 89,3 | 33,5 |
| 6 | 1 | | India Green | 4 | 3 | 0 | 1 | 6 | 10,0 | 0 | 95,0 | 40,5 |
| 7 | 6 | | India Red | 4 | 3 | 0 | 1 | 6 | 10,0 | 0 | 89,3 | 36,5 |
| 8 | 7 | | India Blue | 4 | 2 | 1 | 1 | 5 | 11,0 | 0 | 70,8 | 28,5 |
| 9 | 8 | | Turkey | 4 | 2 | 1 | 1 | 5 | 9,5 | 0 | 63,3 | 29,5 |
| 10 | 13 | | Mongolia | 4 | 2 | 1 | 1 | 5 | 9,0 | 0 | 74,5 | 38,5 |
| 11 | 15 | | Canada | 4 | 2 | 0 | 2 | 4 | 10,5 | 0 | 50,3 | 30,0 |
| 12 | 4 | | Armenia | 4 | 2 | 0 | 2 | 4 | 9,5 | 0 | 92,0 | 40,5 |
| 13 | 12 | | Argentina | 4 | 2 | 0 | 2 | 4 | 9,5 | 0 | 79,5 | 36,5 |
| 14 | 10 | | Belarus | 4 | 2 | 0 | 2 | 4 | 9,5 | 0 | 58,5 | 33,0 |
| 15 | 16 | | Bangladesh | 4 | 2 | 0 | 2 | 4 | 8,5 | 0 | 50,0 | 31,0 |
| 16 | 19 | | Sri Lanka | 4 | 2 | 0 | 2 | 4 | 8,5 | 0 | 47,3 | 29,0 |
| 17 | 21 | | Australia | 4 | 2 | 0 | 2 | 4 | 7,0 | 0 | 30,8 | 27,0 |
| 18 | 22 | | Thailand | 4 | 2 | 0 | 2 | 4 | 6,5 | 0 | 35,8 | 34,5 |
| 19 | 14 | | Malaysia | 4 | 1 | 1 | 2 | 3 | 7,5 | 0 | 51,3 | 33,0 |
| 20 | 24 | | South Africa B | 4 | 1 | 1 | 2 | 3 | 7,0 | 0 | 29,5 | 27,5 |
| 21 | 17 | | Indonesia | 4 | 1 | 1 | 2 | 3 | 6,5 | 0 | 60,8 | 36,5 |
| 22 | 27 | | Kyrgyzstan | 4 | 1 | 1 | 2 | 3 | 6,5 | 0 | 27,8 | 23,5 |
| 23 | 28 | | Mozambique | 4 | 1 | 1 | 2 | 3 | 6,0 | 0 | 16,8 | 23,5 |
| 24 | 20 | | South Africa A | 4 | 1 | 1 | 2 | 3 | 4,5 | 0 | 28,0 | 35,0 |
| 25 | 18 | | Iraq | 4 | 1 | 0 | 3 | 2 | 5,5 | 0 | 18,5 | 35,0 |
| 26 | 26 | | Kenya B | 4 | 1 | 0 | 3 | 2 | 3,0 | 0 | 9,0 | 31,5 |
| 27 | 29 | | Kenya A | 4 | 0 | 1 | 3 | 1 | 4,0 | 0 | 12,3 | 24,5 |
| 28 | 25 | | Nepal B | 4 | 0 | 1 | 3 | 1 | 2,0 | 0 | 0,0 | 24,0 |
| 29 | 23 | | Nepal A | 4 | 0 | 0 | 4 | 0 | 3,0 | 0 | 19,0 | 27,5 |
| 30 | 30 | | Uganda | 1 | 0 | 0 | 1 | 0 | 0,0 | 0 | 0,0 | 28,0 |