FIDE World Junior and Girl Under 20 Chess Championship 2017
Tarvisio, Italy: The World Juniors Chess Championship has commenced on November 12. This eleven-round event will run until November 26th. India has a strong contingent consisting of 13 participants in the Open and 11 in the Girls championship.
At the end of three rounds, reigning Indian Junior Champion IM Harsha Bharathakoti emerged as the joint leader with a perfect score of 3.0/3 points. Trailing behind him with 2.5/3 points is World's Youngest International Master Praggananadhaa R.
Harsha capitalized on the blunder made by his Vietnamese opponent on move 21..Oc2. The game which was roughly equal flipped completely in White's favour. The rest was a matter of a technique, Harsha took home the point with ease.
In the Girls Championship, WIM Akanksha Hagawane is the lone India with 2.5/3 points. Whereas, WIM Vaishali R. who played on Board 1 against top-seeded IM Abdumalik Zhansaya of Kazakstan lost the battle. The game saw many ups and downs but in the end, Zhansaya found her way to victory.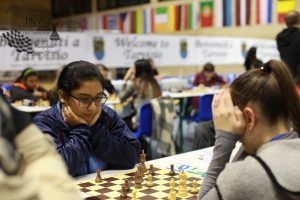 The fourth round will start today at 07.30 p.m.
Open/Pairings
Round 4
Girls/Pairings
Round 4