All photos by Lennart Ootes
The 21st Hoogeveen Chess Tournament ran from 21-28 October in Hoogeveen Town Hall in the Netherlands. The highlight of the event was the two 6-game classical matches — one between Adhiban Baskaran and Jorden van Foreest, and the other between Vassily Ivanchuk and Wei Yi. The time control for the matches was 90 minutes for 40 moves, then 30 minutes to the end of the game, with a 30-second increment from move 1.
Adhiban and Jorden van Foreest traded four wins in classical chess before the young Dutch star finally emerged triumphant in the blitz playoff. There was the same scoreline in the other match, where Wei Yi crushed Vassily Ivanchuk's Sicilian on his third attempt to take their match to tiebreaks.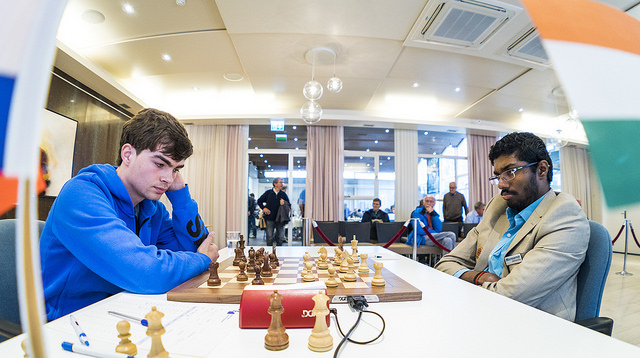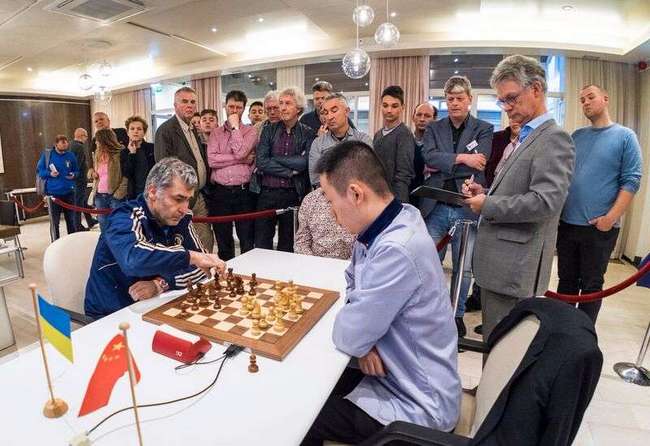 Vasily Ivanchuk and Jorden van Foreest were both too strong in blitz for their opponents. The playoffs alternated between the two boards, in front of quite a big audience.
In the first game, Wei Yi won a pawn but got under pressure and used a lot of time. Ivanchuk ended up a few pawns to the good and missed (or didn't want to play) the pseudo sacrifice Rxf5 for a lot of moves. When he finally played it, it was soon over.
Jorden van Foreest opened the first game with the London System, and overpowered Adhiban with white and won a piece.
In the return game Ivanchuk played the Scandinavian with black. Both sides castled queenside, but after Ivanchuk's 14…e5 break in the centre White was in trouble. He couldn't keep defending the knight on f5 and after 18…b5 Wei Yi shook his head and resigned.
Adhiban was slowly working on an attack in the final game of the other match when Van Foreest started grabbing some pawns. 24…Nxc3 was incredible – White could just take the knight. And two moves later 27.Qd7 would have won on the spot. After this Van Foreest was really on fire and countered very sharply to the win.
At the prizegiving of the matches, Vasily Ivanchuk and Jorden van Foreest received a painting of them and their opponents made by the Dutch artist Frans Drummen.