The Qingdao Jiaozhou Bay Development Group Cup has been conquered by the Iranian team with a round to go in the Shanghai cooperation organization international team chess tournament – 2019 being played in the Sheraton Hotel, Qingdao.
Iran has won all their 8 matches played to take their tally to 16 points, 4 points ahead of the nearest rival Belarus and Russia. The second seed Iran with an average rating of 2450 surprised all by winning all their matches en route to conquer the Jiaozhou Bay Development Group Cup.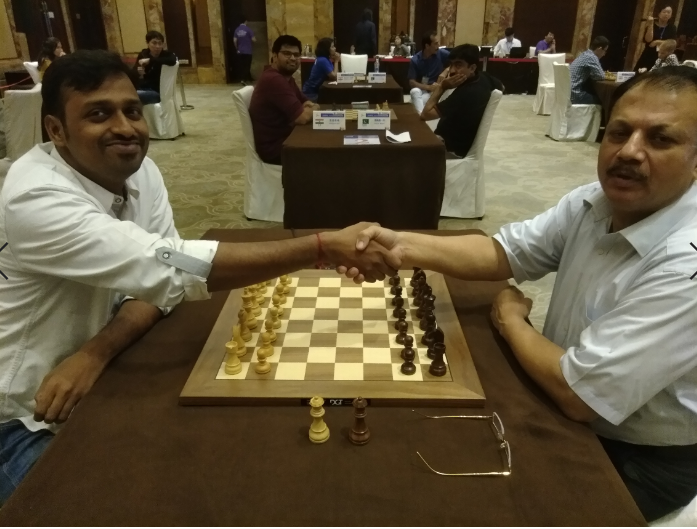 Indians after faltering to Uzbekistan in 6th round had played well to hold China 'A' to a draw through a win by GM Venkatesh over GM Xu Yinglun and Bhakti Kulkarni's yet another creditable draw against highly rated GM Wen Yang in the 7th round.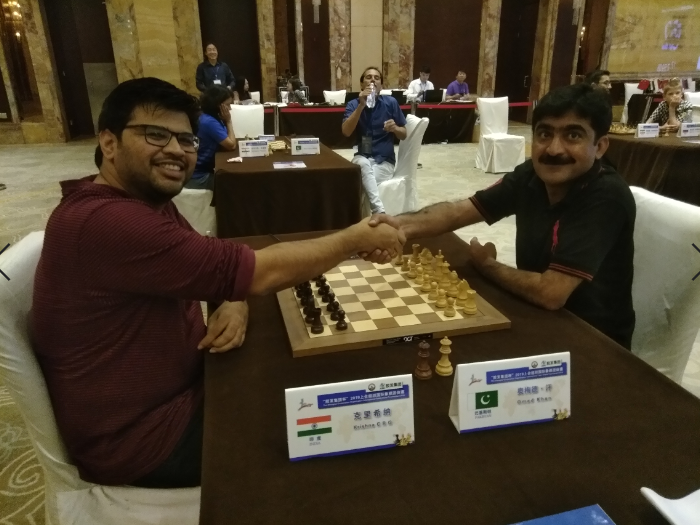 By the end of the 8th round, Indians have assured themselves in the prize list at 6th place with 7 points by defeating Pakistan 2.5 to .5.
The top seed Belarus with an average rating of 2519 edged out Russia on the Tiebreak to finish second, both teams had 14 match points each.
Indian team having seeding no 3 in the event performed below par and managed only the last prize, 6th. Individual performance is mentioned below:
 6. India (RtgAvg:2373, TB1: 7 / TB2: 12,5)
Bo.
Name
Rtg
FED
FideID
1
2
3
4
5
6
7
8
9
Pts.
Games
RtgAvg
1
GM
Venkatesh M.R.
2414
IND
5005779
0
½
½
½
1
0
1
½
0
4,0
9
2351
2
IM
Krishna C R G
2379
IND
5018625
½
1
0
0
½
0
0
1
0
3,0
9
2183
3
WGM
Kulkarni Bhakti
2325
IND
5019516
½
1
½
0
1
1
½
1
0
5,5
9
1959
Player info
Venkatesh M.R. GM 2414 IND Rp:2308
Rd.
SNo
Name
Rtg
FED
Pts.
Res.
Bo.
1
9
IM
Xu Zhihang
2389
CHN
4,5
w 0
1
2
13
CM
Orozbaev Eldiar
1909
KGZ
3,5
s ½
1
3
1
GM
Kovalev Vladislav
2590
BLR
6,0
w ½
1
4
16
GM
Idani Pouya
2460
IRI
6,5
s ½
1
5
25
FM
Karimov Alisher
2145
TJK
1,5
w 1
1
6
27
IM
Nigmatov Ortik
2246
UZB
5,0
w 0
1
7
6
GM
Xu Yinglun
2478
CHN
5,0
s 1
1
8
19
IM
Lodhi Mahmood
2335
PAK
2,0
w ½
1
9
21
GM
Zvjaginsev Vadim
2603
RUS
7,0
s 0
1
Krishna C R G IM 2379 IND Rp:2058
Rd.
SNo
Name
Rtg
FED
Pts.
Res.
Bo.
1
8
IM
Ma Zhonghan
2371
CHN
4,5
s ½
2
2
14
Zairbek Kyzy Begimai
1708
KGZ
0,5
w 1
2
3
2
GM
Zhigalko Sergei
2699
BLR
7,5
s 0
2
4
17
GM
Darini Pouria
2560
IRI
7,5
w 0
2
5
24
Kabilov Amin
2130
TJK
4,0
s ½
2
6
28
WGM
Kurbonboeva Sarvinoz
2129
UZB
3,5
s 0
2
7
5
GM
Bai Jinshi
2469
CHN
7,0
w 0
2
8
20
Omer Khan
0
PAK
2,0
s 1
2
9
22
GM
Kobalia Mikhail
2578
RUS
5,5
w 0
2
Kulkarni Bhakti WGM 2325 IND Rp:2039
Rd.
SNo
Name
Rtg
FED
Pts.
Res.
Bo.
1
7
Mu Ke
0
CHN
6,0
w ½
3
2
15
Akmatbekov Chubak
0
KGZ
2,0
s 1
3
3
3
IM
Zarubitski Viachaslau
2268
BLR
5,5
w ½
3
4
18
IM
Gholami Aryan
2329
IRI
8,5
s 0
3
5
26
WFM
Antonova Nadezhda
1940
TJK
2,0
w 1
3
6
29
WIM
Baymuratova Sevara
2130
UZB
1,0
w 1
3
7
4
GM
Wen Yang
2588
CHN
7,0
s ½
3
8
30
Waqar Ahmad Madni
2023
PAK
1,0
w 1
3
9
23
FM
Murzin Volodar
2351
RUS
6,5
s 0
3