King Salman World Rapid Championship Day 1
The King Salman World Rapid Championship started yesterday at the iconic Apex Convention Centre in Riyadh, Saudi Arabia. Players from 55 countries, among them 10 men out of the World Top-15 as well as 11 out the World Top-15 women, are competing in this prestigious event.
Indian Participants include Five-time World Champion GM Anand Viswanathan, GM Harikrishna P. GM Vidit Santosh Gujrathi,  GM Surya Shekhar Ganguly, GM Sethuraman S.P., GM Harika Dronavalli, IM Padmini Rout,  IM  Eesha Karavade, and IM Vijayalakshmi Subbaraman.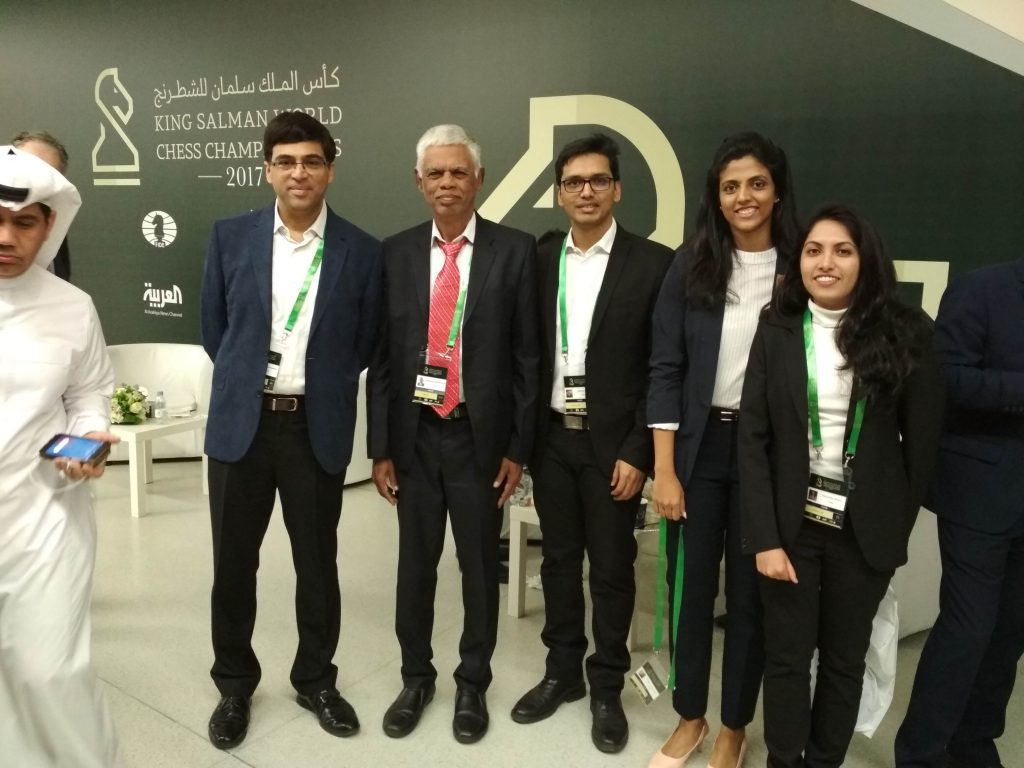 The honorary first move in the round 1 game Carlsen-Bu was made by Mr. Kosay A.Alfawaz, Advisor to H.E. The Chairman of General Sports Authority of Saudi Arabia.
In the very same game, Bu Xiangzhi stunned the world's top rated player Magnus Carlsen by inflicting him yet another loss. Only a few months ago, Bu eliminated Carlsen from the FIDE World Cup in Tbilisi.
Viswanathan Anand had a solid start, he is placed half-a-point behind the four joint leaders. Round two and four particularly stand out , Anand displayed his world-class expertise to crush his two Grandmaster opponents.
B. Adhiban and Vidit Gujarati have two points each, while P. Harikrishna is on 1.5. Surya Shekhar Ganguly and S.P. Sethuraman have a point each.
In the women's event, Harika, is on 2.5 points, half-a-point behind leaders China's Ju Wenjun, Tan Zhongyi and Lei Tingjie and Bela Khotenashvili of Georgia.
The King Salman World Rapid Championship has ten more rounds to be played and continues until 28th December.
Pairings: Open Championship
Round 6 on 2017/12/27
| | | | | | | | | | | | | | |
| --- | --- | --- | --- | --- | --- | --- | --- | --- | --- | --- | --- | --- | --- |
| Bo. | No. | | | Name | Rtg | Pts. | Result | Pts. | | Name | Rtg | | No. |
| 1 | 44 | | GM | Movsesian Sergei | 2685 | 3½ | | 3½ | GM | Carlsen Magnus *) | 2908 | | 1 |
| 2 | 8 | | GM | Fedoseev Vladimir | 2771 | 4½ | | 4½ | GM | Jobava Baadur | 2672 | | 54 |
| 3 | 63 | | GM | Kuzubov Yuriy | 2662 | 4 | | 4 | GM | Grischuk Alexander | 2813 | | 5 |
| 4 | 12 | | GM | Anand Viswanathan | 2758 | 4 | | 4 | GM | Ponkratov Pavel | 2673 | | 52 |
| 5 | 86 | | GM | Fressinet Laurent | 2612 | 4 | | 4 | GM | Rapport Richard | 2748 | | 17 |
| 6 | 18 | | GM | Svidler Peter | 2743 | 4 | | 4 | GM | Cheparinov Ivan | 2694 | | 38 |
| 7 | 32 | | GM | Wang Yue | 2702 | 3½ | | 4 | GM | Kravtsiv Martyn | 2610 | | 87 |
| 8 | 46 | | GM | Bortnyk Olexandr | 2683 | 3½ | | 3½ | GM | Wang Hao | 2770 | | 9 |
| 9 | 16 | | GM | Onischuk Vladimir | 2748 | 3½ | | 3½ | GM | Alekseev Evgeny | 2681 | | 47 |
| 10 | 20 | | GM | Ding Liren | 2734 | 3½ | | 3½ | GM | Leko Peter | 2671 | | 55 |
Pairings: Women's Championship
Round 6 on 2017/12/27
| | | | | | | | | | | | | | |
| --- | --- | --- | --- | --- | --- | --- | --- | --- | --- | --- | --- | --- | --- |
| Bo. | No. | | | Name | Rtg | Pts. | Result | Pts. | | Name | Rtg | | No. |
| 1 | 6 | | GM | Tan Zhongyi | 2502 | 4 | | 5 | GM | Ju Wenjun | 2537 | | 4 |
| 2 | 11 | | IM | Paehtz Elisabeth | 2467 | 4 | | 4 | IM | Guo Qi | 2451 | | 16 |
| 3 | 24 | | GM | Khotenashvili Bela | 2425 | 4 | | 4 | GM | Harika Dronavalli | 2466 | | 12 |
| 4 | 13 | | WGM | Goryachkina Aleksandra | 2460 | 4 | | 4 | IM | Padmini Rout | 2409 | | 28 |
| 5 | 7 | | GM | Stefanova Antoaneta | 2497 | 3½ | | 4 | IM | Pham Le Thao Nguyen | 2390 | | 36 |
| 6 | 2 | | GM | Kosteniuk Alexandra | 2586 | 3½ | | 3½ | GM | Sebag Marie | 2445 | | 20 |
| 7 | 3 | | GM | Gunina Valentina | 2566 | 3½ | | 3½ | IM | Batsiashvili Nino | 2400 | | 30 |
| 8 | 23 | | IM | Abdumalik Zhansaya | 2439 | 3½ | | 3½ | GM | Ushenina Anna | 2482 | | 8 |
| 9 | 37 | | WGM | Girya Olga | 2390 | 3½ | | 3½ | GM | Danielian Elina | 2473 | | 10 |
| 10 | 15 | | WGM | Huang Qian | 2453 | 3½ | | 3½ | WGM | Mamedjarova Turkan | 2286 | | 75 |