Photos: Gujarat State Chess Association
The National Under-13 Chess Tournament for Open and Girls is underway at Rajpath Club (A.C Hall), Ahmedabad, Gujarat. The championship is being organized by the Gujarat State Chess Association under the aegis of the All India Chess Federation. As many as 471 players from 25 states are participating in the championship and the first two winners of the championship will represent India in the coming World and Asian Chess Championship.
In the Open section, the top-seeds had a smooth sailing in the second round.  Pranav Anand (KAR), Pranav V. (TN) and Aaryan Varshney (DEL) registered easy wins. Unheralded Bhavesh Mahajan (PUN) drew against higher-rated CM Aditya Mittal (MAH) on board 4. Similarly, Samant Aditya S (MAH) was held to draw by local talent Adi Jain (GUJ).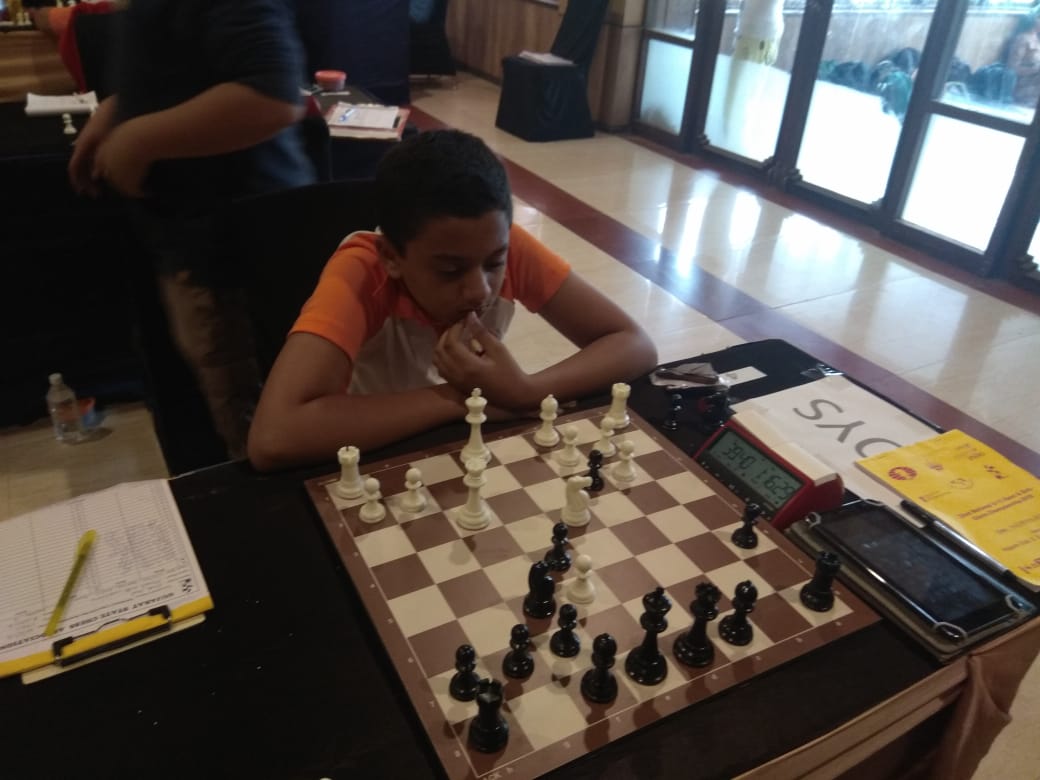 Round 3 saw Pranav Anand signing the peace treaty with Srikrishnan P. (TN) on board 1. While, Pranav V.  and Aaryan Varshney defeated their respective opponents.
Battles went full throttle in round 4. Drupad Kashyap (Assm) fought tooth and nail to gain advantage against Pranav V. but a blunder on move 46 proved too costly. Barde Om (Goa) scored an upset win over Aaryan Varshney on board 2. He outplayed Aaryan in rook vs. rook endgame.
At the end of four rounds, Pranav V, Manish Anto Cristiano, AGM Srihari L, Barde Om, Kothari Pranit, Manish Kumar, Jain Kashish Manoj, Samip Roy, Ayush Sharma are on full score with 4.0/4 points.
AFM Advaita Sharma K, Akshaya Rajaraman, and WCM Kriti Mayur Patel are leading in the Girls Category. They amassed 4.0/4 points respectively.
Open Pairings
Round 5 on 2018/06/17 at 9:30 AM
| | | | | | | | | | | | | | | | |
| --- | --- | --- | --- | --- | --- | --- | --- | --- | --- | --- | --- | --- | --- | --- | --- |
| Bo. | No. | | | Name | Rtg | Club/City | Pts. | Result | Pts. | | Name | Rtg | Club/City | | No. |
| 1 | 2 | | | Pranav V | 2265 | Tamil Nadu | 4 | | 4 | | Jain Kashish Manoj | 1834 | Maharashtra | | 20 |
| 2 | 10 | | | Manish Anto Cristiano F | 2008 | Tamil Nadu | 4 | | 4 | | Ayush Sharma | 1783 | Madhya Pradesh | | 27 |
| 3 | 24 | | | Samip Roy | 1789 | West Bengal | 4 | | 4 | AGM | Srihari L R | 1990 | Tamil Nadu | | 13 |
| 4 | 30 | | | Barde Om | 1735 | Goa | 4 | | 4 | | Manish Kumar (2006) | 1879 | Odisha | | 15 |
| 5 | 32 | | | Kothari Pranit | 1706 | Maharashtra | 4 | | 3½ | AGM | Jubin Jimmy | 2113 | Kerala | | 7 |
| 6 | 40 | | | Ayan Pal | 1663 | West Bengal | 3½ | | 3½ | | Pranav Anand | 2336 | Karnataka | | 1 |
| 7 | 4 | | CM | Aditya Mittal | 2208 | Maharashtra | 3½ | | 3½ | | Karthik Sai Ch | 1789 | Telangana | | 23 |
| 8 | 8 | | CM | Nikhil Magizhnan | 2098 | Tamil Nadu | 3½ | | 3½ | | Mihir Godawat | 1668 | Haryana | | 37 |
| 9 | 12 | | CM | Rohith Krishna S | 1992 | Tamil Nadu | 3½ | | 3½ | | Abinandhan R | 1665 | Tamil Nadu | | 39 |
| 10 | 16 | | | Hari R Chandran | 1871 | Kerala | 3½ | | 3½ | | Nirmal L | 1614 | Tamil Nadu | | 50 |
Girls Pairings
Round 5 on 2018/06/17 at 9:30 AM
| | | | | | | | | | | | | | | | |
| --- | --- | --- | --- | --- | --- | --- | --- | --- | --- | --- | --- | --- | --- | --- | --- |
| Bo. | No. | | | Name | Rtg | Club/City | Pts. | Result | Pts. | | Name | Rtg | Club/City | | No. |
| 1 | 44 | | WCM | Kriti Mayur Patel | 1340 | Maharashtra | 4 | | 4 | | Akshaya Rajaraman | 1343 | Tamil Nadu | | 43 |
| 2 | 18 | | | Rebecca Jesumarian | 1466 | Tamil Nadu | 3½ | | 4 | AFM | Advaita Sharma K | 1399 | Telangana | | 27 |
| 3 | 20 | | | Dalal Aashi | 1450 | Maharashtra | 3½ | | 3½ | | Bhagyashree Patil | 1905 | Maharashtra | | 1 |
| 4 | 59 | | | Dalli Shriya Reddy | 1289 | Telangana | 3½ | | 3½ | | Meenatchi Rajam V | 1613 | Tamil Nadu | | 9 |
| 5 | 62 | | | Jesica | 1254 | Delhi | 3½ | | 3½ | | Boramanikar Tanisha S | 1579 | Maharashta | | 11 |
| 6 | 2 | | WCM | Vishwa Vasnawala | 1758 | Gujarat | 3 | | 3½ | | Ananya D | 1460 | Andhra Pradesh | | 19 |
| 7 | 28 | | | Agrawal Aanya | 1390 | Gujarat | 3 | | 3 | WFM | Dhyana Patel | 1752 | Gujarat | | 3 |
| 8 | 30 | | | Sinthia Sarkar | 1385 | West Bengal | 3 | | 3 | | Savitha Shri B | 1721 | Tamil Nadu | | 4 |
| 9 | 40 | | | Choudki Khushi | 1353 | Maharashtra | 3 | | 3 | | Tanvi Vasudev Hadkonkar | 1698 | Goa | | 5 |
| 10 | 50 | | WCM | Patel Riddhi R | 1325 | Gujarat | 3 | | 3 | | Shrija K M | 1651 | Tamil Nadu | | 7 |