Photo Credits: Lars OA Hedlund
Tamil Nadu's Aravindh Chidambaram has upped his ante by delivering back to back performance. A week after his staggering first place finish in Sunway Sitges International Open, he played in the strong Rilton Cup. The nine-day event which was held in Sweden saw a strong line-up of grandmasters.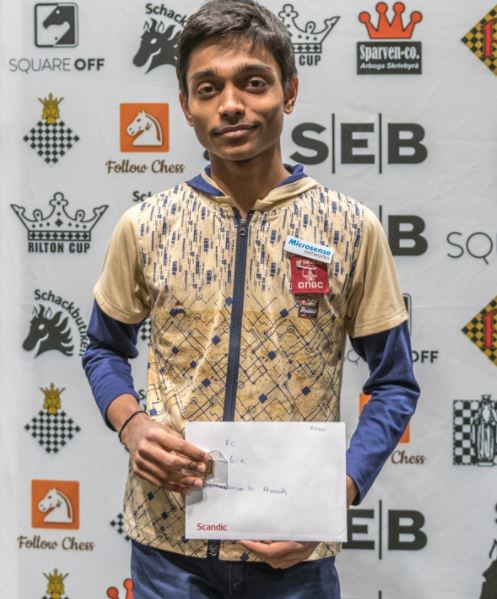 The 18-year-old ended up with five victories from the nine rounds and added almost 10.4 rating points to his tally to close in on the sixth place. He won 6000 SEK in cash prize.
GM Sasikiran Krishnan faced a surprising loss against IM Ippolito Dean of USA in the first round. Nevertheless, Sasikiran had a solid run, his last round victory against GM Tiger Hillarp Persson fetched him ninth place.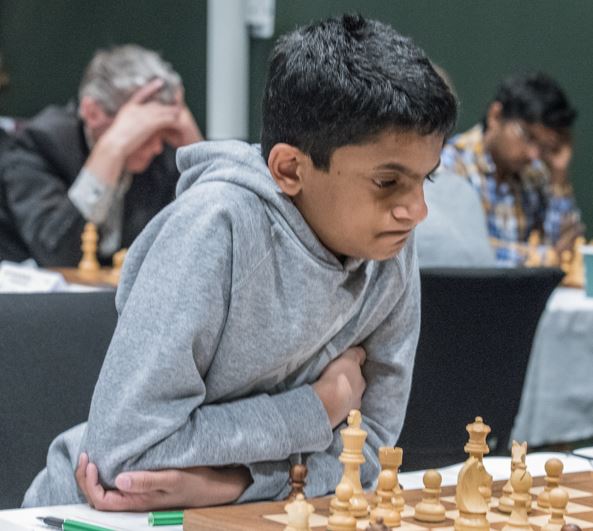 IM Nihal Sarin finished 13th with 6.0/9 points.
IM Praggnanadhaa R. scored 5.0/9 points.
India's Fenil Shah secured his second International Master norm with 5.5/9 points.
Final Ranking after 9 Rounds
| | | | | | | | | | | | | | | | | | |
| --- | --- | --- | --- | --- | --- | --- | --- | --- | --- | --- | --- | --- | --- | --- | --- | --- | --- |
| Rk. | SNo | | Name | Gr | FED | Rtg | Pts. |  TB1 |  TB2 |  TB3 | Rp | n | w | we | w-we | K | rtg+/- |
| 1 | 9 | GM | Alekseenko Kirill | | RUS | 2590 | 7,5 | 43,5 | 48,0 | 36,0 | 2738 | 9 | 7,5 | 5,97 | 1,53 | 10 | 15,3 |
| 2 | 15 | GM | Chigaev Maksim | | RUS | 2555 | 7,0 | 43,5 | 47,0 | 34,5 | 2677 | 9 | 7 | 5,63 | 1,37 | 10 | 13,7 |
| 3 | 11 | GM | Antipov Mikhail Al. | | RUS | 2588 | 7,0 | 41,0 | 44,5 | 34,5 | 2681 | 9 | 7 | 5,97 | 1,03 | 10 | 10,3 |
| 4 | 16 | GM | Rasmussen Allan Stig | | DEN | 2543 | 7,0 | 40,5 | 44,5 | 34,0 | 2641 | 9 | 7 | 5,89 | 1,11 | 10 | 11,1 |
| 5 | 29 | GM | Salomon Johan | | NOR | 2475 | 6,5 | 47,0 | 50,5 | 34,5 | 2654 | 9 | 6,5 | 4,30 | 2,20 | 10 | 22,0 |
| 6 | 12 | GM | Aravindh Chithambaram Vr. | | IND | 2586 | 6,5 | 46,0 | 49,5 | 34,5 | 2668 | 9 | 6,5 | 5,46 | 1,04 | 10 | 10,4 |
| 7 | 7 | GM | Gledura Benjamin | | HUN | 2613 | 6,5 | 45,0 | 49,5 | 35,0 | 2666 | 9 | 6,5 | 5,80 | 0,70 | 10 | 7,0 |
| 8 | 6 | GM | Hammer Jon Ludvig | | NOR | 2620 | 6,5 | 43,5 | 47,5 | 31,5 | 2621 | 9 | 6,5 | 6,39 | 0,11 | 10 | 1,1 |
| 9 | 1 | GM | Sasikiran Krishnan | | IND | 2680 | 6,5 | 42,0 | 45,5 | 28,5 | 2549 | 9 | 6,5 | 7,44 | -0,94 | 10 | -9,4 |
| 10 | 3 | GM | Piorun Kacper | | POL | 2651 | 6,0 | 46,5 | 51,0 | 36,5 | 2671 | 9 | 6 | 5,72 | 0,28 | 10 | 2,8 |
| 11 | 8 | GM | Tari Aryan | | NOR | 2593 | 6,0 | 46,0 | 49,0 | 34,0 | 2586 | 9 | 6 | 5,95 | 0,05 | 10 | 0,5 |
| 12 | 4 | GM | Grandelius Nils | | SWE | 2647 | 6,0 | 45,5 | 49,0 | 34,5 | 2636 | 9 | 6 | 6,08 | -0,08 | 10 | -0,8 |
| 13 | 25 | IM | Nihal Sarin | | IND | 2507 | 6,0 | 43,5 | 47,5 | 29,5 | 2574 | 9 | 6 | 5,16 | 0,84 | 10 | 8,4 |
| 14 | 37 | IM | Lobanov Sergei | | RUS | 2441 | 6,0 | 43,5 | 47,0 | 30,5 | 2591 | 9 | 6 | 4,14 | 1,86 | 10 | 18,6 |
| 15 | 45 | IM | Eggleston David J | | ENG | 2389 | 6,0 | 39,0 | 42,0 | 27,0 | 2508 | 9 | 6 | 4,56 | 1,44 | 10 | 14,4 |
| 16 | 24 | IM | Santos Ruiz Miguel | | ESP | 2509 | 6,0 | 38,0 | 40,5 | 28,0 | 2454 | 9 | 6 | 6,54 | -0,54 | 10 | -5,4 |
| 17 | 17 | GM | Ivanov Sergey | | RUS | 2540 | 6,0 | 36,5 | 40,0 | 28,5 | 2467 | 9 | 6 | 6,74 | -0,74 | 10 | -7,4 |
| 18 | 26 | IM | Valsecchi Alessio | | ITA | 2501 | 6,0 | 35,5 | 39,0 | 27,5 | 2456 | 9 | 6 | 6,43 | -0,43 | 10 | -4,3 |
| 19 | 2 | GM | Krasenkow Michal | | POL | 2671 | 5,5 | 46,5 | 50,5 | 33,5 | 2591 | 9 | 5,5 | 6,31 | -0,81 | 10 | -8,1 |
| 20 | 19 | IM | Santos Latasa Jaime | | ESP | 2536 | 5,5 | 46,5 | 50,0 | 33,5 | 2581 | 9 | 5,5 | 4,89 | 0,61 | 10 | 6,1 |