New Delhi (10 Jan 19) :- Bihar youngster Saurabh Anand held fourth seed and local favourite Grandmaster Vaibhav Suri in the second round of the Delhi International Open Grandmasters Chess Tournament now underway here at Indira Gandhi Indoor Stadium on Thursday.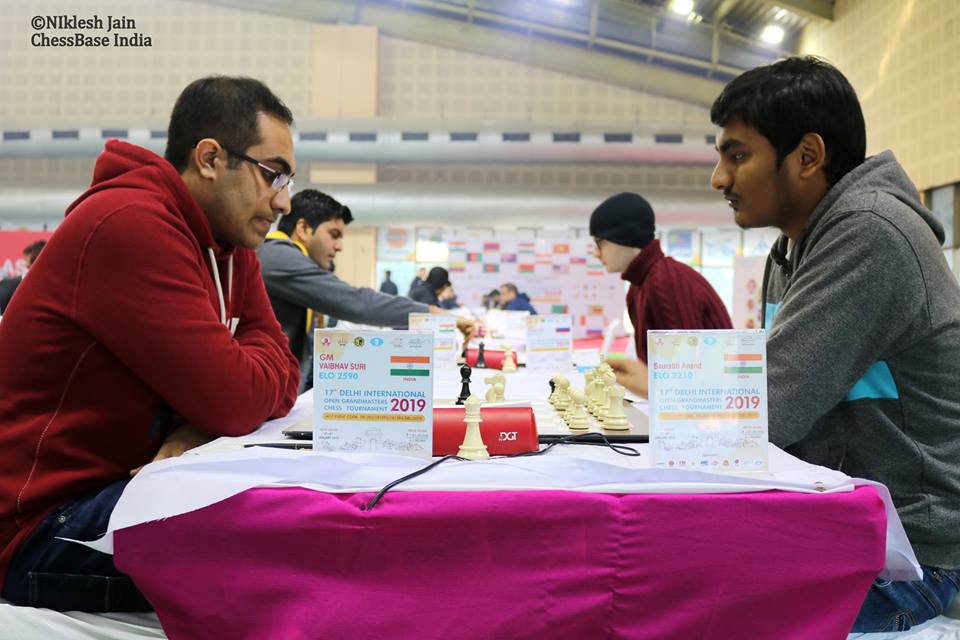 It was a Caro-Kann opening wherein Saurabh equalised without much ado and went about pushing further on the Kingside. Highest rated Indian Vaibhav Suri soon gave perpetual checks to escape a deadly checkmate.
In other upsets of the day, Telangana lad Bharat Kumar Reddy Poluri held Russian Grandmaster Popov Ivan and former national champion GM Karthikeyan Murali was forced to sign the peace treaty with WCM Mrudul Dehankar. Grandmaster Tran Tuan Minh (Vietnam) and Grandmaster Paichadze Luka (Georgia) had to be satisfied with half points against Zia Tahsin Tajwar (Bangladesh) and Baivab Mishra respectively.
Meanwhile top seed Amonatov Farrukh beat WGM, Kurbonboeva Sarvinoz and Grandmaster Predke Alexandr defeated Singh S. Vikramjit without much struggle. Third seed Pantsulaia Levan outwitted WIM Srija Seshadri.
56 players are maintaining the perfect score at the end of round two.
The One Crore One Lakh prize money chess festival also has parallel events running with the main International open. The 'B' Group has a participation of over 959 players while the 'C' group will have over 1200 players participating.
Pairings
Round 3 on 2019/01/10 at 16:00 hrs
| | | | | | | | | | | | | | |
| --- | --- | --- | --- | --- | --- | --- | --- | --- | --- | --- | --- | --- | --- |
| Bo. | No. | | | Name | Rtg | Pts. | Result | Pts. | | Name | Rtg | | No. |
| 1 | 41 | | IM | Girish A. Koushik | 2411 | 2 | | 2 | GM | Amonatov Farrukh | 2621 | | 1 |
| 2 | 2 | | GM | Predke Alexandr | 2620 | 2 | | 2 | GM | Thipsay Praveen M | 2405 | | 43 |
| 3 | 44 | | IM | Sardana Rishi | 2398 | 2 | | 2 | GM | Pantsulaia Levan | 2597 | | 3 |
| 4 | 45 | | | Sammed Jaykumar Shete | 2395 | 2 | | 2 | GM | Rozum Ivan | 2589 | | 5 |
| 5 | 8 | | GM | Aleksandrov Aleksej | 2582 | 2 | | 2 | IM | Rathnakaran K. | 2373 | | 49 |
| 6 | 46 | | | Sahoo Utkal Ranjan | 2388 | 2 | | 2 | GM | Gupta Abhijeet | 2581 | | 9 |
| 7 | 10 | | GM | Narayanan.S.L | 2575 | 2 | | 2 | IM | Gusain Himal | 2371 | | 51 |
| 8 | 12 | | IM | Erigaisi Arjun | 2548 | 2 | | 2 | | Koustav Chatterjee | 2346 | | 57 |
| 9 | 52 | | FM | Mitrabha Guha | 2371 | 2 | | 2 | GM | Ghosh Diptayan | 2544 | | 13 |
| 10 | 14 | | GM | Deepan Chakkravarthy J. | 2543 | 2 | | 2 | IM | Sharma Dinesh K. | 2303 | | 67 |
| 11 | 54 | | IM | Tran Minh Thang | 2355 | 2 | | 2 | GM | Stupak Kirill | 2542 | | 15 |
| 12 | 56 | | IM | Saravana Krishnan P. | 2346 | 2 | | 2 | GM | Debashis Das | 2538 | | 17 |
| 13 | 18 | | GM | Ghaem Maghami Ehsan | 2533 | 2 | | 2 | IM | Sangma Rahul | 2298 | | 69 |
| 14 | 60 | | FM | Shailesh Dravid | 2334 | 2 | | 2 | GM | Mosadeghpour Masoud | 2517 | | 19 |
| 15 | 62 | | FM | Navalgund Niranjan | 2327 | 2 | | 2 | GM | Movsziszian Karen | 2514 | | 21 |
| 16 | 22 | | IM | Gukesh D | 2497 | 2 | | 2 | FM | Mehdi Hasan Parag | 2260 | | 75 |
| 17 | 66 | | IM | Ameir Moheb | 2309 | 2 | | 2 | GM | Swapnil S. Dhopade | 2487 | | 23 |
| 18 | 24 | | IM | Visakh N R | 2486 | 2 | | 2 | WIM | Varga Klara | 2244 | | 79 |
| 19 | 68 | | | Neelash Saha | 2300 | 2 | | 2 | IM | Gajek Radoslaw | 2481 | | 25 |
| 20 | 72 | | IM | Sarwat Walaa | 2265 | 2 | | 2 | GM | Rahman Ziaur | 2470 | | 27 |