The Shanghai Cooperation Organisation International Team Championship – 2019 kicked off on 15th of September in the Sheraton Hotel, Qingdao, Jiaozhou, China. There are 8 invited teams namely Belarus, India, Iran, Kyrgyzstan, Pakistan, Russia,Tajikistan, Uzbekistan and 2 teams from China are involved in a Round Robin, Rapid format for the Qingdao J7AOZHOUBAY BAY Development Group Cup.
After the end of round 3, Iran and Russia are sharing the lead with 6 match point each. China 'A' & 'B' and Belarus are jointly on 3rd spot with 4 points each. with only one win over Kyrgyzstan India is placed 6th to 8th along with Uzbekistan and Pakistan. Kyrgyzstan & Tajikistan yet to open their account.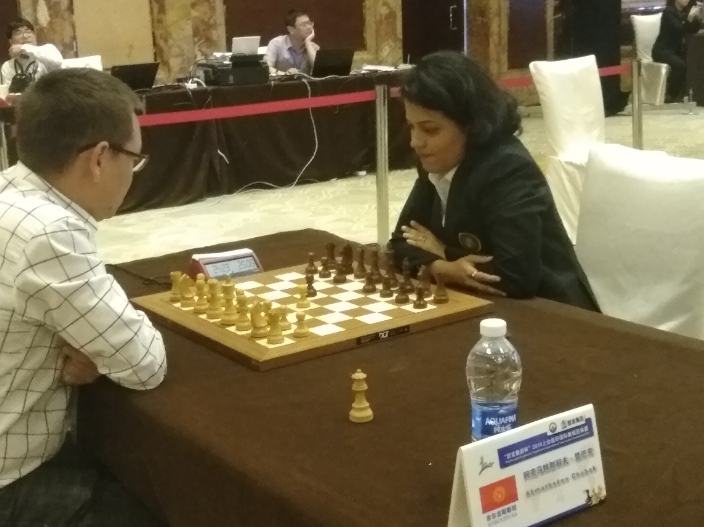 WGM Bhakti Kulkarni performed well today by holding IM Zarubitski Viachaslau (Rating 2426) against Belarus and Mu, Ke (Rating 2414) against China 'B" team. She scored 2/3.
Indian GM MR Venkatesh conceded loss against Chinese IM Zhu Zhiang (Rating 2389) and a draw to CM Orozbaev Eldiar (Rating 1908) before scoring a creditable draw with GM Kovalev Vladislav (Rating 2590).
IM CRG Krishna in the first game against China 'B' secured draw against IM Ma Zhonghan (Rating 2371) and defeated Zairbek Kyzy Begimai (Rating 1989) but went down fighting to GM Zhigalko