Report by WFM Kavitha J.E
The World Youth Chess Championship 2018 at Porto Carras, Halkidiki, Greece came to an end on 30-Oct-2018 after eleven days of chess in the beautiful scenic city. The event had a total of 635 participants from 79 countries. Indian girls had their day with WIM Divya Deshmukh winning against the overnight leader Ning Kaiyu of China on the top board with white pieces and Sanskriti Goyal winning against Srdanovic Jovana of Serbia with black pieces made them to win the bronze medal in U-14 and U-16 girls respectively.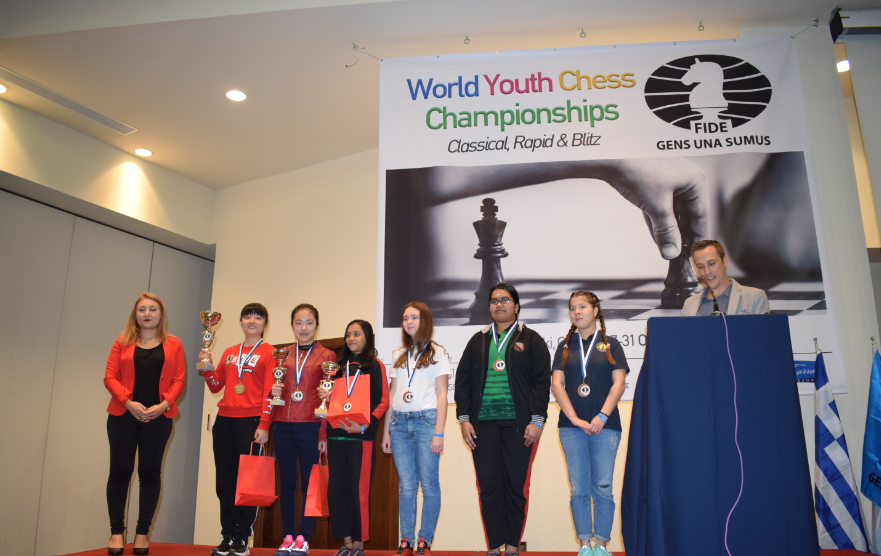 Apart from this India got four medals in the girls' section in U-14 category WCM Jyothsna L finished 5th place, in U-16 category WFM Makhija Aashna finished 5th place, in U -18 category WIM Tejaswini Sagar finished 4th place and WFM Arpita Mukherjee finished 6th place. And few players had received the IM and WIM norm , Arpita Mukherjee got her final WIM norm in this tournament and is expected to get her WIM title soon, WFM Tarini Goyal got her maiden 11 games WIM norm and Sankalp Gupta who played in U-16 boys also got his third and final IM norm in this Championship.
Girls U-14
Final Ranking
| | | | | | | | | | | | | | | |
| --- | --- | --- | --- | --- | --- | --- | --- | --- | --- | --- | --- | --- | --- | --- |
| Rk. | SNo | | | Name | Typ | | FED | Rtg | Pts. |  TB1 |  TB2 |  TB3 |  TB4 |  TB5 |
| 1 | 2 | | | Ning Kaiyu | F14 | w | CHN | 2217 | 9,0 | 0,0 | 73,5 | 78,0 | 6 | 8 |
| 2 | 5 | | WCM | Song Yuxin | F14 | w | CHN | 2178 | 8,5 | 0,0 | 72,5 | 77,5 | 5 | 7 |
| 3 | 4 | | WIM | Divya Deshmukh | F14 | w | IND | 2180 | 8,5 | 0,0 | 71,5 | 76,5 | 5 | 8 |
| 4 | 26 | | | Hrebenshchykova Yelyzaveta | F14 | w | UKR | 1968 | 8,0 | 0,0 | 62,5 | 65,5 | 6 | 7 |
| 5 | 11 | | WCM | Jyothsna L | F14 | w | IND | 2060 | 7,5 | 0,0 | 74,5 | 79,0 | 5 | 4 |
| 6 | 8 | | WCM | Garifullina Leya | F14 | w | RUS | 2106 | 7,5 | 0,0 | 72,5 | 78,0 | 6 | 5 |
| 7 | 20 | | WCM | Mrudul Dehankar | F14 | w | IND | 1996 | 7,5 | 0,0 | 70,5 | 74,0 | 6 | 7 |
| 8 | 21 | | WFM | Eizaguerri Floris Maria | F14 | w | ESP | 1987 | 7,5 | 0,0 | 68,5 | 73,5 | 5 | 6 |
| 9 | 23 | | WFM | Stepanyan Eva | F14 | w | RUS | 1981 | 7,5 | 0,0 | 67,5 | 72,0 | 5 | 6 |
| 10 | 29 | | WIM | Zhu Evelyn | F14 | w | USA | 1926 | 7,5 | 0,0 | 66,5 | 71,0 | 5 | 5 |
Girls U-16
Final Ranking
| | | | | | | | | | | | | | | |
| --- | --- | --- | --- | --- | --- | --- | --- | --- | --- | --- | --- | --- | --- | --- |
| Rk. | SNo | | | Name | Typ | | FED | Rtg | Pts. |  TB1 |  TB2 |  TB3 |  TB4 |  TB5 |
| 1 | 3 | | | Muetsch Annmarie | F16 | w | GER | 2206 | 8,5 | 0,0 | 67,0 | 72,5 | 5 | 7 |
| 2 | 22 | | WFM | Kucharska Honorata | F16 | w | POL | 2073 | 8,5 | 0,0 | 63,5 | 67,0 | 5 | 6 |
| 3 | 40 | | | Sanskriti Goyal | F16 | w | IND | 1971 | 8,0 | 0,0 | 60,5 | 64,5 | 6 | 7 |
| 4 | 24 | | WFM | Srdanovic Jovana | F16 | w | SRB | 2072 | 7,5 | 0,0 | 74,5 | 78,5 | 6 | 6 |
| 5 | 4 | | WFM | Beydullayeva Govhar | F16 | w | AZE | 2202 | 7,5 | 0,0 | 71,0 | 77,0 | 6 | 4 |
| 6 | 5 | | WFM | Makhija Aashna | F16 | w | IND | 2197 | 7,5 | 0,0 | 67,5 | 73,0 | 5 | 5 |
| 7 | 8 | | | Berdnyk Mariia | F16 | w | UKR | 2179 | 7,5 | 0,0 | 67,5 | 71,0 | 6 | 7 |
| 8 | 23 | | WFM | Rudzinska Michalina | F16 | w | POL | 2073 | 7,5 | 0,0 | 66,0 | 70,0 | 5 | 5 |
| 9 | 15 | | WFM | Cervantes Landeiro Thalia | F16 | w | USA | 2129 | 7,5 | 0,0 | 65,0 | 68,5 | 5 | 5 |
| 10 | 17 | | WFM | Schulze Lara | F16 | w | GER | 2122 | 7,5 | 0,0 | 62,5 | 67,0 | 5 | 7 |