IM Raja Rithvik R
World Youth Chess Championships 2018
Report by Puneet Jaiswal
In the fifth round of World Youth Chess Championship 2018 at Greece many Indians players performed well against their formidable opponents.
U-18 Girls
WIM Tejaswini Sagar won with black pieces in the Italian opening against FM Garcia Martin Marta of Spain to remain at the top. Russian girls WIM Shuvalova Polina and WGM Obolentseva Alexandra are on first and second spot with 5 and 4.5 respectively. Tejaswini is sharing the third spot along with three others with 4 points each.
U-18 Open
FM Mitrabha Guha with 3.5 is on 19th spot and other Indian Manu David Suthandram R has managed 2.5 points at the end of this round
U-16 Open
Sankalp Gupta moved to joint second spot by defeating Netherlands IM Vrolijk Liamin in the Vienna Opening: Mieses Variation. In this section he Armenian IM Sargsyan Shant emerged as sole leader with cent percent score ahead of group of 15 players.
U-16 Girls
WFM Saina Salonika mishandled the winning minor piece ending against Yurasova Daria of Russia in the Modern Attack in Petroff Defence. She remain at joint third spot with three others with 4 points whereas the leader WFM Srdanovic Jovana of Serbia with 5 points maintained her half point lead over WFM Beydullayeva Govehar of Azerbaijan.
U-14 open
AGM Srihari L.R defeated Turkish FM Tanriverdi Enes with white pieces in the King's Knight variation of the English opening he has 4 points whereas IM Raja Rithvik conceded third draw Czopor Maciej of Poland to take his tally to 3.5 points.
U-14 girls
WIM Divya Deshmukh had a comfortable win against Guillo Longares Cecilia of Spain in Nimzowitch Variation of Bogo-Indian Defence, after 13th move Divya trapped her opponent's knight. She emerged victorious in a resulting endgame.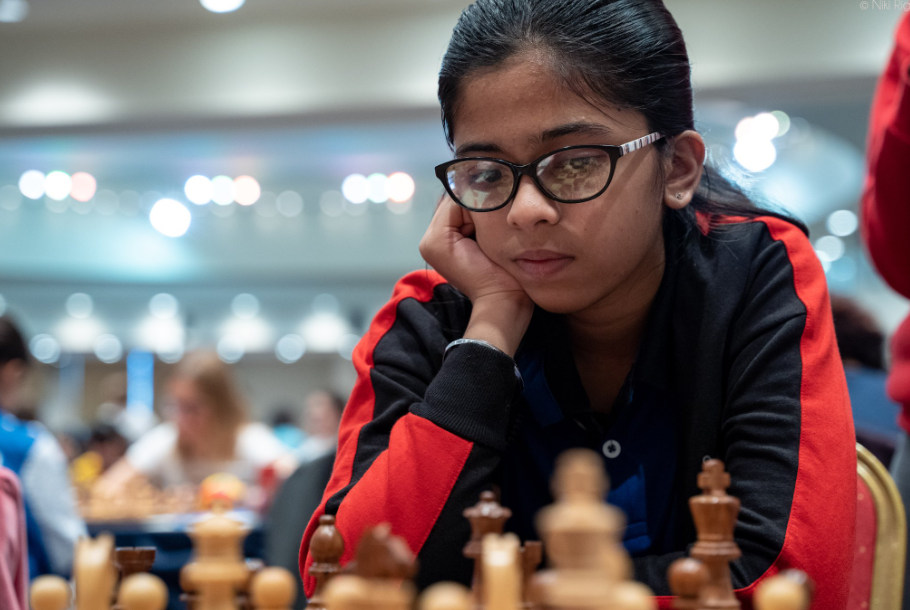 WCM Jyothsna L drew with white pieces against WCM Garifullina Leya of Russia in the Colle System.WCM Mridul Dehankar defeated WFM Galvan Cipriani Viviana of Spain in Larsen Opening all three has four points each and shairing joint third position behind Ning Kaiyu of China (5pts) and WFM Nurgali Nazerke of Kazakistan (4.5pts)
Results
Under-14 Open
| | | | | | | | | | | | | | |
| --- | --- | --- | --- | --- | --- | --- | --- | --- | --- | --- | --- | --- | --- |
| 7 | 32 | | | Czopor Maciej | 2219 | 3 | ½ – ½ | 3 | IM | Raja Rithvik R | 2421 | | 3 |
| 11 | 40 | | AGM | Srihari L R | 2170 | 3 | 1 – 0 | 3 | FM | Tanriverdi Enes | 2317 | | 11 |
| 15 | 26 | | CM | Kushagra Mohan | 2283 | 3 | ½ – ½ | 3 | | Lopez Varela Pablo | 2172 | | 39 |
Under-14 Girls
| | | | | | | | | | | | | | |
| --- | --- | --- | --- | --- | --- | --- | --- | --- | --- | --- | --- | --- | --- |
| 4 | 11 | | WCM | Jyothsna L | 2060 | 3½ | ½ – ½ | 3½ | WCM | Garifullina Leya | 2106 | | 8 |
| 5 | 19 | | | Guillo Longares Cecilia | 1998 | 3 | 0 – 1 | 3 | WIM | Divya Deshmukh | 2180 | | 4 |
| 6 | 7 | | WFM | Galvan Cipriani Viviana | 2109 | 3 | 0 – 1 | 3 | WCM | Mrudul Dehankar | 1996 | | 20 |
| 13 | 39 | | | Moracchini Margaux | 1838 | 2½ | 0 – 1 | 2½ | WFM | Dhyana Patel | 2002 | | 16 |
Under-16 Open
| | | | | | | | | | | | | | |
| --- | --- | --- | --- | --- | --- | --- | --- | --- | --- | --- | --- | --- | --- |
| 8 | 28 | | | Sankalp Gupta | 2352 | 3 | 1 – 0 | 3 | IM | Vrolijk Liam | 2437 | | 9 |
| 28 | 30 | | | Koustav Chatterjee | 2344 | 2 | ½ – ½ | 2 | FM | Beukes Dante M | 2155 | | 69 |
| 30 | 34 | | FM | Morgunov Daniel | 2328 | 2 | ½ – ½ | 2 | | Vatsal Singhania | 2128 | | 73 |
| 45 | 81 | | | Rodriguez Izquierdo Luis | 2038 | 1½ | ½ – ½ | 1½ | | Garvit Kumar Kalra | 1620 | | 110 |
Under-16 Girls
| | | | | | | | | | | | | | |
| --- | --- | --- | --- | --- | --- | --- | --- | --- | --- | --- | --- | --- | --- |
| 4 | 21 | | WFM | Salonika Saina | 2093 | 3½ | ½ – ½ | 3 | | Yurasova Daria | 2193 | | 7 |
| 8 | 11 | | WFM | Serikbay Assel | 2166 | 3 | 1 – 0 | 3 | | Meenal Gupta | 2065 | | 26 |
| 11 | 5 | | WFM | Makhija Aashna | 2197 | 2½ | 1 – 0 | 2½ | | Sosa Suarez Carla Cristina | 2025 | | 31 |
| 15 | 18 | | WFM | Grigorieva Yulia | 2112 | 2½ | 1 – 0 | 2½ | | Shanya Mishra | 1924 | | 44 |
| 17 | 29 | | | Gombocz Zsofia | 2038 | 2½ | 1 – 0 | 2½ | | Sanskriti Goyal | 1971 | | 40 |
| 21 | 27 | | | Aubert Estee | 2064 | 2 | 1 – 0 | 2 | | Tejasvi M | 1869 | | 52 |
| 42 | 77 | | | Servin-Demarrais Helena | 1540 | ½ | 0 – 1 | 1 | | Sagar Siya | 1310 | | 86 |
Under-18 Open
| | | | | | | | | | | | | | |
| --- | --- | --- | --- | --- | --- | --- | --- | --- | --- | --- | --- | --- | --- |
| 17 | 30 | | FM | Mitrabha Guha | 2352 | 2½ | 1 – 0 | 2½ | | Kadianis Georgios | 1928 | | 85 |
| 31 | 50 | | FM | Alexiadis Hristos | 2263 | 2 | ½ – ½ | 2 | | Manu David Suthandram R | 1970 | | 83 |
Under-18 Girls
| | | | | | | | | | | | | | |
| --- | --- | --- | --- | --- | --- | --- | --- | --- | --- | --- | --- | --- | --- |
| 2 | 5 | | WGM | Obolentseva Alexandra | 2298 | 3½ | 1 – 0 | 3½ | | Priyanka K | 2207 | | 14 |
| 3 | 3 | | FM | Garcia Martin Marta | 2329 | 3 | 0 – 1 | 3 | WIM | Tejaswini Sagar | 2139 | | 22 |
| 6 | 9 | | WIM | Kiolbasa Oliwia | 2254 | 3 | ½ – ½ | 3 | WFM | Tarini Goyal | 2026 | | 30 |
| 7 | 27 | | WFM | Redondo Benavente Ana | 2055 | 3 | ½ – ½ | 3 | WIM | Chitlange Sakshi | 2237 | | 12 |
| 14 | 51 | | | Nistor Valentina | 1881 | 2½ | 0 – 1 | 2½ | WFM | Arpita Mukherjee | 2147 | | 20 |