2018 Shanghai Cooperation Organization Chess Open
Grandmaster MR. Rohit Lalith Babu, the reigning National champion in classical and rapid format, won the 2018 Shanghai Cooperation Organization Chess Open which took place from 14th to 22nd October at Xingtai Hebei, China.
The 25-year-old Grandmaster from Andhra Pradesh remained undefeated throughout the tournament by scoring seven points from nine rounds on Monday.
In the fourth round, he was paired against compatriot IM Nitin S. In a complex middlegame which arose from Caron-Kann Defence: Two Knights Variation, Lalith envisaged a deadly kingside attack on White. He, further, sacrificed his Queen to take home the point in 30 moves.
However, his win against talented young IM Xu Yi consolidated his lead in the tournament.
In the final round, Lalith's solid play against top-seeded GM Zvjaginsev Vadim (Russia) fetched him a comfortable draw. Three players tied for the first spot, but Lalith was declared the winner with a better tie-break score.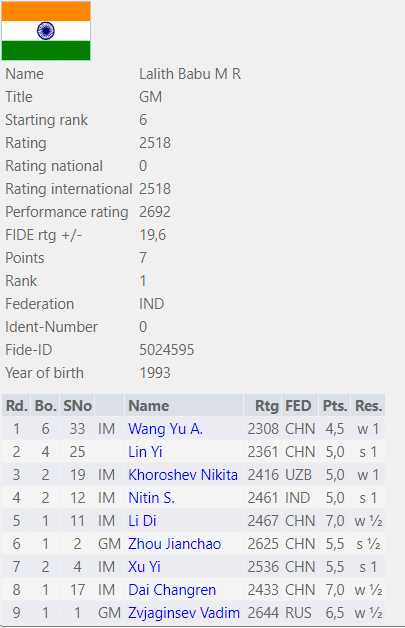 Final Ranking after 9 Rounds
| | | | | | | | | | |
| --- | --- | --- | --- | --- | --- | --- | --- | --- | --- |
| Rk. | SNo | | Name | FED | Rtg | Pts. |  TB1 |  TB2 |  TB3 |
| 1 | 6 | GM | Lalith Babu M R | IND | 2518 | 7,0 | 1,0 | 5 | 51,0 |
| 2 | 11 | IM | Li Di | CHN | 2467 | 7,0 | 1,0 | 5 | 50,5 |
| 3 | 17 | IM | Dai Changren | CHN | 2433 | 7,0 | 1,0 | 5 | 49,0 |
| 4 | 1 | GM | Zvjaginsev Vadim | RUS | 2644 | 6,5 | 0,0 | 4 | 49,5 |
| 5 | 20 | | Xiang Zeyu | CHN | 2409 | 6,0 | 0,0 | 4 | 50,0 |
| 6 | 3 | GM | Oparin Grigoriy | RUS | 2624 | 6,0 | 0,0 | 4 | 46,5 |
| 7 | 14 | IM | Vokhidov Shamsiddin | UZB | 2446 | 6,0 | 0,0 | 3 | 49,0 |
| 8 | 13 | FM | Nigmatov Ortik | UZB | 2456 | 5,5 | 0,0 | 5 | 44,0 |
| 9 | 8 | IM | Ma Zhonghan | CHN | 2496 | 5,5 | 0,0 | 5 | 41,5 |
| 10 | 18 | | Chen Qi B | CHN | 2425 | 5,5 | 0,0 | 4 | 47,0 |
| 11 | 5 | GM | Tan Zhongyi | CHN | 2527 | 5,5 | 0,0 | 4 | 41,5 |
| 12 | 16 | IM | Bao Qilin | CHN | 2434 | 5,5 | 0,0 | 4 | 40,0 |
| 13 | 2 | GM | Zhou Jianchao | CHN | 2625 | 5,5 | 0,0 | 3 | 52,5 |
| 14 | 4 | IM | Xu Yi | CHN | 2536 | 5,5 | 0,0 | 3 | 49,5 |
| 15 | 10 | IM | Lou Yiping | CHN | 2485 | 5,5 | 0,0 | 3 | 39,0 |
| 16 | 12 | IM | Nitin S. | IND | 2461 | 5,0 | 0,0 | 5 | 45,0 |
| 17 | 24 | FM | Zou Chen | CHN | 2386 | 5,0 | 0,0 | 5 | 43,5 |
| 18 | 26 | WIM | Zhu Jiner | CHN | 2360 | 5,0 | 0,0 | 4 | 44,5 |
| 19 | 25 | | Lin Yi | CHN | 2361 | 5,0 | 0,0 | 4 | 44,0 |
| 20 | 19 | IM | Khoroshev Nikita | UZB | 2416 | 5,0 | 0,0 | 4 | 40,0 |
| 21 | 35 | | Karimov Alisher | TJK | 2182 | 5,0 | 0,0 | 3 | 45,0 |
| 22 | 15 | IM | Das Arghyadip | IND | 2437 | 5,0 | 0,0 | 3 | 44,0 |
| 23 | 21 | | Zhang Ziji | CHN | 2397 | 5,0 | 0,0 | 3 | 43,0 |
| 24 | 9 | GM | Fang Yuxiang | CHN | 2490 | 5,0 | 0,0 | 3 | 37,5 |
| 25 | 7 | IM | Liu Yan | CHN | 2506 | 5,0 | 0,0 | 2 | 43,0 |
| 26 | 22 | IM | Chu Wei Chao | CHN | 2393 | 4,5 | 0,0 | 4 | 41,0 |
| 27 | 27 | | Li Hong | CHN | 2349 | 4,5 | 0,0 | 4 | 39,0 |
| 28 | 41 | WFM | Zhao Shengxin | CHN | 2107 | 4,5 | 0,0 | 4 | 31,0 |
| 29 | 32 | | Zhao Chenxi | CHN | 2323 | 4,5 | 0,0 | 3 | 46,5 |
| 30 | 43 | | Zhou Zirun | CHN | 2089 | 4,5 | 0,0 | 3 | 43,0 |
| 31 | 33 | IM | Wang Yu A. | CHN | 2308 | 4,5 | 0,0 | 3 | 40,5 |
| 32 | 42 | WFM | Li Yunshan | CHN | 2096 | 4,5 | 0,0 | 3 | 37,0 |
| 33 | 36 | | Xi Qi | CHN | 2182 | 4,5 | 0,0 | 3 | 37,0 |
| 34 | 28 | WFM | Xiao Yiyi | CHN | 2346 | 4,5 | 0,0 | 3 | 37,0 |
| 35 | 23 | | Zhao Yuanhe | CHN | 2389 | 4,5 | 0,0 | 2 | 44,5 |
| 36 | 38 | | Wu Huanghui | CHN | 2137 | 4,0 | 0,0 | 3 | 38,0 |
| 37 | 40 | | Yuan Ye | CHN | 2120 | 4,0 | 0,0 | 3 | 36,5 |
| 38 | 47 | | Chen Kailin | CHN | 2021 | 4,0 | 0,0 | 3 | 34,5 |
| 39 | 48 | | Hu Yu A. | CHN | 2020 | 4,0 | 0,0 | 3 | 34,0 |
| 40 | 45 | | Sun Chao | CHN | 2046 | 4,0 | 0,0 | 1 | 37,5 |
| 41 | 31 | IM | Li Bo | CHN | 2326 | 4,0 | 0,0 | 1 | 37,0 |
| 42 | 29 | | Pang Tao | CHN | 2336 | 4,0 | 0,0 | 1 | 32,0 |
| 43 | 37 | | Bai Xue | CHN | 2149 | 3,5 | 0,0 | 3 | 37,5 |
| 44 | 30 | | Xu Minghui | CHN | 2335 | 3,5 | 0,0 | 2 | 44,5 |
| 45 | 34 | WIM | Gu Tianlu | CHN | 2242 | 3,5 | 0,0 | 2 | 37,5 |
| 46 | 51 | | Wang Xiaoyan | CHN | 1922 | 3,5 | 0,0 | 2 | 30,0 |
| 47 | 50 | | Li Guohao | CHN | 1935 | 3,5 | 0,0 | 1 | 30,5 |
| 48 | 39 | CM | Wang Zideng | CHN | 2135 | 3,0 | 0,0 | 2 | 34,5 |
| 49 | 53 | | Chen Yiru | CHN | 1832 | 3,0 | 0,0 | 2 | 32,5 |
| 50 | 52 | CM | Deng Yu Dong Michael | HKG | 1844 | 3,0 | 0,0 | 2 | 31,0 |
| 51 | 55 | | Yunusov Mukhammad | TJK | 1792 | 3,0 | 0,0 | 1 | 38,0 |
| 52 | 54 | | Guo Weibao | CHN | 1828 | 3,0 | 0,0 | 1 | 34,5 |
| 53 | 49 | | Ma Lin | CHN | 2001 | 3,0 | 0,0 | 1 | 34,5 |
| 54 | 44 | WCM | Yang Yijing | CHN | 2071 | 2,5 | 0,0 | 1 | 37,5 |
| 55 | 46 | WFM | Antonova Nadezhda | TJK | 2038 | 1,5 | 0,0 | 0 | 30,0 |